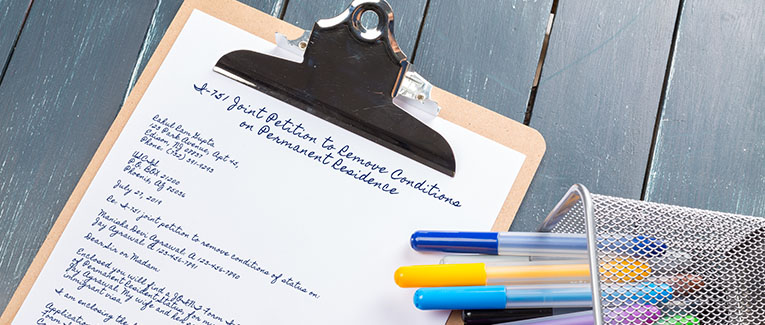 Rahul Ram Gupta
123 Park Avenue, Apt 45,
Edison, NJ 08837
Phone: (732) 391-9293
USCIS
P.O. BOX 21200
Phoenix, AZ 85036
July 27, 2019
Re: I-751 joint petition to remove conditions of status on:
Manisha Devi Agrawal: A 123-456-7890
Jay Agrawal: A 123-456-7891
Dear Sir or Madam:
Enclosed you will find a JOINT Form I-751, Petition for Removal of Conditions of Permanent Resident Status, for my wife, Manisha Devi Agrawal, and her son, Jay Agrawal. My wife and her son entered the U.S. on an immediate relatives immigrant visa.
I am enclosing the following:
Application fee – $595
Form I-751
Copy of USCIS Form I-551 (Permanent Resident Card)
2 photographs
[REPLACE FOLLOWING DOCUMENTS WITH YOUR UNIQUE ONES]
Copy of our joint U.S. tax return for the year 2018
Copy of a recent statement from our stock broker at Merrill Lynch
Copy of the tax statement for 2018 that we received for our joint checking account at Bank of America
Copy of the title of our car, showing joint ownership
Copy of our credit cards (MasterCard) showing a joint account
Copy of our health insurance cards showing a joint policy
Copy of our Costco Club cards on a joint account
Copy of our airline reservations for a vacation that we have planned in January 2020
We are all happily living together and request that this petition be accepted for removal of conditions on the residence of my wife, Manisha Devi Agrawal, and her son, Jay Agrawal.
Copies of documents submitted are exact photocopies of unaltered documents, and I agree to submit original documents to an Immigration or Consular officer at a later date, if required. You are always welcome to visit our home should you ever desire to do so.
Yours truly,
<petitioner's signature>
Rahul Ram Gupta

For visitors, travel, student and other international travel medical insurance.
Visit insubuy.com or call +1 (866) INSUBUY or +1 (972) 985-4400
We are sorry that this post was not useful for you!
Let us improve this post!
Tell us how we can improve this post?