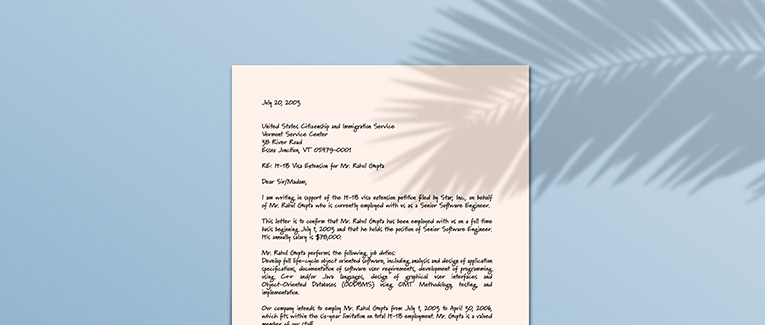 July 20, 2021


United States Citizenship and Immigration Service
Vermont Service Center
38 River Road
Essex Junction, VT 05452-0001
RE: H-1B Visa Extension for Mr. Rahul Gupta
Dear Sir/Madam,
I am writing in support of the H-1B visa extension petition filed by Star, Inc., on behalf of Mr. Rahul Gupta who is currently employed with us as a Senior Software Engineer.
This letter is to confirm that Mr. Rahul Gupta has been employed with us on a full time basis beginning July 1, 2021 and that he holds the position of Senior Software Engineer. His annually salary is $95,000.
Mr. Rahul Gupta performs the following job duties:
Develop full life-cycle object oriented software, including analysis and design of application specifications, documentation of software user requirements, development of programming using C++ and/or Java languages, design of graphical user interfaces and Object-Oriented Databases (OODBMS) using OMT Methodology, testing, and implementation.
Our company intends to employ Mr. Rahul Gupta from July 1, 2021 to April 30, 2024, which fits within the six-year limitation on total H-1B employment. Mr. Gupta is a valued member of our staff. 
Please contact me directly should your office require any further information.
Sincerely,



Chairman & CEO
Star, Inc.
We are sorry that this post was not useful for you!
Let us improve this post!
Tell us how we can improve this post?