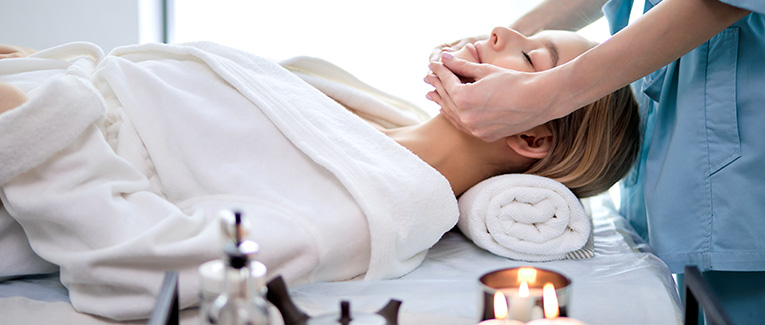 Booking the Best Spa Vacation
"Beautified, relaxed, and rejuvenated" are the three words that each part of your body will speak out to you after a spa vacation. Whether you're talking weekend spa getaways, a couples spa retreat, or luxury spa resorts, some much-needed pampering gives you all of that and much more.
No matter if it's the dead sea spa treatment or an Ayurvedic massage, a day at the spa can relax all your tensed-up muscles and mind. And that's a good enough reason to book the best spa vacation with your better half, your family, or just for yourself.
But before you think of splurging your savings on a spa vacation. Think about this.
Amidst your yoga sessions or hot baths, would your relaxed body and rejuvenated soul like a big bill? Nope, it won't! And so, here are some of the best ideas that'll help you save on a spa vacation.
Book a One-Day Spa Getaway
A weekend spa vacation might be out of budget if you're a bit tight on money. Luckily, many of the best destination spas offer you a day's retreat at mind-blowing prices. Here are some common activities that are geared towards providing you with a soothing retreat within one day's time:
Spa treatment of your choice
Healthy salads and soups for meals
Organized activities like yoga or meditation
Hiking or exercise classes
But for those of you who are planning to book longer all-inclusive spa vacations, there are other ways to save up those bucks.
Book an All-Inclusive Spa Vacation Package
For some, one day of spa treatment simply isn't enough. For those who want a higher degree of pampering, regardless of budget, all-inclusive spa resorts are the answer.
You can look for spas that offer you multiple treatments wrapped in a delightful spa vacation package. When you book a hair and scalp treatment or a clay cocoon treatment individually, it costs you more than $400. But when booked in a spa package coupled with a shampoo, blow-dry, and facial, it all costs you less than $380. That's enticing, isn't it?
Look for Slower Times and Book Right Away
If you don't have specific dates in mind, always plan your spa vacation during the slower times. Spas are usually busier during the holiday seasons or on weekends. If you can manage to take some time off during the week, your spa retreat can cost you much less.
Lots of luxury spa resorts, like Red Mountain Resort in Utah, offer discounts like the Midweek Savings Special from Sunday through Wednesday in the month of April. It's a win-win for both the visitor and the spa.
Sign Up for Spa Newsletters
Look up the best spas near you, or located at the destination where you're planning your vacation. To get the best deals, do this well in advance. Just head to Google and type in "weekend spa getaways near me" or something similar for your vacation spot.
Sign up for their daily or weekly newsletters. This will help you get first-hand information about their limited-time offers or last-minute deals in your mailbox. Believe us, it'll help you save a lot on spa treatments.
Get a Day Pass for your Spa Treatment
Not many people know this, but if you are a guest at a hotel that also offers spa treatments, you can get a heavy discount at the spa as a guest, you get a day pass to a bathhouse lounge, mineral pools, fitness centers, hot baths, and spa treatments at very reasonable prices.
With this day pass, you can also treat yourself to manicure and pedicure sessions. So, what are you waiting for?
Add a Wellness Retreat to your Vacation
If you're planning a vacation to an exotic destination like Little Torch Key in Florida or Andros in the Bahamas, dedicate one day to a wellness retreat.
Most island resorts or hotels offer spas and wellness as an add-on to your vacation package. So, you can get that coconut spa you've been wanting for so long at one of those Maldives resorts along with a couple of days' stay.
Invite a Friend to Your Spa Retreat
Most spas offer discounts for couples or extra services if you go in groups, making them cheaper than weekend spa getaways for one. Websites like SpaAddicts.com flash such offers every other day. These are mostly for the members of specific spas, but you can always sign up for a membership if these discounts work for you, and you're up for a spa every month.
Try a New Spa Treatment
When spas introduce something new, they often offer the treatment at a discount to attract more people. Get a great deal on a new spa treatment. You might also end up liking it!
Do you Need Travel Insurance for a Spa Vacation?
Of course.
Spa vacations are basically luxury trips. If nothing else, fear of unexpected cancellation always hangs around your neck like an albatross. It's an obstacle most of us hope we don't have to overcome.
When it comes to traveling, a travel insurance plan is your safety shield against these obstacles. It keeps you under a safety net in case of mishaps that are out of your control. Besides, spa vacations usually demand full payment in advance. What happens if a family emergency comes up or someone gets sick right before you leave? You may need to cancel your trip. With the right travel insurance plan, at least you can get your money back for your prepaid, nonrefundable expenses.
But before you purchase travel insurance, seek advice from travel insurance providers on which plans to consider buying. Here are some things that your travel insurance plan should provide coverage for:
Most insurance providers give you 24×7 travel assistance before and during your trip. But make sure to ask for an assistance line or concierge service while booking a plan.
You might not see it right now, but buying a travel insurance plan is your first step to saving on your spa vacation.
We are sorry that this post was not useful for you!
Let us improve this post!
Tell us how we can improve this post?