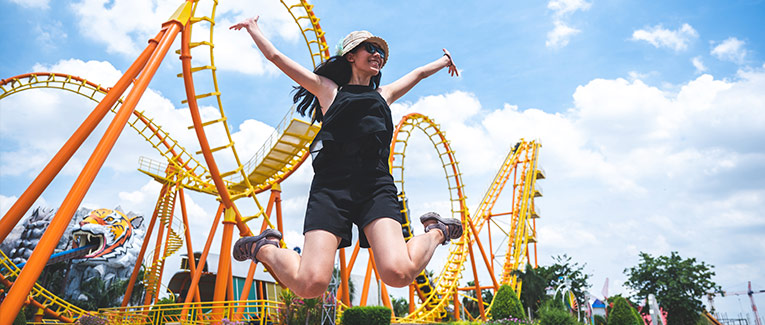 If a 456-foot-tall roller-coaster running at high speeds is not your kind of fun, there are other interesting options to explore at a theme park.
Full of immersive experiences, interactive shows, world-class cuisine, and even relaxing rides, theme parks have a variety of never-ending attractions to keep you entertained all day long.
Here are some fun-filled activities to consider rather than the adrenaline-pumping roller-coasters.
1. Get Some Shopping In
Shopping may be the last thing on your mind when you think of a theme park. But in reality, theme parks offer a great variety of shopping options specific to the regional culture or theme of the park.
For example, Disney's theme parks have an overwhelming collection of character-themed goods. Adventureland's Agrabah Bazaar is famous for Aladdin and Arabian Nights-themed souvenirs and merchandise. Epcot's Mitsukoshi Department Store is loaded with merchandise of popular Japanese characters like Pokémon and Hello Kitty.
2. Explore Different Cuisines
Theme parks aren't just about scary rides; they are also about trying out local cuisines, munching on cartoon-themed snacks, and indulging in sweet treats with your family.
Many theme parks offer world-class delicacies. Dollywood, in particular, ranks as one of the best theme parks for food. A trip to this park isn't complete without savoring the fresh-baked Cinnamon Bread and the 25-Pound Apple Pie.
If you are visiting a theme park in a different country, you can experience a wide range of authentic local food. For example, at Everland South Korea, you can get a taste of the famous Korean Fried Chicken and Fish Cakes. At Knott's Berry Farm, a theme park made from a farm that previously sold boysenberries, tasty treats of boysenberries are served. The famous delights include the Boysenberry Cake Shake, and the Boysenberry Philly Cheesesteak.
3. Get an Education
Even if you are not interested in taking a ride on a roller-coaster, how about learning the science behind those rides? Some theme parks provide educational camps to learn the science behind the rides. Disney World, Cedar Fair, and Busch Gardens are some of the theme parks which host these educational events.
Many theme parks also are known for their zoological parks and zoos. Going on a safari in Disney's Animal Kingdom can be an enthralling experience in which you can learn about various species of wildlife and the special care that they are provided at the park.
Another great example of an educational park is Busch Gardens, which features nearly 12,000 animals of more than 300 species for you to explore. There is also 'The Seas with Nemo & Friends' attraction at Disney's Epcot where you can learn about sea life.
Some theme parks have also built different themed lands based on historical events. So, if you are a history lover, you have a lot in store for you to explore. For example, at Magic Kingdom, you can learn about the American Revolution at Liberty Square, and the American frontier at Frontier Land. Also, at Epcot's 'The Spaceship Earth' attraction, you can learn the history of human communication beginning from the Stone Age to the computer age.
4. Visit Movie-Based Attractions
Imagine how exciting it would be to enter the world of your favorite movie. Many theme parks have built various attractions based on popular movies or pop culture characters.
So, if you are a movie buff, a Marvel fanatic, or a Disney lover, you are in for a treat. Many famous attractions provide immersive movie experiences for visitors. For example, Universal's Islands of Adventure boasts of famous movie-themed attractions like The Wizarding World of Harry Potter, Jurassic Park, and Marvel Superhero Island.
Disney World is another great player when it comes to movie attractions. Here are a few famous ones worth visiting:
Finding Nemo Submarine Voyage at Disneyland, USA.
Avatar Flight of Passage at Disney's Animal Kingdom, USA.
Iron Man Experience at Hong Kong Disneyland.
Pirates of the Caribbean: Battle for the Sunken Treasure, Shanghai Disneyland.
5. Attend Live Shows
Theme parks also host a variety of live shows that light up the whole space with great energy, beautiful costumes, and jaw-dropping performances.
The live shows are mostly based on local cultures, or the theme on which the theme parks are built. For example, Busch Gardens Williamsburg's Celtic Fyre is a live dance show celebrating Irish culture and Celtic storytelling. 'Aladdin' at Disney California Adventure is a 50-minute show that retells the classic story of 'Aladdin'.
Another interesting show is the 'Universal Horror Makeup Show' at Universal Studios Florida, where top makeup artists and special effects artists create the effects of famous movie monsters.
For K-Pop fans, Everland in South Korea opened a live hologram theatre that showcases the performances of famous K-Pop stars and groups like Psy and Big Bang.  
6. Explore Hidden Gems
Every theme park has lesser-known gems in its nooks and corners for you to find. One such hidden gem is Walt's Bench. It was while sitting on this bench that Walt Disney envisioned creating a place where families can have fun together.
The Mystic Fountain is another hidden gem that looks like an ordinary fountain, but it's actually a talking fountain that can tell you jokes, play music, and even ask you riddles. As if that's not enough, it also splashes water every time you give a wrong answer.
You should also visit the barbershop at Magic Kingdom, the talking snake, and the phone booth of Wizarding World of Harry Potter, as these are some more of the overlooked places that are quite interesting to explore.
7. Take a Relaxing Ride
All theme parks have relaxing rides that reveal the panoramic view of the park while you slowly pass by the surroundings.
For example, Dollywood's Downbound Float trip is a great attraction to view the sights of the Smoky Mountains while floating slowly down the river.
Do you want to be part of a fairytale? 'Storybook Land Canal Boats' is a cruise attraction of Disneyland's Fantasyland where you can experience the miniature lands of classic Disney movies such as Frozen, Peter Pan, and Cinderella.
8. Celebrate Holidays
Christmas and Halloween are some of the most exciting times to visit a theme park. You will see a different side of the theme parks during these times, with festive lights, shopping, and holiday special attractions.
For example, Universal Orlando conducts Halloween Horror nights, where you will find 10 detailed haunted houses and five themed scare zones. One of the popular highlights of the event is the 'Stranger Things' house.
Another special holiday event is 'Mickey's Very Merry Christmas party,' where you can celebrate Christmas with your favorite characters along with 5,500 twinkling Christmas lights.
9. Gaming Attractions
Theme parks are also upgrading their attractions with immersive virtual reality games. So, if you are a gamer, you will enjoy the superior gaming experience at theme parks, compared to your home gaming setup.
For example, Knott's Berry Farm in Buena Park features a VR adventure game called VR Showdown in Ghost town. Disney California Adventure's 'Toy Story Midway Mania' features a target-shooting attraction with a 3-D effect, and Joypolis theme park of Tokyo features several arcade games.
Even if you are not a fan of roller coasters, you will still find something to enjoy at the theme park. Whatever park you decide to visit and whatever you decide to do, be sure to pack comfortable close, stay hydrated, and purchase travel insurance before you embark on your trip.
We are sorry that this post was not useful for you!
Let us improve this post!
Tell us how we can improve this post?