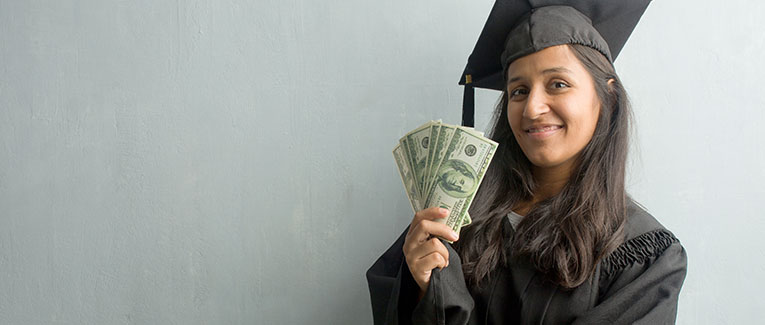 Billions of dollars' worth of financial aid is available for students. The common perception is that you'll find the right options with a simple Google search. However, your search won't connect you to any of the thousands of organizations that function on national and international levels, offering financial aid to students.
Scholarship programs that offer financial aid specific to your country/course are generally much more profitable than ones that are for all students in general. Such programs are also quite competitive and hard to get into. The first step is to learn about mainstream as well as course-specific programs.
The following are various scholarship programs for international students looking to study in the U.S.
Fulbright Scholarship
The Fulbright Scholarship is awarded for Masters and Ph.D. programs. A total of 4,000 scholarships are awarded annually. During the duration of your study, you will receive aid for tuition fees, a living stipend, airfare, health insurance, etc.
The Fulbright Scholarship is available to postgraduate students from all over the world.
The Aga Khan Foundation International Scholarship
The Aga Khan Foundation International Scholarship is awarded for Masters and Ph.D. programs. The number of students who are offered this scholarship varies annually. However, the process is quite competitive. The scholarship is grant-based as well as loan-based, usually with a 50% division between the two.
The intention of the Aga Khan Foundation is to aid students who have no means of financing their education. Hence, only students from developing countries are eligible to apply. Preference is given to students enrolling in Masters programs.
American Association of University Women (AAUW) International Fellowships for Women
The AAUW International Fellowship for Women is awarded for Masters, Ph.D., and Postdoc programs and graduate as well as postgraduate accredited institutions. Financial assistance is provided for full-time study and research.
The AAUW International Fellowship is awarded to women who are non-American citizens or non-permanent residents.
The aid provided for different programs is as follows:
Masters/Professional Fellowship: $18,000
Doctorate Fellowship: $20,000
Postdoctoral Fellowship: $30,000
The FAITH Endowment Awards to Greek-American Students
The FAITH Endowment Awards are scholarships awarded to students belonging to the Greek-American community. 130 scholarships are annually awarded to students from the Hellenic community. The awards range up to $10,000.
Applicants who display extraordinary academic achievement, a spirit of goodwill and charity, and altruism are the strongest candidates for this scholarship. The FAITH scholars are accepted into some of the top universities in the U.S.
The intent behind the FAITH Endowment Award to Greek-American Students is to promote a better understanding of the Greek Orthodox culture. They work to achieve this through high-quality, innovative, and educational programs.
Top BAFTA Scholarships
BAFTA scholarships are awarded to provide assistance to students in the fields of film, television, or gaming.
Fulbright-BAFTA Scholarships
The British Academy of Film and Television Arts (BAFTA) offers a wide variety of scholarships to students in the areas of film, television, and gaming. The Fulbright-BAFTA Scholarship was announced for the first time in 2020 in partnership with the U.S.-UK Fulbright Commission.
The whopping $250,000 scholarship is only awarded to one student annually. Along with tuition coverage, the scholars also receive access to BAFTA online events and industry resources.
The Pigott/BAFTA Scholarship provides financial assistance to British students studying in accredited U.S. graduate schools who are enrolled in filmmaking programs leading to a Master's degree. Up to $10,000 in tuition coverage is awarded to recipients.
Year-round expenses are also taken care of. The intent behind the Pigott/BAFTA scholarship is to provide indefinite support to British students studying in the U.S.
Hunter Foundation Scholarship
The Hunter Foundation Scholarship provides support to postgraduate students enrolled in film or film-related courses in U.S. accredited universities. The scholarship can only be awarded to citizens of Scotland (born and raised).
Up to $10,000 is awarded to recipients, along with BAFTA's new talent programming in New York and Los Angeles.
GlobalShala Hackathons
GlobalShala is an Indian organization that identifies and nurtures talent through scholarships, internships, and online courses. The GlobalShala Hackathon is a technologically driven initiative, meant to filter out innovative students from the rest.
GlobalShala comes up with different themes and challenges annually to create competition among students who can create technical solutions.
For instance, the challenge for 2020 is to create technologies enabling efficiency and productivity in the workplace.
The prizes awarded vary according to the rank you secure, ranging from conventional cash prizes to scholarships worth $5,000. The Hackathon is very rewarding.
Scholarships are awarded for education in a top U.S. university every year. Moreover, the prizewinners also get a chance to intern at GlobalShala. The intention behind this scholarship is to bring about a technological revolution in business management.
The eligibility for the GlobalShala Hackathon is as follows:
B.Tech/BE/BSc/BCA/BA graduates
High-school students (grades 9-12)
Miscellaneous scholarships for international students studying in the U.S.
Cappex American Scholarship
Annual CGtrader Scholarship
GreyCampus Scholarship Program
The Leo S. Rowe Pan American Fund
How to find the best scholarship for yourself
The process of finding the right financial aid for you can be quite tedious. It is important to refer to only legitimate sources for scholarships and not get caught up in scams. There can be various criteria for scholarships, such as merit, place of residence, ethnicity, etc.
Some of the best sources to find the perfect scholarship for yourself are:
The financial aid office in your high school or university
Your TRIO counselor
Federal agencies
Your state's grant agency
Scholarship foundation websites and referrals
Community organizations
Civic groups
Professional organizations in your field of study
Ethnicity-based organizations
Employers and workplaces
Do not be casual about your scholarship search. There are very profitable and rewarding options out there. Digging deep can definitely change your future.
We are sorry that this post was not useful for you!
Let us improve this post!
Tell us how we can improve this post?