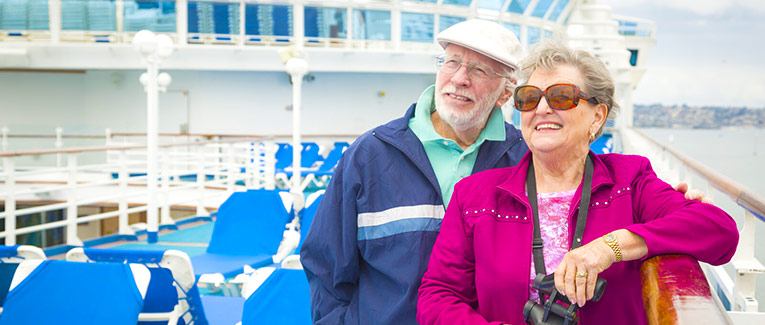 Regardless of age, everyone wants the same things from a cruise: a memorable vacation, relaxation, rejuvenation, and tranquility. Although travelers have these things in common, people do travel for different occasions, and they expect to have different experiences.
These problems were resolved by creating individualized cruises, like alcohol getaways, open-ocean relaxations, closed-loop cruises, senior citizen-only trips, and various other "specialized" itineraries.
Even if you do not find an entire ship that is to your preference, there is an extremely high chance that you will find a ship with a particular deck that is perfectly suited to your needs and interests.
For example, some ships reserve a deck specifically for couples, and some keep a few cabins aside specifically for families.
The cruise might not explicitly say that a certain deck is for honeymooning couples, but they will offer special deals on cabins with one bed. It is up to you to figure out if you fall within any of their brackets.
Similarly, decks that are geared towards senior citizens will be advertised as having low foot traffic, sunny seating, and beautiful views. Alternatively, some cruises are outright targeted at getting senior citizens on board, and you won't want to miss thesewhen they are being advertised.
How to Book the Best Cruise If You Are a Senior
If you are a senior, there are a few things to consider when going on a cruise. Think of this as your pre-cruise checklist. When planning for a cruise, be sure to keep the following points in mind:
Things to Consider Before the Trip
Duration
You need to consider the duration very carefully.
You should be aware of any upcoming family engagements or commitments, or you may have other responsibilities to fulfill.
For people who do not know when something might come up, short cruises work best. Opt for a longer cruise for more savings, or even if you simply have the time.
Destination
If you area senior citizen, you might prefer a relaxing open-sea, closed-loop cruise instead of running the alcohol circuit with a bunch of newlyweds.
You also might not want to travel to countries you've been to previously.
This is where the cruise itinerary will help. You want to pick a cruise that has a healthy balance between places you've visited and don't want to disembark at, and absolutely new destinations.
At places where you don't disembark, you'll be able to fully explore the ship when it's docked, and take full advantage of its facilities.
Start and End Ports
Ideally, you will want to opt for closed-loop or closed-circuit cruises, simply as a matter of convenience. A closed-circuit cruise is a cruise that ends at the same port where it began.
The main benefit of this is the ability to reach home quicker, or to get return flights easily.
If your cruise starts in Alaska, ends in the Bahamas, and you live in New York, you'd have to book flights from New York to Alaska, and then from the Bahamas back to New York. If either of those legs gets canceled, you're in for a whole lot of headaches.
Consider a closed-circuit cruise starting and ending in the Caribbean. You now have the option to book a roundtrip flight, which is usually fully refundable in the event of a cancellation. A handy rule is booking your arrival flights a day early, and your return flights two days late.
Aside from it being physically draining to have to travel immediately after a long cruise, there is always the possibility of delays. Booking a day early when leaving can help you avoid being left behind when the ship leaves port, and booking a couple days late on the return leg accounts for delays in the ship's route.
Be sure to tell your travel agent to opt for partially refundable cruises should you have to cancel. In some cases, travel insurance can help you reclaim any losses caused due to canceled or delayed flights.
Things to Consider During the Trip
Deck, Cabin Type, and Cabin Location
For senior citizens, it's best to choose one of the middle decks, as these are usually the quietest on average, year-round.
The more active, noisier people tend to prefer rooms near the front of the ship where the amenities are, or cabins that are closer to the weather on the uppermost decks.
If you're traveling in the offseason, there is also a good chance that most of the middle decks will be empty.
Traveling during the offseason also has the added bonuses of the crew being less strained, and prices being generally lower than they are during the holiday season. This is because cruise lines prefer their ships to be making some money, rather than no money.
Choosing a cabin towards the center of the deck puts you directly in the middle of the ship, both vertically and laterally. This makes all things equidistant from you, so you don't have to worry about distance when planning your activities.
If you have specific mobility requirements, like wheelchairs, walkers, walking sticks, or crutches, it may be a wise idea to pick a room that is fairly close to an elevator for easy access.
Prepaid Shore Excursions and Onboard Activities
Do not, under anycircumstances, pay for the cruise line-recommended shore excursions. These are just a way for the cruise line to siphon your money. Instead, phone a reputed travel agency ahead of arrival, and book a day-long tour package with them. They will always get you back to the ship before it leaves. Getting back to the ship on time is the only benefit of booking with the ship.
If you don't book onboard activities about two to three months in advance, especially on the bigger lines like Princess, Royal Caribbean, and Celebrity, you may end up alone outside of a sold-out Broadway premiere. This is even true for some of the more exclusive restaurants onboard certain ships.
Nearing the End of Your Cruise? Do This
Book Your Next Cruise
Booking your next cruise with the same line before disembarking can save you money either as an upfront discount, or as onboard credits.
These onboard credits can be used to book some of the pricier shore excursions, or for other ship amenities like room service, spa visits, or at the various bars dotted around the ship.
Use these tips to get the most affordable cruises that meet your needs.
We are sorry that this post was not useful for you!
Let us improve this post!
Tell us how we can improve this post?