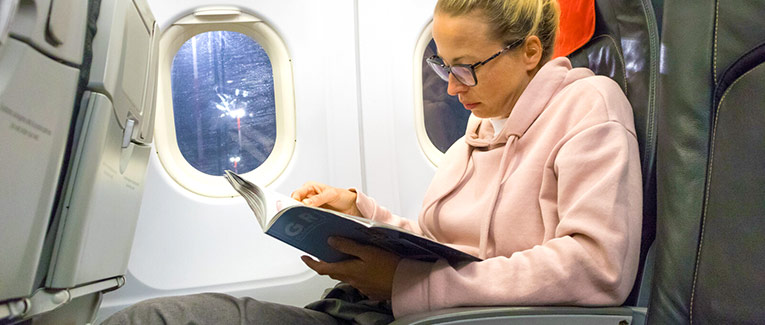 People love to take souvenirs from their travels. Sometimes these trinkets end up being mini shampoo bottles from hotels, or even magazines from the seatback in the airplane.
We all know that it is more than okay to take your mini soaps from the hotel, but is it okay to take a magazine from your flight? Read on to find out.
What You Can Take
1. Socks & sleepwear
If offered on your flight, any flight attendant will be happy to provide you with a pair of socks if you don't find them at your seat.
A pajama set will be laid out on the fully reclinable seats for first-class flyers on an overnight journey.
For obvious reasons, these cozies are meant for individual use. Therefore, you can take these with you.
2. Eye mask & earplugs
Continuing on the theme of getting good sleep, eye masks and earplugs are often a necessity. They're not passed out to every flyer, but are easily available upon request.
As soon as they wrap around your face or seal your ear canals, they're yours to keep.
3. Wipes & sanitizers
Let's face it, planes are not the cleanest of places. Who knows whose hands have been on your armrest and where those hands have been?
Many commercial airlines make it a point to distribute towelettes before takeoff, or include wipes in meal trays.
Most long-haul flights are diligently providing hand sanitizers and germ protection kits. You're encouraged to use the kits throughout the flight, and after as well. They are yours to keep.
4. Sickness bag
Heaving and hurling from airsickness is no fun.
But, what if the budget carrier you are flying doesn't offer an airsickness bag?
It's always good to have spares from previous flights. No one will object to you stocking up on a couple of extra paper bags. If your airline does provide them, feel free to take them when you deplane.
5. Amenity kit
The amenity kit nestled in your business or first-class pod is for you.
Airlines partner with exclusive brands to curate luxe toiletries. Slapping their names on these products and a pouches serves as a marketing technique on each subsequent trip that you carry the caboodle.
You don't have to let perfectly lovely minis that you won't use up at once go to waste.
It's a win-win for the lot.
6. In-flight magazine
To you, it's a memento of your plane ride, filled with aspirational travel writing and photography.
To the airline, it's free promotion. In-flight magazines often ask to be carried under your arm or peek out of the top of your briefcase, literally.
Ignore any co-passengers who give you the stink-eye. They can judge away and miss out on a glossy addition to their mag stash.
7. Food & alcohol
Edible freebies are the one thing that everyone has hoarded at some point in their lives.
The longer the flight, the more food that comes your way, and the more opportunities to save snacks for later. Sealed leftovers will prove handy for the wait at transit, or to munch on in the cab between meetings.
Also, the more upscale the flight, the higher the chances for alcohol service. Passengers are welcome to take the miniature bottles with them. But, don't get greedy simply because it is complimentary.
As a premium traveler, you might enjoy a glass of wine or two from a full-sized bottle. Without other partakers, the rest will have to be poured down the drain. Check if you can take the bottle with you instead.
What You Cannot Take
1. Blanket & duvet
Yes, they are of good quality. No, they are not cheap. Yes, they are washed and reused.
Blankets and duvets are only meant to make flying more comfortable. You are not entitled to walk away with them, irrespective of flying coach, business, or first class.
To make that crystal clear, blankets are collected before landing. Or, the carrier will charge you for them upfront.
2. Pillow
Do you throw away pillows at home periodically? Or do you just change the covers?
The same logic applies here. Pillows are for head support, while you are a customer of the airline, only.
3. Headphones
Ever wonder why headphones on most flights have two-pronged jacks?
Can you think of any other device with a compatible design?
There's your answer: they are worthless if stolen. Plus, stewards can catch you red-handed when they come around to collect all headphones in the final leg of the flight. So, don't bother.
The exception is the cheap flimsy kind, which can't be recycled or repurposed. No one's going to bat an eyelid if you pocket those.
4. Cutlery & tableware
Ceramic mugs and plates, crystal-like glasses, silver knives and forks, and weighty salt-and-pepper shakers are intended to elevate your dining experience. Not for you to loot.
In any case, you wouldn't want to be stopped by airport security for bringing sharp cutlery in your hand luggage.
Feel free to stash away plastic flatware that catches your fancy.
5. Lifejacket
You'd be surprised at how many people swipe the lifejackets from under their seats. Do they plan to drive to the grocery store in the neon inflatable contraption?
Don't be that person.
You'll save yourself the trouble of stuffing the vest in your carryon, a few hundred dollars for the airline, and the crew's effort of replacing your petty picking.
6. First-aid kit
First-aid kits are usually stored in an overhead bin on one end of the plane. Sneaking them out of the flight requires Mission Impossible-level strategizing.
These, like the life vests, are here for the safety of the passengers. Do not put others in danger by taking these from your flight.
7. Safety card
Stealing the safety card is a desperate attempt at vengeance for exorbitant fares. Comparing the value of the laminated piece of paper to your ticket price is ridiculous.
When you do leave with it, the airline isn't losing much, and you aren't gaining much beyond a misplaced sense of satisfaction.
What do you do when you encounter an object that your fingers are itching to snatch, but your conscience questions it?
The most straightforward way to solve your doubt is to ask. Check with the cabin crew before nicking anything. But, that can be an awkward conversation you want to avoid, understandably so.
Remember, taking something is okay when:
It's disposable
You offer to buy it
It's a need over a want
Once you've been given a snack pack, it's going straight in the trash regardless of what you have and haven't consumed.
Owning silverware embossed with the Pan-Am logo, or a souvenir from your first Airbus A380 voyage would be cool, provided you've paid for it.
Shivering from a fever and bundling up in a blanket to make it through airport formalities will likely have the stewardess sympathizing with you, especially if you explain the situation.
Think before you act, and you should be golden.
There's No Need to Be Greedy
While we may never know why some passengers elect to steal airline property, some may feel they have good reason. Airline luggage gets lost on occasion. Perhaps they're considering the idea that having an extra pair of headphones, or a new first-aid kit for their hiking trip is good insurance in case their bag goes missing.
In reality, the best insurance to have for this situation is travel insurance. If your bag is lost by the airline, your travel insurance policy can allow you to receive compensation for the lost items. This way, you can replace what you're missing legally, rather than trying to sneak it off of a 777.
We are sorry that this post was not useful for you!
Let us improve this post!
Tell us how we can improve this post?