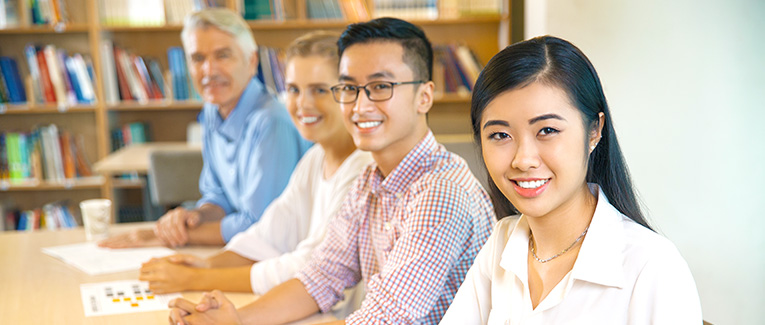 Applying to colleges can be an overwhelming experience. There's over-information, there's under-information, and there's prohibitive price of education in the U.S.
Coalition for College can help. The organization's online application, called MyCoalition, can help students manage their college search and application process easily by preparing for it sooner.
Should you, as an international student, use this option? The answer depends on three key factors:
1. How early do you want to start looking for colleges?
One of the best features of the coalition application is that it allows early engagement in the application process. The coalition application process is tailor-made for early birds. If you're a ninth grader looking to get a head start towards higher education, it's perfect for you.
Once you've created a coalition account, you can start researching different colleges, and learn their acceptance scores. This will help you set a definitive target for your school grades.
An early start helps you shortlist colleges and discuss them with your parents, teachers, or counselors. You can visit the colleges physically to ascertain their suitability, or use the application's virtual tour feature.
Applying for admission to a college can be stressful. MyCoalition's free college planning tools have been designed to make the act simpler and less stressful. You can use these tools to track goals, organize academic information, and receive guidance and collaboration from your mentors.
2. Your choice of educational institute
Do you already have a list of U.S.-based schools or colleges where you would like to study? Then you'll need to check whether these are listed as coalition member colleges.
Currently, over 150 U.S. colleges and universities are associated with Coalition for College. Almost all of the members accept applications through MyCoalition. You can check the complete members' list by visiting the official website of Coalition For College.
Over 900 U.S. colleges and universities accept admission applications through the Common App – a popular undergraduate college admission platform. If the colleges on your list don't accept coalition application, you should opt for a common application instead.
To be a member of Coalition for College, an educational institute needs to have consistently high graduation rates. If your goal is to study at a college or university with high academic standards, the coalition application is the automatic choice.
Many of the most selective liberal arts colleges, public schools, and universities in the U.S. accept the coalition application. These include the University of Florida, Stanford, UT Austin, and these five Ivy League schools:
Columbia University
University of Pennsylvania (UPenn)
Your need for financial support
MyCoalition is aimed at supporting students from low-income, underprivileged, and under-represented communities. If money is an issue for you, the coalition application can be the solution.
Coalition for College offers students financial assistance in several ways. These include:
Coalition fee waiver.
Coalition scholarships to students at various stages of applying for college.
The Path to College scholarship. This scholarship has been specifically designed to extend financial aid to high school students.
The Exploration scholarship. This scholarship helps students with expenses involved in the process of exploring the schools or universities of their choice.
U.S. colleges that accept the coalition application often have more affordable tuition fees than colleges accepting other forms of admission applications.
If you're applying at a private college through the coalition, you may be eligible for certain financial grants. These grants are designed to fulfill the students' monetary needs over the course of their study program.
Most public colleges that accept the coalition application have affordable tuition fees. At some, the tuition fee is completely waived for students who are eligible for financial aid.
Advantages of Using the Coalition App
MyCoalition is a centralized college application platform that was launched in 2015. It's fairly new compared to rival platforms such as the Common App, which was launched in 1975. The faculty's experience with older apps might make acts such as writing and sending recommendation letters easier and quicker. But, there are certain benefits of the coalition app that make it the superior choice.
1. Your search for the right college is a short one
If your search for the ideal college is based on the college's academic results, student graduation rate, and affordability, then you can expect a shorter list of candidates and quicker results with MyCoalition.
Every college that accepts admission applications through MyCoalition already meets your search criteria. Using MyCoalition will keep you from wasting time and energy checking out colleges that don't meet your needs.
2. Some of the best educational institutes in the U.S. prefer the coalition app
A number of top schools in the U.S. accept admission applications only through MyCoalition. Some notable examples are:
The University of Washington
Rutgers University, New Jersey
UT Austin (The University of Texas at Austin)
The University of New Mexico
If you're interested in studying at one of these universities, the coalition app is your best bet.
3. Excellent features
The coalition app has some excellent features to help manage academic material and build your college application. If you're a high school student, you can start working on college applications no matter what grade you're in.
The "locker" feature is designed to store and manage everything from resumes and portfolios, to recommendations and admission essays. Once you've collected all the material you need, you can easily link the locker contents to your admission application.
The basic biographical details from the virtual locker are automatically added to your college application. You can choose which of the other documents are visible to schools you apply to.
The virtual locker supports almost all types of files, including audio, video, documents, graphics, and spreadsheets. It doesn't, however, support zipped archives or executable files. The maximum size for an individual file upload is 50 MB.
The virtual locker gives you unlimited storage space. This means you can securely store all the videos and documents you need for your application in one place.
Another of the coalition app's best features is the Collaboration Space. This feature gives you the ability to add trusted people to your account. Your friends, family members, teachers, and mentors can all be linked directly to your account. This allows you to digitally collaborate with them, and seek their guidance on your essays, artwork, and applications.
The collaborators can only view files that you invite them to view. They can comment on the files, but cannot make any changes to the contents of your locker.
4. Your MyCoalition account remains valuable even after college enrollment
You can continue using your locker and collaboration tools to track your academic journey even after enrolling in a college. Coalition accounts typically remain active for years even without any activity. If you wish to transfer to a different university, you can use the app to build your application.
If you create a coalition account, but choose another admission app, you can still use your coalition account's features. You can use the free tools to store and organize all your academic and career-related data in one place.
5. Free resources for students
The coalition app has a wealth of free resources to help students with their college application process. These include admission checklists, dos and don'ts, and online and printable articles written by specialists. You can access these resources through the "MyCoalition Counselor" section of the official Coalition for College website.
The website also offers free technical support to students. If you have a query or problem concerning the app, go to the "Help" drop-down, and then click the link for "Technical Support." The coalition app takes a targeted approach to the college admission process. It's a lot more efficient and less stressful than most of its alternatives. If the colleges you're interested in accept it, the decision to apply through the coalition application is an excellent choice for international students pursuing their higher education in the U.S.
We are sorry that this post was not useful for you!
Let us improve this post!
Tell us how we can improve this post?