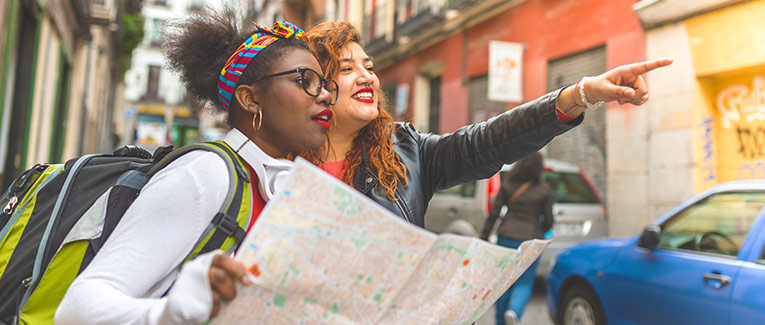 For many people, the thought of traveling with friends is a treat. Sure, there is always the stress of planning and traveling, but if everything goes smoothly, the trip can be a blast. However, for others, traveling with friends can be a nightmare. If you're thinking of taking an international trip with your BFF, you may want to read on to find out the pros and cons of doing so.
Traveling With Your Best Friend: Things to Consider
Despite all of the benefits of having a best friend, there are most likely times when you may not get along. Even if this is the case, there's probably no one else you'd rather be with on an international trip. However, taking a trip with your BFF may not be such a great idea under certain circumstances. Here are some points to consider before you take an international trip with your bestie:
Do You Like the Same Activities?
Often, best friends also turn out to be polar opposites. That is fine during day-to-day life. After all, life would be boring if everybody were the same. But, when you are traveling together, you want a companion who enjoys the same things that you do. While both of you will have to compromise to some degree, you would not want either one of you to have to give up an activity that you really want to do. You may want to enjoy a day reading at a café, and your travel buddy may want to go on a hike. Before you decide on traveling with your bestie, it is wise to think about these differences and make sure that they would not cause tension on your trip.
Have You Faced Adversities Together?
Before you even consider going on a trip with your bestie, remember that traveling with buddies is not always as awesome as movies make it out to be. Your best friend might be a very fun person to be around, but how do they deal with stress? Are they capable of being calm during a tough situation? Like it or not, you may have some unpleasant and unprecedented experiences during your trip. One of you might experience a medical emergency or have some sort of accident. Are you and your best friend capable of helping each other out during such a scenario?
Keeping a level head and being swift to take action during a medical emergency may not be enough if you are short on money. To avoid financial hardships while you are traveling, it is a good idea to read up on and buy adequate insurance plans before you travel. You can find detailed information on travel insurance plans specific to your destination at insubuy.com.
Are You Capable of Handling Money Together?
Money matters can cause a rift between the best of friends. Before you travel, make sure that you are both on the same page regarding your budget. To travel together, make sure that you discuss money matters beforehand. Have a clear and direct discussion on how much you and your BFF are each prepared to spend on important parts of your trip such as travel, food, and activities. Make sure that you stick to your budget on the things that you two are sharing the cost for, and keep a separate budget for individual expenses.
Are You Prepared to Compromise?
You and your best friend are going to be responsible for each other's safety and wellbeing throughout the trip. This means that you may have to have to miss out on certain items on your bucket list. For example, if your BFF is not physically capable of taking that two-day hike you were looking forward to, you might have to take it off of your list. Your BFF must be prepared to extend the same favor towards you.
Have You Ever Spent a Long Period of Time Together?
Meeting each other for a few hours every day, or even having slumber parties once in a while is one thing. Going on an international trip is completely different. You will have to put up with each others' peculiarities and eccentricities for the entire duration of the trip, no matter how tiresome they may become.
Before you go, get a reality check and consider if you and your best friend are prepared to stay together and look after each other's needs for the duration of the trip. While it does save money for the two of you to share a hotel room, perhaps you should consider getting separate rooms so that you can have a bit of a break when necessary.
Traveling with Your Best Friend: The Advantages
If you haven't traveled with your best friend before, here are some of the best reasons why you should. Traveling alone can be exciting, but there's no doubt that exploring new places with a close friend is a lot more fun and comfortable.
You Get To Share the Expenses
Lodging alone can take a heavy toll on your travel budget. With your BFF, you may be able to afford better accommodations since you will be sharing the costs.
You Will Never Be Bored
You will always have the company of one of your favorite people for the duration of the trip. You may have traveled with your family or friends before, but going with your BFF is a whole new experience. You will get to explore different cultures, cuisines, and activities together. While you travel, there will be ups, downs, and plenty of curves along the way. But when you come back, you'll realize that every bit of experience was worth it — the good times, bad times, and everything in between.
Planning and Packing Will Be Easier.
Planning and packing for a trip is something most people await with dread and get over with haste. Things will be very different when you are doing it with your best friend. You will both be able to look forward to planning and finding fun activities to do together.
You Will Always Have Someone by Your Side
Traveling abroad is stressful. You will be traveling to a different land, probably with different culture, language, and customs than you are used to. A best friend is both a comfort and a source of support. It's not easy having to deal with problems on your own, but with their unwavering love and support, you can be sure that they'll be there when you need them most.
Before You Go, Consider This
After you have considered the pros and cons of traveling with your bestie, you can now decide whether the pros outweigh the cons. If they do and you do decide to travel with your BFF, consider the following suggestions before you travel:
Before you go on your vacation, make sure to plan every little detail. Making a thorough itinerary and sticking to it will allow you to avoid misunderstandings both at home and during the trip. Things will be much more comfortable if you know exactly what's going on, and how long each activity will take.
Have an honest, direct conversation with your travel companion about your expectations of the trip. This will make sure that you both know what to expect and how to make sure that the other has a good experience. Have an open conversation about trip itineraries, and go over any potential issues that might arise.
The key to having a good trip is hoping for the best, but being prepared for the worst. Before you go, make sure that you have adequate travel insurance to avoid financial worries during your trip.
We are sorry that this post was not useful for you!
Let us improve this post!
Tell us how we can improve this post?