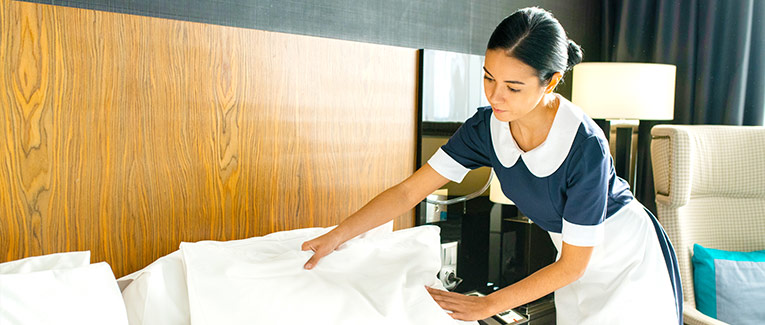 No, you won't miss your flight or go bankrupt if you leave a small tip for the housekeeping staff. However, the majority of hotel guests never think to do so. They should.
If you can afford a trip, you shouldn't be stringent about a few dollars. In fact, you should factor in such minuscule expenses before you plan a vacation. After all, your travel insurance can help protect your from many of your unplanned major expenses anyway.
The housekeeping staff are the people who make your holiday fun by doing all the humdrum tasks you hate doing back at home. The least you can do is show a little gratitude.
Housekeeping Staff Is Paid For Their Job—Why Should I Tip?
As a hotel guest, you are served by several people, from the front desk staff and manager, to the chef and concierge. Then why is it that you are required to tip only specific staff?
There is a large difference in their base pay.
Housekeeping staff, bellhops, room service staff, and waiters barely make a minimum living wage, and they do the most tedious and grueling jobs in the entire hotel.
Imagine changing filthy bedsheets, rubbing grime out of the sink and toilet, swapping soaked and stained towels, cleaning ancient residue from remotes and light switches, and dealing with occasional disasters 20 times a day. Add in long hours, negligible breaks, and frequent complaints from neat freaks. These employees have a very difficult job.
It is assumed that since these jobs don't require a fancy degree, they don't deserve a big paycheck either. This is the reality of the world.
You can make the world a little nicer by leaving a few bucks for those who help improve your vacation experience in noticeable ways.
Evaluating Housekeeping Service: Factors That Make a Difference
Yes, you could hand in a fixed sum regardless of the service, or you may increase or decrease the amount to ensure better service the following day.
If you tip according to the quality of service, you leave unspoken feedback for the cleaning staff. They will know whether they did something right or wrong.
But, how do you know the quality you should be aiming for? Well, here are some factors you should consider:
1. Condition Of Your Room
Examine whether your room is squeaky clean. From the bed to the bathroom, you can say your room is in pristine condition if all is in order. Go a little easy on the inspection though. Checking window panes and the back of the TV is a little too much.
2. Special Touches
Sometimes housekeeping staff will go that extra mile. Maybe they will comply with your request and bring you that scented candle, or that extra soft bathrobe you asked for. They might put out some chocolates on the bed as a surprise, or fold some clothes that were lying about.
These subtleties are not usually a part of their job description. So, if you are on the receiving end of such niceties, add a mental point to their performance score. They deserve it.
3. Behavior And Etiquette
There have been instances where housekeeping staff has looked after a sick guest, brought them soup and medicines, and checked on them.
Even a smile or a pleasant attitude should be counted. Guests usually don't encounter housekeeping, but, it's either awkward or quite sullen when they do. So, nice behavior is not to be taken for granted.
Tipping Hotel Housekeeping—the Appropriate Amount You Should Pay
As we have seen, you shouldn't pay equally regardless of the service. The amount should be rational and well-balanced.
The main question—how much should you pay?
Here's a rough estimate in U.S. Dollars:
Between $2-$5 per day for a 3-star hotel and below
From $5-$10 per day in any hotel above 3 stars
Tip on the lower side on normal days
Tip higher on special occasions like Christmas or Easter
You can tip less if you are already leaving behind a pretty clean room
You should tip more if your room is especially messy
Add a few extra bucks if you are pleased with the extraordinary service
To save on tipping, don't ask for housekeeping every day, especially if you are staying for a long period. Always tip within your budget. No need to go overboard.
Housekeeping Tipping Etiquette—When and How?
There is a proper way of doing things in the hospitality industry, and it applies to you even if you are the customer.
When to Tip?
Tip every day before leaving your room.
If you're staying in, tip after they have cleaned the room.
A different person is likely to clean your room every day. So, tipping hotel housekeeping all at once on the last day means the people who have cleaned your room throughout your stay don't get a dime. Meanwhile, the person cleaning your room on the last day gets lucky.
Also, receiving the tip before they have even started cleaning is a motivation for doing a good job.
How to Tip?
Just hand the tip to the housekeeping staff before they are about to leave the room after they're done cleaning. You can only do this if you are in the room while they clean.
In most cases, they'll come when you're not there. So, just take an envelope or a piece of paper, put the cash inside, and write "for housekeeping" on the top. Leave it on the bed or the desk. It should be distinctly visible and made abundantly clear that it is intended for them.
Your Tip Is More than Just Money
After cleaning a few dozen rooms per day, a housekeeper in an average hotel might make $20-$30.
When a housekeeping staff enters their 15th room of the day, seeing an envelope with thanks and a few dollars inside makes them feel seen and appreciated. That is what their job lacks the most—visibility and gratitude.
To know that their rigorous work is not taken for granted by an entitled guest feels good. That alone is an adequate reason to tip. The best thing your money can buy is a smile.
We are sorry that this post was not useful for you!
Let us improve this post!
Tell us how we can improve this post?