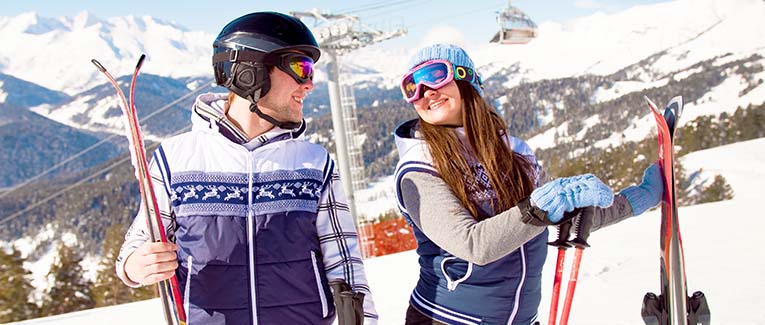 The dazzling white mountain. The snowboard underneath your feet pointed downward. Whooshing down the mountain slope. Yeah, that's right. You crave a ski trip.
But think about the cost. There are hotel room charges, the price of renting gear, the overpriced food, and more.
However, you won't have to worry about those costs so much if you plan your trip to the slopes the right way. Read on to learn how to go skiing on a budget.
7 Essential Hacks For Skiing On A Budget
1. Book in the Off-season
Resorts charge the most on Christmas and New Year's. You can pay up to $180 for a lift ticket. The prices decrease from early January to early March. You'll pay up to $180 again in mid-late March. From April, the prices reach their lowest point, just before most resorts close for the spring.
Hotels follow the same pattern. Furthermore, you'll pay higher charges for both lodging and lift tickets on President's Day Weekend.
Therefore, schedule budget ski holidays between late fall to mid-December. You can book a trip in April as well. Furthermore, during the off-season, you won't have to stand in hour-long lift lines.
Check school and college schedules. After finals are over, families will flock to the ski resorts. Resorts hike up their prices accordingly. You'd do well to avoid those weekends.
Furthermore, if you book a trip on weekdays, you'll pay less than if you booked one on the weekend.
2. Book in Advance
If you typically arrive at the resort and buy a single-day ticket, it's time to change your tactics.
One of the best ski vacation tips to save more is by booking in advance. Resorts including Colorado's Copper Mountain offer up to 45% discounts if you book the ticket a day or more in advance.
Book your accommodation and lift tickets before buying a flight ticket. The accommodations book up fast, especially if you're traveling during peak season.
If you book your trip couple of months in advance, you can save up to $2,000 for a family of four. For a ski trip on a budget next fall, book the lodging and tickets by late summer.
3. Choose Less Famous Destinations
What's the similarity between famous ski resorts and popular clothing brands? You pay for the brand value. Another brand might offer equal quality for less, but it doesn't have that recognizable name. For example:
For a single-day lift ticket, Vail Ski Resort charges over $150. Nearby Eldora Ski Area charges $90 for the same, and Ski Cooper only $50. In Utah, Solitude charges 50% less than popular Park City.
These smaller resorts can have just as many amenities and runs. All they lack is the prestige of the big names. If you can live without telling your friends about your trip to Vail, you can save a lot of money. The lesser-known mountains are no less beautiful and exciting.
4. Buy Season Passes
Season passes are a god sent to those looking for a cheap ski vacation. These passes offer you unlimited skiing at affordable ski resorts. Furthermore, you receive benefits including discounts on food and beverages.
Vail Resort charges $783 for a full Epic Pass. You pay $583 for an Epic Local pass.
A full Epic Pass allows you access to 37 mountain resorts. Furthermore, you can enjoy seven-day access at nine North American mountain resorts.
With an Epic Local pass, you get access to 26 mountain resorts. In addition, the pass allows you access to Snowbasin and Sun Valley for two days.
Furthermore, any epic pass holder receives a 20% discount on food and beverages. The maximum discount is $150. You receive an exclusive 20% discount on resort rooms as well.
Want to learn skiing? Receive a 20% discount on group ski lessons. Furthermore, you'll get a 20% discount on rented gear services as well.
Buy an Ikon Pass and enjoy unlimited skiing at 15 destinations. The destinations include Winter Park, Big Bear Mountain Resort, and Copper Mountain Resort.
Furthermore, you'll receive up to seven-day access to 29 destinations. The resorts include Deer Valley Resort, Jackson Hole Mountain Resort, and Cypress Mountain.
Alterra Mountain Co. offers three types of Ikon Passes — Ikon Pass, Ikon Base Pass, and Ikon Season Pass 4-day.
5. Bring Your Food
How are ski resorts similar to movie theaters? Both sell overpriced food.
Thus, bring sandwiches, granola bars, and fruit. These foods contain the calories you'll need after a skiing session. Carry a bottle of water for each person in your group. Why pay to drink water?
Never waste money on a $15 hamburger or $7 hot chocolate. Furthermore, you won't have to stand in hour-long lines for lunch.
Book a condo with a kitchen. Buy groceries and vegetables. Cook food and take it with you. Booked a slope-side, or ski-in, ski-out condo? Ski back to your condo and have lunch.
Snowmass and Steamboat offers ski-in, ski-out accommodations. Sites such as Ski.com list affordable ski vacation packages and deals for those on a tight budget.
6. Choose Resorts Near Major Airports
You won't find airlines offering cheap flight tickets for small airports. Why? Three reasons:
Low-cost airlines won't fly to small airports
Little to no airline competition in the airport
High landing fees and surcharges
Thus, choose major business airports including Denver, Salt Lake City, and Vancouver.
From Salt Lake City Airport, you can reach ski resorts including Deer Valley, Park City, and Snowbird in 40 minutes. Want to reach ski resorts including Vail, Winter Park, or Copper Mountain? You'll need to drive for two hours from Denver International Airport.
Furthermore, choose a resort away from the ski village area. Here's an example:
If you book a resort in the ski village area, you'll pay up to $400 a night. However, if you choose a hotel that is 20 minutes away from the ski area, the price goes down to $150 a night.
7. Rent Gear from the Nearest Town
How to make your ski trip cheaper? Never spend $800 buying ski gear including skis, bindings, and boots. Choose to rent.
Rent the ski gear from the nearest town to the ski area. Why? If you rent ski gear from a shop close to (or in) a ski resort, you'll pay up to $100. However, if you rent the gear from the nearest town, you'll pay about $60.
Furthermore, ski rental shops offer you three options — beginner, intermediate, and advanced. If you don't ski every in season or on difficult runs, choose the beginner or the intermediate. You'll save up to $30 each day.
Buy Travel Insurance
Sprained knee. Fractured wrists. Dislocated shoulders. The injuries are a familiar sight on ski slopes. If you suffer from these injuries, you'll need to visit an ER. Furthermore, you'll need to consult an orthopedist.
Your dreams of skiing on a budget would be shattered if you had to spend a few days in a hospital. Expect to pay a few hundred — or thousand — dollars. However, you can have protection from these big bills if you've bought travel insurance or travel medical insurance that provides coverage for skiing before your trip.
Every day, smart people like you buy travel insurance from Insubuy. Filter plans as per your needs. Compare them. Receive instant quotes. Afterwards, buy right from the website, and keep the e-policy document in your online account.
Still have questions? Insubuy's customer support team will be happy to assist you.
We are sorry that this post was not useful for you!
Let us improve this post!
Tell us how we can improve this post?