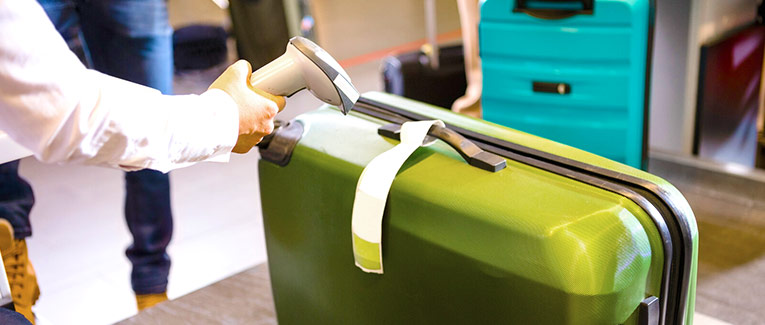 Airfare prices are hefty enough without airlines tacking on additional fees. Most people do not realize this, but checked baggage fees are quite a big business.
Some airlines charge you just to check your bag, some give you a certain amount of free luggage after which they charge you, and the premier ones charge you by the bag's weight.
A few carriers like Spirit Airlines and Allegiant Air charge you for your carryon luggage as well as your checked luggage. Checked baggage costs and baggage fees, in general, can set a traveler back by as much as $150.
How to Save Money on Baggage
1. Research Your Airline's Baggage Policy
Reading the policies provided by the airline is the first step to getting clarity on how much your luggage will cost.
Make a careful note of whether the airline has free baggage up to a certain limit, or if it charges you based on how much your bag weighs.
Most international carriers allow a free baggage allowance of about 22-30 kilograms (48-66 pounds) per ticket.
2. Book Excess Luggage in Advance
If you know that you are an over-packer, booking an extra slab of luggage in advance can save you up to 50% of the amount you would have paid at the airport, in person.
All airlines offer this service, although billing styles may differ. Some charge a flat fee for a certain amount of extra luggage ($50 for 30 kilograms, for example) while some charge a flat fee per bag.
You can use this service by talking to your travel agent at the time of booking, directly phoning up customer support, or by using your booking number on the airline's website.
Always try to book your extra luggage as early as possible, as this ensures that you get the best rates available.
3. Choose The Right Card to Pay with
Checking out your bank's flight benefits is never a bad idea. Most banks will have partnered up with a particular airline.
There is a good chance that you may be able to get one bag checked for free, or even get free checked-in luggage if you play your cards right.
Even if your bank doesn't have any incentives for travel expenditure, using credit cards may still be beneficial on account of the cashback that they offer.
Similarly, some credit cards give you free travel insurance coverage when you fly a particular airline, pre-book your stay at a particular hotel, or when you travel to a certain destination.
4. Ship The Weird Stuff
If you have a particularly cumbersome piece of luggage, such as furniture, or an oddly shaped parcel, having it shipped to your destination is a viable option.
Most hotels can accept your luggage up to three days before you check in. Phone your hotel for the details though. Some require you to have a deposit on the room, while some require the room to have been paid in full before accepting any baggage.
If you are shipping items you will need for your stay and you have a travel companion, always split the cost with them. This way if something gets misplaced, you only face half the loss.
5. Join An Airline's Frequent Flyer Club
Joining a frequent flyers' club has numerous benefits. Among them are free food, beverages, and baggage.
Aside from free baggage, you get priority seat selection, priority baggage, VIP Lounge access worldwide, and sometimes discounted rates on tickets.
Joining these clubs often requires annual membership fees.
6. Fly Only One Airline/Airline Alliance
Book your business and private flights with the same airline, so after frequently using them, you may automatically get upgraded to one of their elite tiers.
Elite airline members get almost all of the perks of frequent flyer club members, with exceptions like restrictions on lounge access. Elite members can usually check their first bag for free.
Tips for Preparing, Packing, and Paying
1. Wear the heavy stuff
Wear boots, wellingtons, overcoats, leather jackets, denims, trenches, sweaters, and hoodies. Most planes are on the cool side after reaching cruising altitude anyway.
Pack t-shirts, track pants, sneakers, skirts, shirts, and trousers.
Wearing heavy items can reduce your luggage weight by a fair amount.
2. Keep heavy/dense items in your carryon baggage
The reasoning behind this is that carryon bags usually have a limit, but are rarely checked or weighed.
This means that customers can get away with a whole lot more than the 7 – 10 kilograms that have been allotted to them.
Other items that you should put in your carryon bags are boots, heavy clothing, metallic items, thermos flasks, laptop computers, and other such knick-knacks. Make sure all items in your carryon are legal to have on the plane. Otherwise, you may have to check them separately or discard them.
3. Check only one bag
This tip is for families or couples traveling together. First, find out if your airline charges per bag, or per kilogram.
If they charge per bag, packing all of your luggage into one big suitcase may save you more money than multiple smaller suitcases, for which you will be paying per bag.
Be smart when packing like this, though. If the luggage gets misplaced or is lost, you'll be left in a strange place without your essentials. Be certain that you have travel insurance coverage in case of loss or theft.
Avoid this by splitting the things you will need for the first week between you and your family's carry-ons, and the big suitcase you're traveling with.
4. Avoid basic economy
Basic economy is just what it says: basic. No perks, no benefits, no extra services.
The price difference between economy and basic economy isn't all that much, and premium economy travelers usually get to check one bag free up to a certain weight.
To figure out the most cost-effective solution, research baggage costs to your destination and add those to the fare of the basic economy. Then check out the fares to travel to your destination via premium economy.
Whichever is lower, pick that. If you know that you will exceed the baggage quota, then always book luggage in advance.
Sometimes, prepaying for your luggage can halve the check-in prices, as compared to what you would pay at the airport.
5. Check in early
All flights have a certain quota of extra luggage that the attendants are allowed to overlook.
Getting to the check-in counter as early as possible will give you a better chance of getting some of that quota before it's all used up.
Obviously, be nice to the agent, as a bad attitude never got anyone anywhere.
If you are traveling with only carryon luggage, inform your airline. They may offer you a discount for not checking any bags. This only works for airlines that offer free baggage, though.
We are sorry that this post was not useful for you!
Let us improve this post!
Tell us how we can improve this post?