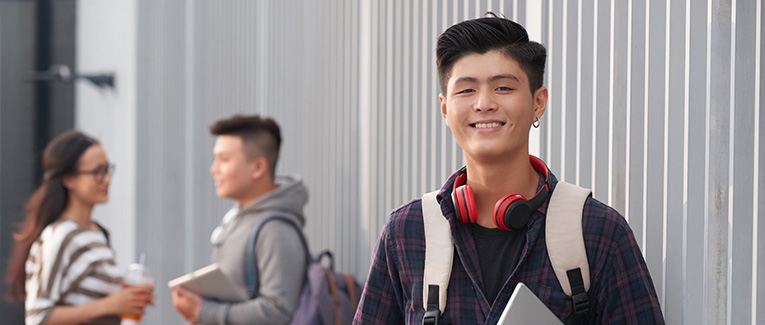 Just like in any other part of the world, studying in the U.S. has its fair share of risks. However, a large number of international students study and thrive at U.S. colleges and universities each year. The USA is full of welcoming communities where you will be free to pursue your academic dreams regardless of who you are.
Nevertheless, here are six key safety issues you may face as an international student, and how you can overcome them:
1. Campus Crime
Before reaching campus, you should research the crime statistics of the university you have chosen. These statistics are required to be available on university websites as per the U.S. government. These statistics can help you get a better idea of how safe you'll be on campus at your chosen university.
Ensure that your school is in a good location, and check for on-campus resources like a campus police force and nighttime escorts for students. Verify the requirements for student health insurance plans, and purchase one that will be effective on and off-campus.
Be vigilant about your valuables. Items such as laptops, wallets and phones can be stolen. Make sure you are well aware of the safety protocols and rules for your campus.
2. Off-Campus Crime
Residing off-campus has become a trend among the younger generation. It has its perks, as you can experience the best of city life and lead a completely independent lifestyle. However, you must make sure that you stay safe.
International students are often considered naive, and hence, easy targets. Do not let uninvited guests into your apartment, and ensure that you have proper locks in place and a peephole installed. Lock your doors and windows before you leave your apartment to reduce the risk of theft or trespassing. Also, never lend your apartment key to anyone except your roommates.
3. Identity Theft
Non-residents usually do not understand the severity of identity theft in the U.S. International students are exceptionally likely targets for this crime.
Make sure that information such as your social security number, credit card details, and passwords remain confidential. Do not disclose your address or phone number to strangers.
If you receive phone calls from unknown numbers requesting access to any confidential information, do not engage in conversation with them.
If you are offered the chance to make easy money, simply walk away. Such an attempt is most likely someone trying to entice you into committing a crime.

For visitors, travel, student and other international travel medical insurance.
Visit insubuy.com or call 1 (866) INSUBUY or +1 (972) 985-4400

4. Common Crimes
The U.S. ranked 56th in the Global Crime Index for 2021. The most common crimes are theft, burglary, aggravated assault and robbery. Naturally, you must be extremely vigilant about your belongings and your place of residence.
It is a good idea to have your important belongings insured. Passports, luggage and mobile phones are the most commonly stolen items.
5. Health Risks
Life in the U.S. is full of health risks that may seriously affect your life as a student.
Most importantly, 25 million Americans suffer from asthma. The poor air quality in the U.S. causes innumerable respiratory problems, asthma being the most common.
Excessive pollen in the air leads to allergies, and climate change has shown adverse effects in certain states such as Arizona. Rising temperatures can cause more intense storms and heatwaves. Unhealthy eating habits of Americans can lead to cardiovascular problems and diabetes.
Students often suffer from mental health issues such as anxiety and depression. According to the American College Health Association, 63% of college students in the U.S. suffered from severe anxiety in 2018.
Students are advised to ensure that their student health insurance includes mental health counseling. Also, you should carry face masks when visiting industrial or dusty areas, and drink plenty of water during the summer months.
6. Expensive Healthcare
In America, you have to pay almost four times as much for pharmaceutical drugs as residents of other developed countries. How is expensive healthcare a risk? Well, as an international student, the last thing you need is a financial burden due to an emergency or accident.
Being away from home is already challenging. Large medical bills arising from unavoidable medical treatment are not desirable when you're on your own. A simple doctor's visit can cost more than what you make in a week working at a part-time job on campus.
Not being able to afford healthcare can be a risk, as you may be forced to endure medical issues in order to avoid visiting the hospital. Plus, students often need mental health assistance and regular annual checkups. If play sports, you will likely require regular doctor's visits, too.
The only way to avoid paying for medical bills out of your pocket is by purchasing health insurance. At most U.S. universities, it is mandatory for international students to have health insurance coverage. Make sure you understand all the requirements set by your school and your visa status so you can purchase the right plan.
In Conclusion
The U.S. is one of the most desirable student destinations in the world. You will receive exposure to all sorts of opportunities and ideas in the United States. It is the land of liberty, and no risk is big enough to deter students from studying here.
As long as certain safety precautions are followed, you should encounter no trouble during your stay. Just keep your health insurance plan in place, your company amiable, and your social security number private, and you're good to go.
We are sorry that this post was not useful for you!
Let us improve this post!
Tell us how we can improve this post?