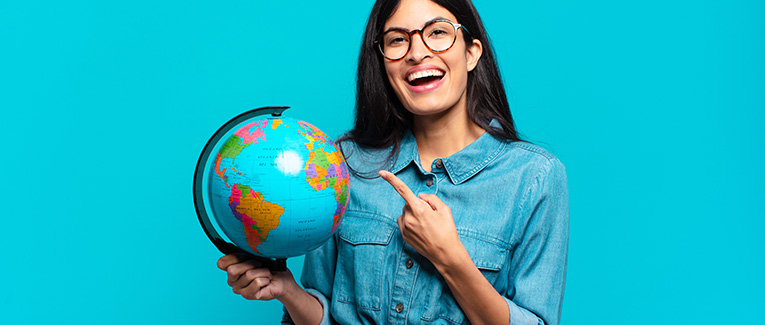 In many countries, the biggest sector that propels national income is tourism. In 2019, the tourism industry contributed $1.1 trillion to the USA's GDP. Even in 2020, though international tourism was forced to a halt, domestic tourism continued in many places. The continued success of tourism around the world proves the human need for new experiences.
Most international students who are interested in working in the field of tourism foresee a future of thrilling travels and sightseeing. However, this is not always the case. Tourism is a demanding major, since tourism itself is a demanding industry. Majoring in hospitality or tourism will require you to have an impeccable work ethic and the ability to think quickly. You will meet thousands of people in your career, and you must be polite and prudent in your dealings with each of them.
Benefits of Majoring in Tourism Management
Tourism Management is one of the most hands-on majors available. A popular tagline is "learn by doing." The standards are similar globally, implying you can find a job in any country. Contrary to popular belief, a tourism major goes beyond attractions and how to reach them. It is a management degree with concentrations in marketing, human resources, sustainability, and more.
Additionally, studying tourism in the U.S. can open up your job prospects globally. Students in the U.S. are exposed to a diverse range of cultures. This allows them to meet their academic goals while also receiving the practical experience of interacting with people of every background. Employers are also welcoming to international students because the ability to speak multiple languages is usually expected.
Job Opportunities for International Tourism Management Students
Students can branch out into various fields within the tourism industry. A couple of the most popular occupations for tourism management majors include:
Hotel or Resort Front Desk Executive
You will be required to oversee the stay of hotel or resort guests and ensure they have a good experience. The ability to work with and manage a team is crucial. Additionally, you can move to managerial positions easily.
As a front desk executive, you can earn up to $49,000 per year.
Events Manager-Planner
This job involves planning events like weddings, parties and making sure things run well. You may be responsible for arranging the venue, catering, decor, and other facilities your clients may need. You will need to be professional and well-versed in liaising with many people. The U.S. wedding planning industry accounts for a market size of $841 million annually.
In the U.S., event planners can earn up to $47,700 per year.
Top Tourism College Programs in The U.S.
Hospitality and Tourism Management – Purdue University
Started in June 2019, the Hospitality and Tourism Management department at Purdue is one of the leading programs in the country. Two peer-reviewed studies have ranked the undergraduate program at the top. Both undergraduate and graduate degrees are available, with excellent internship opportunities for both.
About the City
Purdue is located in West Lafayette, Indiana. The city is a short drive away from Chicago and Indianapolis, which make for excellent day-trips, and allow students to take advantage of big city amenities.
Weather
You will experience hot summers and starkly contrasting winters. West Lafayette experiences four distinct seasons and precipitation for one-third of the year.
Top Attractions
Owing to the city's construction in 1888, you will find many historic buildings throughout. Purdue has an impressive Horticulture Garden which is a must-see. Another popular destination for students is a 19th-century chocolate shop.
Cost-of-Living
The average cost-of-living in West Lafayette is well below the national average. A student can very comfortably live here.
Hospitality and Tourism Management – Virginia Tech
Relevant to the global standards, the Hospitality and Tourism Management program at Virginia Tech prepares students for jobs anywhere in the world. Students are privy to a rich experience with hands-on training and many field studies. Virginia Tech offers both undergraduate and graduate degrees.
About the City
Virginia Tech is located in Blacksburg, Virginia, which has repeatedly been named as one of the best places to live in the United States, and one of the best college towns in the South. The city was founded in 1789 and is imbibed with a rich Colonial history.
Weather
Blacksburg has warm summers and colder winters. You can expect a pleasant climate year-round. It rains fairly often in this part of Virginia, so don't forget to bring an umbrella.
Top Attractions
Blacksburg has many annual town events which make it a fun place to live for students. There are also many art galleries, theatres, and heritage buildings to visit.
Cost of Living
The cost-of-living index here is 103, just above the national average of 100. The health cost is slightly above average; however, with a good health insurance plan, a student should find it comfortable to manage.
School of Hotel, Restaurant and Tourism Administration – University of New Orleans
This program is renowned nationwide as being one of the best for students looking to study tourism and restaurant operations management. The University of New Orleans is also the only university in Louisiana offering a master's degree in Hospitality and Tourism Management.
About the City
New Orleans is a thrilling city to live in. Popular for its distinct cuisine, jazz music, and festivals, international students will thoroughly enjoy this city. Founded in 1718, New Orleans was originally a French colony, and still retains its French and Cajun flair.
Weather
New Orleans experiences a warm climate all year long. Winters are rarely more than slightly cool, and sunshine is abundant. For students looking to avoid studying in a cold climate, New Orleans is ideal.
Top Attractions
New Orleans is a hub for street performers and performing arts. Tourists flood into the city every day to get a chance to experience its culture. The French Quarter and Bourbon Street are well-known attractions here.
Cost of Living
The cost-of-living index in New Orleans is 96, which is just below the U.S. national average. International students will find it very comfortable to live here, with relatively affordable housing and health costs.
Wrapping Up
The United States is one of the best places in the world to study Tourism Management and Hospitality. International students are sure to find it to be an incredibly rich experience that can help shape their lives, and their careers.
We are sorry that this post was not useful for you!
Let us improve this post!
Tell us how we can improve this post?