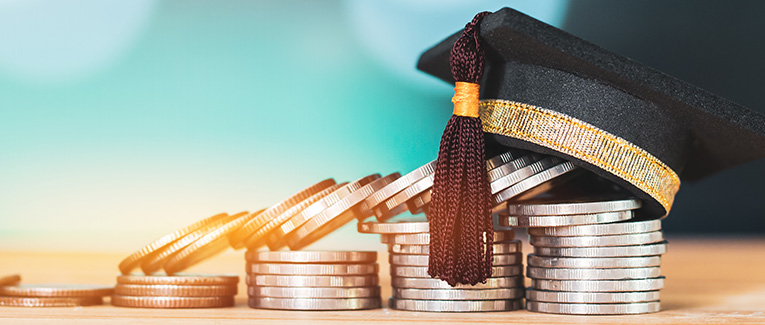 Imagine this scenario: You want to complete a Masters of Business Administration in the U.S. However, you must pay at least $100,000 in tuition fees alone. Add to it the costs of food, accommodation, and transportation, and you realize you cannot afford it. You abandon the idea of pursuing an MBA in the U.S.
Never let the aforementioned situation arrive. In the next five minutes, learn how to lower the rising costs of completing an MBA in the U.S.
Apply for Scholarships from Universities
If you enrolled at one of the top-ranked business schools in the U.S., you can receive scholarships covering up to 100% of your MBA costs. Here are a few examples:
The University of Virginia's Darden School of Business offers up to 70% of tuition coverage through scholarships.
Harvard Business School covers up to 65% of academic costs through scholarships.
The University of Florida offers scholarships that cover 100% of tuition. Each year, up to 75 students, out of 600 applicants, receive the scholarship.
The University of Massachusetts and Arizona State University also offer 100% tuition coverage through scholarships.
The Isenberg School of Management offers 100% tuition coverage through scholarships, as well as a work stipend of up to $10,000.
Stanford University Graduate School of Business follows a different path to grant scholarships. The university offers scholarships based on financial needs instead of merit.
Apply for scholarships as soon as you can. When the application cycle begins, universities have more scholarship money to offer. This gives you more chances and options when it comes to having your tuition and other expenses covered.
Search for Scholarships Offered Under Unique Criteria
1. Stanford Loan Forgiveness Program
Stanford offers a loan forgiveness program to students who work at a Stanford GSB-approved organization. The organization must be either a qualified nonprofit organization, or it should function under a local or national government.
If your annual income is $95,000 or less, you will receive a 100% scholarship. If your annual income is higher than $95,000, you will receive a partial scholarship. The university decides the partial amount.
You need to work at the company for at least 20 hours per week, and at least six months to become eligible for the program.
If you change jobs or receive a salary hike, you must inform Stanford. Furthermore, if your marital status changes, you will need to inform the university. All of these factors influence your eligibility. If you ever become ineligible, expect to repay the received funds.
2. Forte Foundation for Women
Forte Foundation has offered $277 million in grants to over 9,600 women so far. The foundation has partnered with over 50 top-ranked universities, including Yale School of Management, Massachusetts Institute of Technology, and Arizona State University.
The foundation offers up to $20,000 a year for fellowships.
To be eligible for one of these fellowships, you must enroll in one of the partner universities. Afterwards, the university chooses who will be eligible based on their criteria. The university will then notify the foundation, and the foundation will release the fellowship.
The foundation expects you to serve as a Forte MBALaunch expert or advisor.
3. National Black MBA Association
If you belong to the black community, this scholarship is for you.
The National Black MBA Association has partnered with top universities, including the University of Florida, Bentley University, and Emory University. As a member of the association, you can receive scholarships from partnered universities. Each university offers a specific amount.
You must enroll in one of the partnered universities to receive the scholarship.
You can compete in the National Black MBA Case Competition and win a prize worth $50,000. You can receive job offers as well.
4. Prospanica
Prospanica offers scholarships of up to $5,000. You must be a U.S. citizen, DACA recipient, or a legal permanent resident. You must also be of Hispanic or Latino heritage.
You need to be a Prospanica member, and you must enroll at an accredited business school. You need to have a minimum grade point average of 3.0 on a 4.0 scale, or the equivalent.
Use Tuition Reimbursement to Pay for an MBA
Is your employer paying for your MBA? Forbes confirmed companies pay $22 billion annually as tuition reimbursements to their employees.
You must work at your company for a specific number of years before you become eligible to receive tuition reimbursement. For example, Amazon wants its employees to work for a year before they can receive tuition reimbursement. If you work at Chipotle, you need to work for at least four months at 15 hours a week. Target offers up to $5,250 per student for an MBA degree. UPS offers up to $25,000 for any degree you want to pursue. Amazon reimburses up to 95% of the tuition fees for any in-demand degree (Hint: an MBA).
We are sorry that this post was not useful for you!
Let us improve this post!
Tell us how we can improve this post?