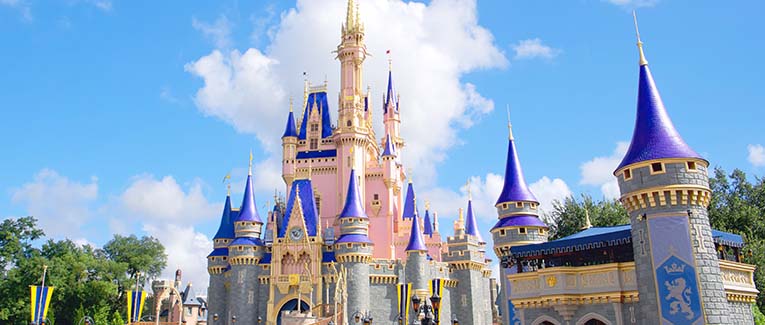 When you visit Disney Parks, you have to be prepared to swipe your credit card like there's no tomorrow. Poor planning can add anything from 20% to 50% to your expenses.
Whether your next family vacation destination is the world's most-Instagrammed place or most-visited theme park (read California's Disneyland or Florida's Disney World), we've got your back.
Keep your eyes peeled for bonus cost-cutting hacks as you read.
Worst Times to Go
It's not a secret that Disney ticket prices fluctuate depending on the time of the year.
The larger the crowds, the bigger the opportunity for the theme parks to cash in. This can mean a $50 difference per ticket on average between busy and quiet days.
Add to that peak airline fares and skyrocketing hotel room rates; you'll be staring down the barrel of a substantial spending hike.
When you've got a long weekend for a fun outing, chances are that the rest of the country does too. If it's an international holiday, Disney-loving mobs will flood the parks without a shadow of a doubt.
Steer clear of:
January 1 (New Year's Day)
February 14 (Valentine's Day)
March 17 (Saint Patrick's Day)
March 22 – April 25 (Easter)
May 8 – 14 (Mother's Day)
May 25 – 31 (Memorial Day)
June 15 – 21 (Father's Day)
July 4 (Independence Day)
September 1 – 7 (Labor Day)
October 31 (Halloween)
November 22 – 28 (Thanksgiving)
December 25 (Christmas)
Summer and winter vacations are a massive no-no as well.
When all parents have the same brilliant idea to let Disney entertain their kids for a few days during the school break, the throngs that descend upon the theme parks make them not so enchanting.
Keep in mind that Disney parks have recently been operating at limited capacity. You, therefore, need to secure a separate Disney Park Pass reservation if you are:
Purchasing a single-use ticket
An annual pass holder
Hoping to stay at a Disney Resort or in-park hotel
The Theme Park Reservation Availability calendar will indicate whether you can access all parks on your desired dates. It is best to check this before buying tickets and making reservations right after. Spots for major crowd-pulling periods like the Fourth of July and Thanksgiving fill up months in advance.
Best Times to Go
Once you've steered clear of the busy days, it's easier to know when to pack your bags and set off.
Remember that calmness prevails right before or after the storm. In this case, it's the times preceding and following the holidays.
The offseason is your safest bet. This is typically the end of January through early February, and the last weeks of August through September. The weather will also be favorable for roaming the vast outdoors of Disneyland and Disney World, as it transitions from winter into spring, and summer into fall.
To give yourself the greatest chance for competitive ticket rates, you should:
Pick weekdays over weekends
Find out extra reductions and perks you can receive as a Californian or Floridian
Consult an Authorized Disney Vacation Planner, who'll not only help craft your Disney itinerary, but also give you insider info for free
Further Tips for Saving
Before You Go:
The longer your excursion, the cheaper your per-day ticket. Five days at Disneyland will amount to $72 a day, whereas you'll have to fork out $118 each day for a two-day ticket.
Avoid the counter. Buy and book tickets and activities online for lower rates. It'll spare you $20 per ticket on Disney World tickets that are three or more days. To bag the best deals possible, scour third-party booking platforms. Turn to the Disney website as a last resort.
Get one of four Magic Key annual passes if you intend to frequent the parks. You can reserve experiences in advance, and get upwards of a 10% discount on certain foodstuff and merchandise.
Score early bird tickets for the Halloween special 'Disney after Hours BOO BASH' to save up to $70. Pre-tax general tickets in August start from $129, escalating to $169 in October, and $199 on Halloween. Use these to enter Magic Kingdom without spending a fortune on a day pass.
Add a Dining Plan to your Disney Resort Hotel stay. Food at the theme parks is infamously pricey, so booking the plan might tide you and your family through a couple of meals and snacks for the same amount that you could end up shelling out for one dinner.   
Take advantage of Disney gift cards, plus debit and credit cards with associated reward programs. You can grab marked-down gift cards using exclusive retailer card discounts. The thousands you splurge on a Disney vacation could justify itself through bonuses, air miles, and concessions at chain stores when you use these credit cards. 
At The Parks:
Never pay for water. You can get free tap water at Quick Service spots and water fountains around every park. Politeness could reward you with multiple refills and ice. If you're particular about drinking bottled water, you're allowed to carry your own.
Conserve your coin for special Disney treats. Stuffing your face with the Mickey Premium Bar, digging into a Kitchen Sink, or licking the cinnamon sugar off warm churros is far more worth your dough than a plain cheese sandwich. For staples and sandwich cravings, get groceries from outside delivered right to your Disney Resort room for a fraction of what you'll pay in there.
Let the Magical Express transport you to your resort from the Orlando International Airport for zero dollars. As a Disney Resort guest, reserve the complimentary shuttle four to six weeks ahead of your arrival. Make the most of it while you can; the magical service will have vanished in 2022.
Toddler-watching folks: don't forgo the stroller at home for the sake of traveling light. Shelling out $15-$30 a day to rent one at the parks will weigh heavier on your pocket. If convenience outweighs the cost, hire a stroller from within the city for much less.
Not all keepsakes need to be bought for a small fortune at the parks. Orlando International Premium Outlets houses Disney's Character Warehouse, where you can get your hands on authentic trinkets and apparel at a steal. There's always online shopping in case you can't make it to the warehouse.
Additionally, be sure to purchase travel insurance before your Disney trip. If your vacation gets canceled, you could lose all of the money that you spent on hotels and park tickets. With a trip insurance policy, you can receive reimbursement for these nonrefundable expenses if your trip has to be cancelled for a covered reason.
Armed with this knowledge, you're more than prepared to save big bucks on your next Disney getaway.
We are sorry that this post was not useful for you!
Let us improve this post!
Tell us how we can improve this post?