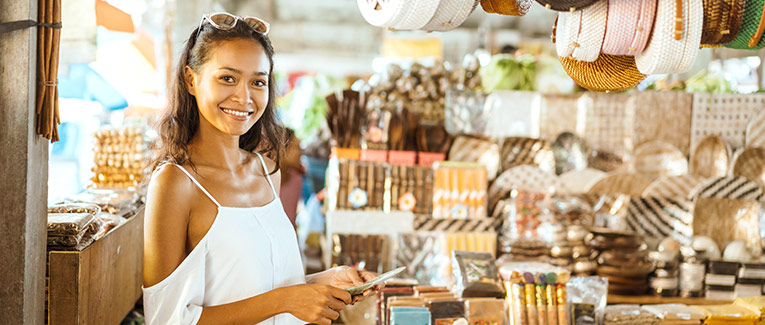 Everyone likes picking up little knick-knacks from the places they visit— something small to remember good times by.
Unfortunately, many travelers don't know where and how to buy souvenirs, meaning that they end up paying for cheap rip-offs that hold no value, use, or meaning.
This article is the be-all-end-all of souvenir shopping guides. Read to learn about which pitfalls to avoid, and some nifty tips to buy souvenirs abroad and locally.
Meaningful souvenirs that capture a location's spirit can last you a lifetime.
Our Comprehensive Souvenir Shopping Guide
What Should a Souvenir Be?
Useful. That's the number one criteria for buying a souvenir— something that you will use, even sporadically, so that it will continue to remind you of the trip; because that was the purpose of buying it.
Unique. Snow globes and fridge magnets are so cliche these days. Nobody even looks at them anymore.
Robust. Nobody likes receiving broken gifts, and those long flights can be rough. We've all seen how baggage handlers mishandle their bags.
Memorable. If buying for yourself, the souvenir should have a special memory attached to it, so that it continues to hold value even after the trip is over.
How Do I Know What to Buy?
To get the best souvenir ideas, know the culture of the place you're visiting like the back of your hand. When you know what a place is famous for, you know what to buy. Here's the principle: you obviously will not go to Mexico and buy a shawl; you'll want to buy a sombrero.
Once you've decided on what specific genre of the item you're going to buy, it's time to head out.
You should also know who the souvenir is going to be given to, and plan accordingly. It makes no sense to give a bottle opener to your 9-year-old nephew.
Follow our golden souvenir buying hacks to make souvenir shopping a fun part of your holiday. Here are 10 useful tips to help you avoid mass-produced mementos. Hopefully, these will enable you to find handmade and authentic souvenirs on your globetrotting.

For visitors, travel, student and other international travel medical insurance.
Visit insubuy.com or call +1 (866) INSUBUY or +1 (972) 985-4400

Your Guide to Souvenir Shopping
Bring an extra bag. Even if you've left a corner of your suitcase empty, just stuff in a collapsible duffel bag; they're truly a godsend.
If you have an item that doesn't fit in your luggage, these can quickly be unfolded and used as another bag to check-in.
Carry fragile items on your person. If you found the perfect teapot while on a trip to China, put it in your collapsible duffel bag, and carry it with you.
Don't put it in the overhead bins either— you never know what other passengers may try to shove inside there, or how it'll act during turbulence.
Ship the unwieldy and expensive things. If you think that something may not fit inside the luggage that you have, ship it home.
If it's large and valuable, request the courier to have it marked as fragile. If the value of your souvenir is extremely high, such as gold or Ming pottery, it's a good idea to have it insured too.
Buy travel insurance. Unfortunately, at times luggage can get lost or damaged. If this happens while your priceless souvenir is inside, it could be lost forever. While travel insurance cannot directly replace this item, it can allow you to receive compensation for its loss.
Keep an eye on the alcohol. If you're buying alcohol, say from a nice vineyard in Spain and you spend over $200, there is a tax of 3% per liter.
This is applied if the quantity is above one liter, plus any other additional taxes.
Don't be in a hurry. As the adage goes, haste makes waste. Allot a specific time, preferably an entire day for doing your souvenir shopping.
Get a feel for all the items in a particular area/locality before you make any purchases, and avoid compulsive buying.
Shop locally. This not only ensures that the local community benefits from the tourism industry like they're supposed to, but it also adds the element of a personal connection to the place.
These days, the word "handmade" is thrown around a lot— shopping at local markets will allow you to verify firsthand whether your product is handmade or not.
Avoid tourist traps. These usually come along in the form of night markets, out-of-the-way shops, or portable salesmen.
Avoid these as much as possible, because the quality of products found here is usually very low, and there are no guarantees that the product will be replaced if it turns out to be defective.
Shop locally, but don't get conned. If something doesn't feel right, walk away.
Stick to your budget. Before setting out, make a budget and stick to it like glue. Where souvenirs are concerned, loads of unseen expenses can arise, ranging from customs duties/taxes to shipping charges.
It's always a smart move to spend 20-30% less than your allocated budget so you don't go overboard with extravagant spending.
Ask a native. You've been in the country for a couple of weeks, but try as you might, you just can't seem to get a feel for the vibes of a place.
In this situation, ask a local whom you've befriended to help point you in the right direction. They will always give you the best advice— so be sure to tip your waiter.
The extra money you spend will be worthwhile if you can get the information you need.

For visitors, travel, student and other international travel medical insurance.
Visit insubuy.com or call 1 (866) INSUBUY or +1 (972) 985-4400

Methods To Utilize When Souvenir Hunting
Join a tour group. If you're wondering where to buy souvenirs, join a food tour, a culture tour, or a heritage walk. While out on these excursions, keep your eyes peeled for any souvenir shops.
This is because the souvenir sellers know where the tourist hotspots are, and they hang around them.
Check your carryon baggage, not your duffel bag. If you are keeping some sort of fragile item with you, and the airport staff asks you to check in some extra luggage, check in your carryon baggage, not your collapsible duffels.
Don't forget to remove any important documents that you may need: you can only get your luggage after deplaning.
When shopping, keep some cash handy. Do this because local artisans and creators aren't likely to accept your American Express cards.
Haggling is encouraged. The best part about shopping at local stores is that prices are always up for negotiation. This increases the chance of you nabbing a deal on a product that you really like.
Try to support social artisan initiatives. There are numerous groups of local artists and artisans who band together to flock their wares— buying from them not only encourages local trade, but the profits from these sales are reinvested back into the community that they came from.
Bringing any tiny tidbit back from a holiday is like bringing a piece of that holiday back with you— it's something to cherish forever. We hope this souvenir shopping guide helps you pick out just the trinkets on your next trip.
We are sorry that this post was not useful for you!
Let us improve this post!
Tell us how we can improve this post?