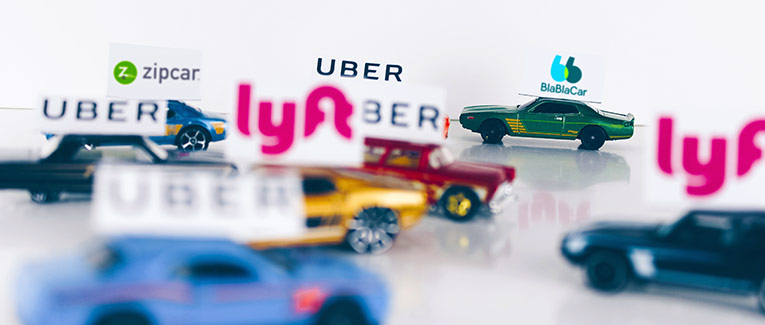 People are getting fed up with mindless consumerism that does nothing to benefit local economies, and only lines the pockets of big corporations.
The sharing economy entails individuals leasing or renting out things they use infrequently to other people. The sharing economy also includes services that are aimed at cutting costs by way of individuals pooling resources.
What Is The Sharing Economy?
Some popular examples of the sharing economy are Airbnb, Uber, and Lyft. The principle behind the sharing economy is allowing other people to use items that the owner doesn't use, often for lower prices than the market standard, while still making a profit.
For example, booking an Uber or Lyft is cheaper than a private taxi, but the rates charged are sufficient to give the driver a paycheck.
The actual term "sharing economy" was coined only recently, but the idea of the sharing economy has been around for millennia. A prime example of the sharing economy was the barter system, which was based wholly on shared possessions and the exchange of goods and services. These are the two pillars of the sharing economy today.
The reason that the sharing economy is taking off nowadays is the advent of technology. Today's sharing economy wouldn't be around if not for technology. All of the examples listed above are pretty much dependent on the internet.
Many people greet the idea of the sharing economy with disdain. A popular questions is "why would you trust a stranger?" The truth is that you trust strangers every day. Cashiers at stores, drivers in taxicabs, and hotel and restaurant attendants are all strangers.
Contrary to media propaganda, there is no evidence to suggest that the sharing economy is any more dangerous than normal stays at a hotel.
Now that you know the basics of the sharing economy, let's get into the interesting bits: how you can take advantage of it?
Sharing Economy Services that Every Traveler on a Budget Should Utilize
1. For Saving on Accommodation
Airbnb. Airbnb is now a household name across the globe.It allows people with spare properties, or even people with a few spare rooms in their house, to rent out to short-term travelers. That said, Airbnb isn't exclusively for short-term stays, but that's what it is most popular for.
Couch Surfing. This can be referred to as the original Airbnb, because Couch Surfing is the service that popularized the sharing of accommodations. Many people credit Couch Surfing with establishing the accommodation-sharing economy.
Home Exchange. It has come a long way from when you simply swapped houses with another family. You can now use in-app credits, called Guest Points, to pay for your stay.
Trusted House-sitters. House-sitting apps connect people who are going to be away for an extended period of time with people who want to visit their city. People can then arrive at a mutual agreement where the tourist can look after their house, or even pets while they are away, in exchange for living there for free.
Camp in My Garden. If you are an outdoorsy person and you yearn to go camping but can't find a nice spot, the Camp in My Garden app is for you It allows you to camp in other people's gardens for a fraction of the cost of booking a campsite. Keep in mind, though, that you do have to bring your own camping gear and cooking equipment.
2. For Saving on Transport
Uber. Uber took off like a rocket when it was launched. Uber offers to let you split your ride with another random traveler via a feature called Uber Share.
Lyft. Lyft is Uber's direct competitor, and both ride-sharing services offer really competitive rates. The drivers for both companies are almost always on time and are extremely professional in their mannerisms.
Zip Car. This is yet another ride-sharing service that allows tourists and travelers to save on the exorbitant prices charged by private taxis. Zip Car is essentially a car rental, but for a lot less money.
BlaBla Car. Similar to Uber's Uber Share, this is basically the same thing, but on a non-commercial level. It connects you with people who are already driving in the same direction you need to go, and you only need to pay for a fraction of the cost of renting a car.
3. For Saving on Tours/Guides
LocalFu. This revolutionary service allows its users to connect with a local resident of their destination, so that they can get most relevant inside knowledge on how to make the most of their experience. On their website, LocalFu claims that "you can find a local with expertise in any field, from wines to indie music."
Voomago. Voomago offers something called "interactive experiential travel," which means that they connect you with a local who will show you the sights of the city and guide you on the best places to visit during your stay. This is aimed at making your experience more authentic, because who knows a place better than the residents?
Tours by Locals. This website provides exactly what its name says it does. You can connect with locals who will show you around your destination.
Ready to Take Part?
It is important to realize that we have only scratched the surface of the sharing economy market, as it is still a developing idea in its early stages.
The best thing about the sharing economy is that people get to network and meet each other. It is actually a fantastic way to make friends in new places.
So, if you're ready to start participating in the sharing economy, check out the apps that interest you, and give them a go. With an open mind and the right travel insurance, you'll be ready to utilize these services without worry.
We are sorry that this post was not useful for you!
Let us improve this post!
Tell us how we can improve this post?