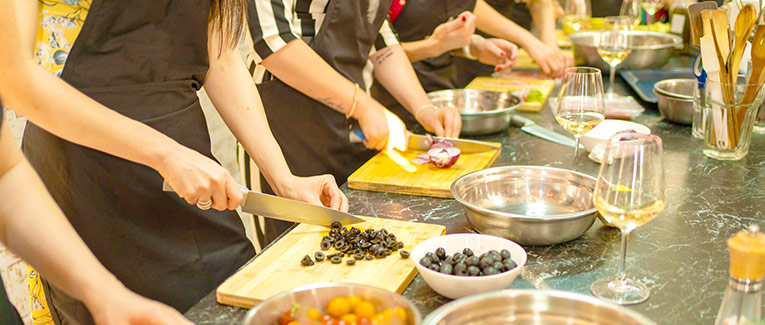 It is easy to find cooking classes close to you. You can learn how to make simple dishes and improve your cooking skills. However, if you want to learn how to make authentic cuisine, where better to learn than the country of origin?
Tourists around the world now want to get more out of their travels. Rather than just sightseeing and sampling the foods of a region, more and more people want to find unique experiences like exploring the country's cuisine in depth.
According to TripAdvisor, from 2017 onwards, food experiences have become the fastest-growing travel category. Within the food experience category, a cooking class is the top-rated activity.
Adding a cooking class to your travel itinerary is a perfect way to maximize what you get out of your trip. A cooking class can extend the experiences of your trip long after it has ended. You will be surprised how much you can learn about a place from its cuisine.
Read on to find out how a cooking class can elevate your trip abroad in surprising ways.
1. Expand Your Knowledge
There is no better way to know the heart of a country you are visiting than through its popular dishes.
The cuisine of any place is shaped by its culture. Its history, geography, and climate play a role in what is eaten and how it is cooked.
Many of the classes make it a point to merge history and cooking into one. Guiliano Hazan's class in Verona, Italy for instance, takes place in a 16th century Italian villa where guests can enjoy the historical building and its charm while they cook.
Rosa Jackson's class in Nice, France is also conducted in a revamped 17th century apartment where guests can learn about the history of classic southern French dishes.
Better knowledge of the food of a country will definitely make going to local restaurants more exciting and enjoyable. Plus, you will no longer find it difficult to pronounce those strange-looking names on the menu.
2. Enrich Your Travel Experience
A cooking class is an excellent place to encounter a local expert. Your cooking class host or instructor will have a wealth of knowledge to share with you. Apart from the food you cook, you can get insights on the best places to visit or go shopping in the city.
Most cooking classes begin with a trip to the local markets where you get to shop for the ingredients that you will use during your class. Quite a few classes in Bangkok, for example, include a visit to the popular Damnoen Saduak floating market. This is an excellent opportunity to observe and learn about the city's culture and the daily lives of the locals.
You will find out which shops are a favorite among the locals, what fruits and vegetables are in season, and other local practices. You will learn about new ingredients, and you might even get to try some fruits you have never seen before.
The class itself can provide you with an extended amount of time during which you can have meaningful interactions with a local. You can ask your instructor about their country, its history or politics, or whatever else you want to know about to get an insider point of view.
3. Improve Your Skills
Seeing other people cook is the easiest and greatest way to improve your own cooking skills. You will come across experienced chefs or home cooks who are extremely good at what they do.
A cooking class is an opportunity to polish your skills and add some new recipes to your repertoire. You might even learn tips and tricks on how to perfect a dish; something that no recipe book can ever tell you.
These skills and tips will not just be useful for the dishes you learn to cook. You can even expand on them, and merge them with your own cooking style to create wonderful fusion dishes back home. After all, cooking is all about finding a little bit of inspiration.
4. Broaden Your Network and Find Friends
A cooking class abroad is a great way to find like-minded travelers.
Everyone taking part in the class is likely interested in either cooking, eating, or learning about the country's culture. You can be assured that you will have interesting conversations, and you can learn from the experiences of other travelers. It is a great place to network and meet people over an extended period of time. You might even end up making new friends.
For solo travelers especially, an interactive space such as a cooking class is a perfect way to meet new people.
5. Contribute To Local Culture
Traditional recipes are typically passed down in a family from one generation to another. Local food is a source of pride for most countries. By choosing to learn about local cuisine, you are supporting the culture of the country.
Your participation can help in preserving and spreading the culture, as well as contributing economically.
6. Save the Planet (And Yourself)
Fresh, locally sourced food is good for your health and that of the Earth. When you are cooking your own meals instead of eating them out of plastic containers, you are not just doing yourself a huge favor, you are also be helping the planet.
7. Find Amazing Food
If you are a foodie, perhaps the best reason for taking a cooking class is because you will get to eat a delicious meal. The Los Dos cooking class in Merida, Mexico is counted among the top ten classes in the world. In addition to a market tour and culinary instruction, it also has a full afternoon meal.
An extended benefit is, of course, when you return home, you will get to host a splendid dinner and show off to your friends.
Things to Look for Before You Book Your Cooking Class
Make sure the host or the chef conducting the class speaks and understands your language if needed. Some classes conducted by well-known chefs do have an interpreter or translator on-site.
There is a huge variety of cooking classes for tourists that are available these days. Your instructor could be a hotel chef, a home cook, or even a family-based business. The duration of the course can also vary between a few hours and several days.
If you are a vegetarian, vegan, or you suffer from any food allergies, inform your instructor in advance. Most classes are happy to accommodate your needs with advance notice.
With high heat and sharp objects around, it is possible to accidentally get injured during a cooking class. International travelers should get travel medical insurance ahead of their trip to save themselves from high healthcare costs abroad. You can compare prices and find a plan that fits your needs at Insubuy.
We are sorry that this post was not useful for you!
Let us improve this post!
Tell us how we can improve this post?