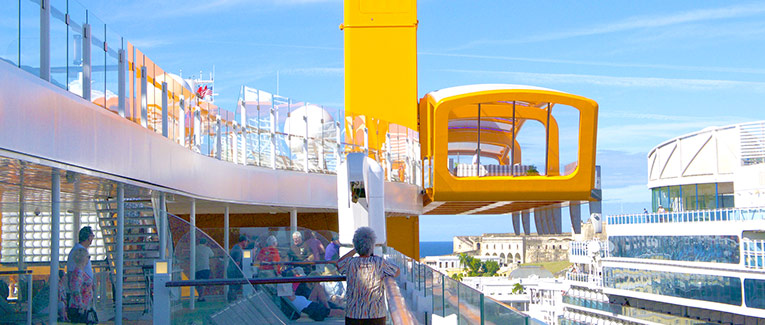 With amenities like Wi-Fi, geolocation, and wearable tech, our lives on land give us luxuries that we would not expect to find at sea.
With the advancement of technology, though, these conveniences becoming available on cruises.
Welcome to the tech side of a cruise.
What Tech Facilities Can You Expect Onboard?
So, how tech-savvy is your cruise ship? Let's find out.
1. Online Check-Ins
Before you board the cruise, you're required to check-in online. While this facility was long available on flights, it struck the seas a little later.
Just as with air travel, you have the option of online check-in, or else you have to check-in on the pier two hours before departure.
2. Onboard Wi-Fi
This may be an exciting feature for your social media influencer child, but a downside for you if you have a boss who won't leave you alone.
With cruise liner companies investing in web acceleration, package shapers, and even partnering with maritime communication companies, the internet at sea is only set to get better.
But, while your email or Facebook will open in a jiffy, say goodbye to Netflix while you're onboard. Most cruises either have streaming services blocked, have a speed that will render them unworkable, or charge extra money to use them.
While bandwidth will be an issue at sea, the Caribbean is the place to be if you want to enjoy both a good internet connection and the sea. Because so many cruise ships visit the region, maritime communication company SES Networks has placed several satellites in medium orbit above the area to create the maximum possible coverage.
3. Geo-Location Apps for Cruises
Location intelligence is a significant technology in day-to-day life around the world. From the GPS to crime analysis, it is used everywhere.
With cruise liners being as large as small cities, they can be pretty daunting to navigate. This is where geolocation apps from cruise companies come into the picture.
Thanks to geolocation technology, conveniences like your room lights turning on as you approach, the AC adjusting to your preferred temperature, and your room's door unlocking upon your arrival have also become accessible.
4. Augmented and Virtual Reality
Augmented Reality (AR) and Virtual Reality (VR) are technological tools used across various sectors. AR is an enhanced version of the real world achieved using digital elements, while VR is a digital simulation that can differ completely from the real world.
Royal Caribbean has mastered the use of AR and VR for its cruise business. In 2018, it introduced a virtual tour of its ship using AR on iPads. Its ships also feature immersive AR games on deck, as well as interactive art. They even have a patent for virtual reality dining.
5. Tech-Savvy Wearables
Wearable tech has taken the health and fitness industry by storm. Now, cruise ships are entering into the world of tech wearables.
Case in point: Carnival's Ocean Medallion.
Named IoT Innovation of the Year in 2019, the Ocean Medallion is tiny, but it casts a long shadow. Carnival's cruise ships are fitted with various sensors, interactive digital portals, and data centers which are then connected to the Medallions that are micro-chip enabled.
From unlocking your cabin for you and letting the crew know your name or food allergies beforehand, to getting your drink order delivered to you no matter where on the ship you are and helping you find co-passengers, you can think of the Ocean Medallion as your concierge, bartender, GPS, and itinerary all in one!
Royal Caribbean ships have a similar wearable tech called WOW that passengers can use to unlock doors and pay for their purchases onboard.
6. Germ Zappers
In a post-pandemic world that has inherently become more hygiene-oriented, it is imperative for cruise liners to up the ante on hygiene if they want to stay in business.
Enter ger- zapper robots. As their moniker is self-explanatory, you can surely imagine how much in-demand these are.
Xenex, a company that specializes in making these germ zappers, has stepped up to fulfill the aforementioned demand. Their LightStrike Germ-Zapping Robots, which have been compared to R2D2, aren't just a cool innovation, but a growing necessity in the COVID era. They use UV light to decontaminate spaces and were already being used in hotels and hospitals before cruise lines utilized the tech.
7. Virtual and AI Assistants
We've reached a point in the digital revolution that it would be hard to imagine life without Alexa or Siri. You will find them in almost every other home.
So, why should cruise ships stay behind?
MSC Cruises jumped into the AI assistant bandwagon wholeheartedly, and introduced Zoe to the world. Every cabin is fitted with the voice assistant, and they also linked it to the cruise line's app service, MSC for Me.
Just say "OK Zoe," and she be there to help you. Zoe operates on the concept of machine learning, meaning she learns with every interaction and adapts accordingly. While she is the first of her kind, a cruise personal assistant, she has more than set the tone for the future of AI assistants on cruise ships.
Bonus Features
1. Celebrity Edge's Magic Carpet
While an unusual feature, the Magic Carpet is definitely a feat of engineering on a cruise ship. The 90-ton orange-colored structure, which is multiuse, is the most noticeable part of the ship.
When positioned on higher decks, it serves as a fantastic open-air lounge or restaurant. Moved lower and it can act as a tender platform from where passengers can catch boats to the shore. It can also take passengers to the edge of the water for viewing.
The Magic Carpet can house 100 people at a time and is fitted full with a bar, comfy seating, and even a space for live music.
2. Royal Caribbean's X-Ray Vision
On deck 12 of the ship Symphony of the Seas is where the magic happens. The deck is fitted with various paintings. You open the Royal Caribbean app, click on the x-ray vision option available on the app and then point your phone towards the paintings. The feature shows you not just an x-ray of the painting and the wall it is hung on, but the other side of the wall too!
Who knew your cruise ship was so tech-savvy? We hope your cruise experience heightens with this knowledge. Merry cruising!
Tips for a Perfect Next Cruise
Book in the offseason – You can quite literally save a boatload if you choose to take a cruise outside of typical holiday seasons.
Arrive early – Always books your flight to arrive in your departing port city at least a day in advance. If your flight is delayed, you don't want the ship to weigh anchor without you.
Purchase travel insurance – If your flight is delayed, you must cancel your trip, or you require emergency medical care that necessitates evacuation ashore, insurance can go a long way in helping to protect your finances.
If you suffer from seasickness, book a room near the center of the ship, spend plenty of time abovedeck, and bring Dramamine to fight the effects.
Before disembarking, book your next cruise – It can help you get a great deal if you plan to sail the high seas again soon.
We are sorry that this post was not useful for you!
Let us improve this post!
Tell us how we can improve this post?