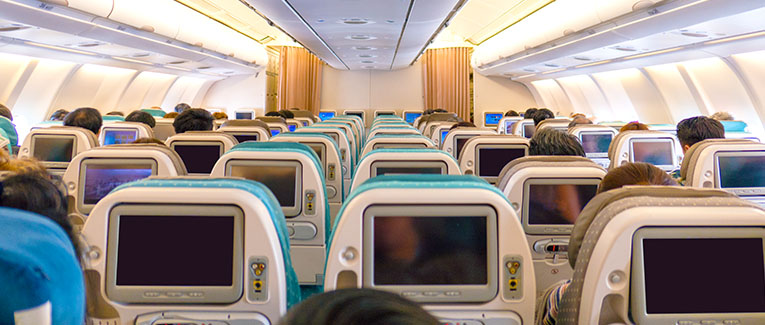 Belongings
After you find your seat, you should put your hand baggage in either the overhead bin compartment or under the seat in front of you. You cannot keep it in your lap or near your feet. If you have bulky items (such as a handbag or overcoat), and there is no space around your seat, ask the flight attendant if they can store them somewhere else.
Your exact seat size, legroom, individual TV screen, etc., will vary based on the aircraft, the route, and the travel class.

Safety Instructions
After you sit down, you will see safety instructions on the video screens. Several flight attendants may also demonstrate the safety instructions. A brochure with information about the aircraft and safety instructions will be located in the back pocket of the seat in front of you. Safety instructions primarily deal with procedures for an emergency landing on water or land, exiting the airplane in an emergency, and what to do if cabin pressure reduces while in the air.
People who have traveled previously tend to ignore the safety announcements and instructions because they've heard them before. It is very important to study the pamphlet to understand the emergency exits, use of oxygen masks, and location of life jackets. In airline accidents, many people are injured unnecessarily or even die because they didn't hear, read, or understand the safety instructions.
After you board the plane but before the flight departs, you can ask for earplugs to protect your ears from the changing cabin pressure.

Food
Food is served according to the local time of the place the aircraft is flying over. Therefore, you may be served meals about every four hours. You should eat as much as you like and feel comfortable. You don't have to consume all the food you are served. If you do, it may be too much and cause you discomfort. In fact, most airlines allow you to specify your meal preference in advance. Depending upon the airline, several options such as "Asian Vegetarian", "Vegan", "Vegetarian", "Hindu", or "Jain" meals may be available. However, you must give your preference at least three to four days before departure, and at best 24 hours in advance. These preferences can be given to the airline via phone or online. Vegetarians need to take caution before eating, as there may be egg in some items because some people consider that to be vegetarian. Food provided by the airline is generally bland. You can always drink juice and eat fruit.

Drinks
Many airlines serve alcoholic beverages at no cost to first class and business class passengers. Some airlines may also provide them to economy class passengers. Alcoholic beverages are served only when the aircraft is out of the air space of the country from where it departed. If you need to pay for alcoholic beverages, you may pay in foreign currency, such as U.S. dollars.
Generally, juice, soda (soft drinks like Coke/Pepsi), water, etc., are provided at no charge. If they have a large-enough supply, you can ask for them several times.

In-Flight Entertainment
Depending on the airline, the class you are traveling in, the route, and the type of aircraft, there may be either overhead or personal TV screens for in-flight entertainment. There are several channels. Some of them are audio-only channels (music, news, etc.), and others are video channels. There may be several categories, such as news, comedy, movies in different languages, or games. Some aircraft provide individual TV screens for each passenger, while others may have several of them installed throughout the aircraft.
Most airlines also have their own in-flight magazine (located in the back pocket of the seat in front of you) with articles of various interests, puzzles, crosswords, diagrams of international airport terminal layouts, and instructions for filling out forms. Some airlines also provide other newspapers and magazines that passengers can share.
Some airlines may provide paper, pens, and envelopes upon request. If you are traveling with small children, you can ask about the availability of toys, games, and comics.
If you fall ill on the flight, most airlines have basic medications. Check with the flight attendant.

Restrictions
Many electronic devices, such as TV sets, radios, and toys with remote controls, are prohibited throughout the journey, as they can interfere with the aircraft's navigational and communication systems. After the flight reaches its cruising altitude, certain devices like personal computers, cell phones, tablets, cameras, entertainment players, and DVD players may be allowed. At that time, you can also listen to music on your smartphone or watch videos on your tablet. Be sure to have your devices on airplane mode during the flight.

Miscellaneous
Relax during your flight, and sleep as much as possible. On a long flight, they will generally close the windows to help you sleep. You can walk around once the plane is in the air, or you can stay seated. Movies and programs will be shown during the flight. There is also music available. Bring a book to read or, if you like, a smartphone loaded with music or movies. All the announcements are in English and the official language of the country of the airline. If you don't understand anything, ask a flight attendant or a neighbor.
If the passengers sitting next to you are from different countries, you may try to learn about other nations from them.
Airline staff will announce the local time and weather conditions at each stopover en route to your final destination. You should keep your watch synchronized with the local time at each stop.
Most airlines offer duty-free shopping in the aircraft itself. There is usually a catalog in the back pocket of your seat. If you order items, you can pay with cash or a credit card.
We are sorry that this post was not useful for you!
Let us improve this post!
Tell us how we can improve this post?