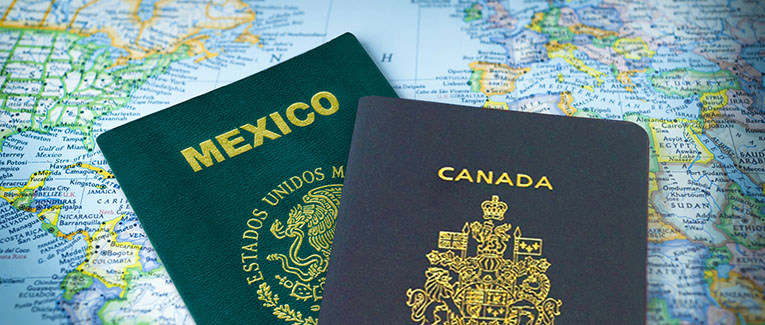 What is a TN Visa?
Due to the North American Free Trade Agreement (NAFTA), the US enjoys a close economic relationship with Canada and Mexico. One aspect of this is the TN visa, a nonimmigrant visa that allows certain qualified Mexican and Canadian citizens to enter the US temporarily for work-related reasons at the professional level for up to three years.
Though TN status is similar to an H1B visa, it is only available Canadian and Mexican citizens. It is advantageous for those who qualify, as a TN visa avoids much of the complicated and expensive paperwork involved in getting an H1B visa.
Who Qualifies for TN Status?
Citizens of Canada and Mexico who are teachers, engineers, lawyers, pharmacists, and scientists are among the types of individuals eligible for a TN visa. You may be eligible for TN nonimmigrant status if you meet the following requirements:
You are a Mexican or Canadian citizen
Your profession qualifies under TN regulations, and you are fully qualified to practice that profession
The position in question requires a NAFTA TN professional
You have a job arranged (either full or part-time) with a US employer
TN Status Eligibility for Canadian Citizens
Canadian citizens are exempt from the requirement to apply for a TN visa at a US consulate or embassy. They establish eligibility for TN status by presenting the following documentation to the Customs and Border Protections (CBP) officer at designated ports of entry, or at designated pre-clearance/flight stations:
Proof of Canadian citizenship.
A letter from your prospective US employer. This letter must detail the scope of your work in the US, the purpose of your employment, your educational qualifications, and your length of stay.
An evaluation of your credentials, if applicable.
So long as the CBP officer considers you eligible, you will be admitted to the US as a TN nonimmigrant. You can find additional information on the CBP's website.
Other Ways Canadians Can Receive TN Status
In some cases, a prospective employer may choose to file for TN status on behalf of a Canadian citizen who is living outside the US. They can do this by submitting a Form I-129 to United States Citizenship and Immigration Services (USCIS). Once the I-129 is approved, the prospective worker can apply for admission to the US with CBP by providing proof of citizenship, their I-29 approval notice, and all other supporting documentation submitted to USCIS.

For visitors, travel, student and other international travel medical insurance.
Visit insubuy.com or call +1 (866) INSUBUY or +1 (972) 985-4400
TN Status Eligibility for Mexican Citizens
For a Mexican citizen to enter the US as a TN nonimmigrant, they must first apply for and obtain a TN visa from a US embassy or consulate in Mexico.
If you are approved for the TN visa, you can apply for entry into the US at CBP-designated ports of entry, or pre-clearance/pre-inspection stations. You will be admitted into the US as a TN nonimmigrant if the CBP officer deems you to be eligible.
TN Nonimmigrant Visa FAQs
How long can I stay in the US on a TN visa?
You are allowed to stay in the US on a TN nonimmigrant visa for up to three years. However, your employer can file a Form I-129 on your behalf to seek an extension of stay an unlimited number of times.
Can I be self-employed on a TN nonimmigrant visa?
No. You are required to work a pre-arranged full or part-time job for a US employer.
Can my spouse and children join me in the United States?
If you are approved as a TN nonimmigrant, your spouse and children under the age of 21 may be permitted to accompany you under TD nonimmigrant status. However, they are not permitted to work in the US, and cannot stay in the US any longer than the TN status nonimmigrant. They are however permitted to study.
Do my spouse and children need visas to enter the US?
That depends on their citizenship. If they are Canadian citizens, no visa is required, and they can apply for entry at the CPB station by showing their proof of citizenship, proof of relationship to the TN nonimmigrant, and copies of TN admission documents. If they are Mexican citizens, they must apply for a TD nonimmigrant visa at a US embassy or consulate. If they are neither Canadian or Mexican citizens, they must first contact the US Department of State to determine if a visa is required.
Can my spouse and children on TD nonimmigrant status extend their stay?
As a TN nonimmigrant, if you apply for an extension of stay at the end of your admission period, your eligible TD status family members can apply for extensions as well without traveling abroad. However, if a TD dependent who is a Mexican citizen wants to travel abroad after being approved for an extension of stay and after expiration of the current TD visa, they will have to apply for a new TD visa at a US embassy or consulate.
We are sorry that this post was not useful for you!
Let us improve this post!
Tell us how we can improve this post?