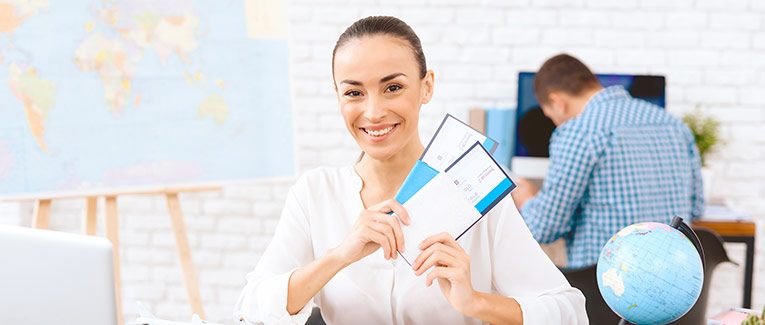 Travel means much more than where to go and how to get there. Your vacation is your cherished getaway, so it's only fair that you're aware of the ins and outs of what's in store.
However, it's not necessarily up to you to research and plan every detail of your trip in order to get the best deal. Enter, travel agents.
If 92% of American tourists would go back to a travel agent after the first time, and 84% believe agents make bookings hassle-free, they must be doing something right.
A lot of things, in fact.
They can get you to exotic locations around the globe, handle various bookings for multiple family members, and save you from the never-ending queues at Disneyland.
What else, you ask?
Merits Of Travel Agents
Let's begin with the ways you'll get abundant peace of mind.
1. Hand Over the Reins
Why wait for the holiday to start to kick back and relax when you can have a travel agent at the top of their game take the lead? When the responsibility of organizing is off your shoulders, you're left with two realizations:
First, that time is priceless. As you're stretched thin between running a household and advancing your career, there aren't enough hours in the day to breathe, let alone for dedicated research on your destination. Plus, it might be pointless to compare hours to dollars spent on agents, given that most make their commission from service providers, not you. And the discounts and access to exclusive experiences they can get will more than make up for any amount that goes to them from your pocket.
And second: in the mad rush to leave, would you remember to pack a spare outfit and medication in your carryon in case you lose your checked baggage, or buy travel insurance in case it happens? An agent can be ready with your packing checklist and insurance before you know it.
2. Expertise For the Win
There's a reason why the American Society of Travel Agents (ASTA) rebranded itself as the American Society of Travel Advisors. 'Advisor' recognizes agents as qualified professionals who have their finger on the tourism pulse. They're not an aide, they're the authority.
Moreover, when agents talk the talk, they've walked the walk, or know someone who has. Their knowledge comes from a treasure trove of events from their gallivanting. Agents worth their salt will be upfront with details about the locations and holiday types they specialize in, or leverage their network to find what you need. Google won't tell you that flexible booking dates can get you 125% cruise credit unless you're actively searching for those keywords (be honest, it's unlikely that you would know to).
3. Precious Personal Touch
Travel agents are humans at the other end of the phone/screen, not indifferent bots. Think of them like a doctor. The more you explain your condition, the better they'll be able to tailor your treatment. Clearly communicate your expectations and concerns, especially if you're going solo, a senior citizen, and/or identify as LGBTQIA+. Likewise, be transparent about your physical limitations, mental health issues, likes and dislikes, so your agent can craft the best itinerary for you.
Good things grow with time. Don't have a one-and-done attitude towards your agent; rather, rope them in on every potential holiday and stay in touch around the year. You'll reap the rewards of building a lasting relationship with your agent when that complimentary candlelight dinner on Caribbean shores makes your anniversary unforgettable.
4. Dependable All the Way
"Can I get a lactose-free meal on the flight?"
"How do we reach our hotel if we're landing in the middle of the night?"
"Are the hotel premises safe and maintained? Will the pool be clean for my kids to use?"
You needn't grapple with these questions, because your agent will have done their homework to get the answers before booking. They're not only your trip planner, but also your proponent for dealing with rescheduled flights and snobby restaurant managers.
We'd go so far as to say that the true value of a travel agent will become apparent in emergencies. Fingers crossed that you breeze through your journey without any, but if you do face one, there's nobody you'd rather have on your side. No matter where you are in the world, a competent agent will do everything in their power to support you and tackle the situation.
Drawbacks Of Travel Agents
Travel agents sound too good to be true? Sometimes, they are.
1. Take the Back Seat
As a Type A personality, letting a third party plan your trip end-to-end might sound like your worst nightmare.
Not to mention, the sense of achievement from securing flight tickets at a great discount, the excitement of discovering and jotting down must-see spots, and the anticipation of cooking up a surprise for your partner is unmatched when you do it yourself.
There's a case to be made for alignment too. If a low-key tour of the countryside staying at cozy bed-and-breakfasts is what you're looking for, you'll be better off working out the details individually, rather than relying on an agent whose forte is commercial or luxury travel.
2. Lack Of Autonomy
As one of many clients, you'll likely have to be worked into your travel agent's schedule. Sure, you could occasionally call them without an appointment, although it's just as possible that they might not be available when you need them to be.
Necessary or not, an agent is an extra person involved in your holiday. Add to it the chain of middlemen like airlines and hoteliers whom your plans have to go through, and communication can become cumbersome. Hope to get lucky when changes need to be made fast, but be equally prepared for hiccups.
3. Match Not Made in Heaven
Crossing the initial barrier of finding the right travel agent can be tricky. Perish the thought that you fall prey to shady agents in an attempt to escape online scammers.
The obvious starting point for your search is word-of-mouth recommendations from friends and family with similar interests. Even more ideal is to get references from those who've traveled to the destinations you have in mind.
Following that, make the effort to verify prospective agents by checking if they are:
Certified by, or members of prominent associations like ASTA, World Tourism Organization (UNWTO), World Travel and Tourism Council (WTTC), International Air Transport Association (IATA), etc.
Up-to-date on travel trends and tricks of the trade with the help of workshops/courses
Partnered with industry leaders
Ultimately, if it seems like the pros outweigh the cons, then you have nothing to lose trusting a person who designs dream vacations for a living to make your next one a reality.
We are sorry that this post was not useful for you!
Let us improve this post!
Tell us how we can improve this post?