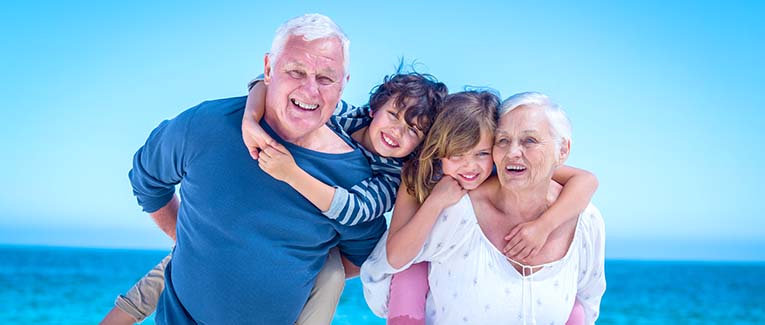 When you're traveling, a million things can go wrong. When you're traveling with grandchildren, well… that's a whole new ballgame!
Picture these scenarios.
Grandparents Traveling With Grandchildren: What Could Happen
Scenario #1. You and your grandkids are on the beach. Your three-year-old granddaughter spots a jellyfish and decides to pick it up with her bare hands! You rush to stop her, but it's too late! She's badly stung and you need to rush her to the Emergency Room. Who's going to cover the ER charges?
Scenario #2. Your grandchildren are splashing about in the hotel bathtub. Soon the splashing turns into a not-so-friendly brawl. You head towards the bathroom, not noticing the water that's spilled all over the bathroom floor. You slip and fall with a heavy thud. Bam! You've hurt your knee, and man! Is that going to cost a lot to fix! How are you going to pay for that?
Scenario #3. You've been planning a trip to Florida with your grandkids for months. You've booked your tickets. You're counting down the days. But two days before your trip, Florida is hit by a hurricane. You have to cancel your trip. How do you get your money back?
The only solution to all the above scenarios? Two words: Travel insurance.
Want to know more? Keep reading…
Why do my grandchildren and I need travel medical insurance?
Take scenario #2 for instance. If you had to undergo knee replacement surgery in the U.S., it could set you back anywhere between $30,000 and $50,000! (Nope, we are not kidding.)
Think you can shell out all that cash from your own pocket?
No? That's why you need travel insurance!
But doesn't my health insurance plan cover such expenses?
Not necessarily.
Most domestic health insurance programs only cover medical expenses within your country of residence, including Medicare, and the insurance plans children have through their parents.
A few of them do provide limited coverage outside your own country, but the expenses would be 'out of network.' That translates to higher copay, deductible, coinsurance, and out-of-pocket expenses.
This is where travel medical insurance comes into the picture.
So, what can travel medical insurance cover?
Travel medical insurance helps cover your emergency medical expenses during the trip.
These can include charges like:
Doctor visit bills
Ambulance services
Hospital and OR charges
Prescription medicines and drugs
Emergency dental coverage
Accidental death and dismemberment
Emergency assistance
Is there anything travel medical insurance doesn't cover?
A few things aren't covered, including:
Preexisting medical conditions (unless you have purchased a preexisting condition waiver)
Drug use and alcohol consumption
High-risk sports activities (Unless you have purchased specific coverage for that)
Regular vaccinations and immunizations
Organ transplants
Corrective equipment like eyeglasses or contact lenses
Scan through your travel insurance plan to understand all the exclusions.
Emergency Evacuation Travel Insurance For Grandparents
While purchasing travel medical insurance, look for a comprehensive plan that also covers emergency evacuation and emergency transportation benefits.
Why?
Imagine you're on a Mediterranean cruise with your grandchildren and you suffer from a serious fall.
Assuming you have emergency evacuation coverage, you can be transported to the nearest hospital with adequate care, if medically necessary. Arrangements can also be made to transfer you back to your home country, if medically necessary.
Now imagine your condition required you to stay in the abovementioned hospital for a few weeks. What happens to your grandkids in the meanwhile?
Emergency transportation benefits to the rescue! This can pay for transporting your grandchildren (under 18) safely back home if required.
I still don't think I need emergency evacuation coverage…
According to Travelex Insurance, emergency medical evacuation costs can run up to $25,000 within North America, and up to $100,000 from Europe!
Now if that doesn't convince you of the need for insurance, we don't know what will!
Trip/Travel Cancellation Insurance Guide For Grandparents
Remember the aforementioned scenario #3 where you had to cancel your Florida trip?
Although the hurricane put a damper on your plans, don't let it blow away your trip investment, too.
How?
Buy a travel insurance plan which covers both trip cancellation and trip interruption.
Trip cancellation insurance can help you get reimbursement for prepaid, nonrefundable trip costs if you end up canceling or rescheduling your trip for a covered reason.
This insurance plan can also have your back in case you need to cut your trip short and return home early.
Best Travel Insurance for Children Traveling with Grandparents
Simple.
Go to a reliable global insurance marketplace like Insubuy
Browse through and compare dozens of travel insurance plans
Zero-in on the one that is best suited for you and your grandchildren
Why should I trust Insubuy?
Insubuy's website is PCI DSS compliant. That means all of your credit card information and other sensitive information is 100% safe
A BBB rating of A+
700+ 5-star reviews on TrustPilot
Empathetic customer service agents who are always happy to help
Anything else I should know before purchasing travel insurance for children?
Ensure your insurance plan covers both you and your grandchildren
There are a few insurance companies that provide free coverage (under Family Travel Insurance plans) for children under 17 who are traveling with an insured "immediate family member." Each provider defines "immediate family" differently. So, pay heed to that before you purchase any plan.
With most insurance companies, the price of the insurance plans tends to be higher for older travelers.
What documents do I need to travel with my grandchild?
Here's something you won't find in most travel insurance guides for grandparents. Paperwork is crucial when it comes to traveling with your grandchild. Here's what you need to keep handy:
| | | |
| --- | --- | --- |
| Document (Grandchild's) | Domestic Travel (Within the U.S.) | International Travel (Outside the U.S.) |
| Passport | Not required | Required for: Air travel, disembarking ship in some ports |
| Birth Certificate | Not required, but advisable to carry | Certified copies are essential for travel to border countries by land or sea. Countries include Mexico, Bermuda, Canada, and other areas of the Caribbean. |
| Visa | Not applicable | Required for a few countries |
| Vaccinations | Not required | Needed for a few countries |
| Letter of consent* | Advisable | Required |
| Medical consent form** | Required | Required |
| Insurance card copies, dental cards, prescription cards, and secondary insurance cards (if applicable) | Required | Required |
Notarized letter of consent*
A letter of permission is a must when you're traveling with your grandchildren internationally.
There are many templates available online for a letter of consent, but here is what it should include:
Name(s) of the parent(s)
A line stating that the parents are authorizing their children to travel with the grandparents
Child's full name and birthdate
Child's passport number
Name(s) and birthdates of the grandparent(s)
Passport numbers of grandparents
Travel destination(s)
Date of departure
Date of return
Scheduled flight numbers
Dated signature(s) of the parent(s)
Parents' contact address(es) and phone numbers
Name of the notary and date notarized
How do you get your letter of consent notarized? Head over to your nearest bank, law office, or mail services like UPS.
Looking for a sample letter of consent? Download one at eforms.com.
Prepare a separate letter of consent for each traveling child.
Medical consent form**
Imagine your grandchild gets sick or critically injured while on vacation with you. You might need to make important medical decisions on behalf of your grandchild.
This is where a medical consent form kicks in.
What should a medical consent form include?
Child's name and birth date
A statement from the parents permitting you to authorize treatment for the child for the duration of travel
Insurance information
Medical history
Drug names and dosages (if the child is taking any currently)
Doctor's contact information
Name of the notary and date notarized
Prepare a separate medical consent form for each traveling child.
We hope this travel insurance guide for grandparents helps you. Enjoy your quality bonding time with your grandchildren, and safe travels!
We are sorry that this post was not useful for you!
Let us improve this post!
Tell us how we can improve this post?