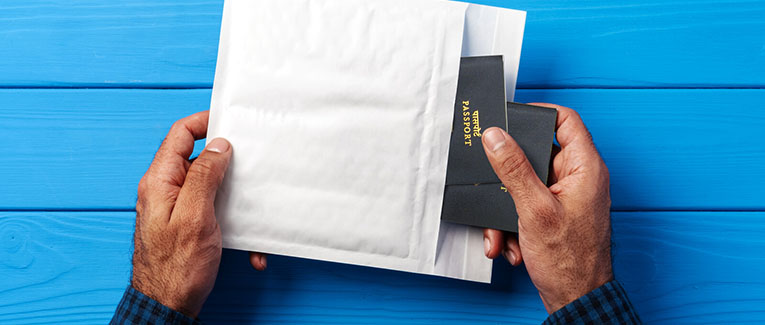 Once your US visa has been issued, instead of visiting one of the passport/visa collection locations, you can get it delivered by the Blue Dart courier at the address you choose. The cost is Rs. 500 per applicant, and you can choose this option at the time of taking the U.S. visa appointment.
If you forgot to choose the home delivery option earlier, you can still choose this option until the midnight of the day before your U.S. visa interview appointment.
Cash on Delivery
Either way, you don't have to pay the money at the time of selecting this option. You would pay Rs. 500 to the courier when they deliver your passport.
Family Applicants
If multiple applicants in the family are applying together, you have to choose this option for each applicant and Rs. 500 per applicant, as each passport will be delivered separately for security reasons.
Not at Home
Regular rules for courier delivery apply. They will attempt to deliver only at the address you specified at the time of application. If you are not home when the courier visits to deliver, they will leave a "sorry card" with an AWB number indicating the attempted delivery. In that case, you would need to contact the courier company to arrange the delivery.
Delivery Requirements
The recipient must present an original government-issued photo ID for verification (passport, driver's license, PAN Card, Aadhar card, etc.) and pay the fee to accept the delivery of your passport.
Delivery Address Options
The delivery address does not have to be your home address. It can be your office address or your family member's home address.
Payment Receipt
Once the passport is delivered and the payment is made, the receipt will be delievered to the registered email address on either the same day or the next business day.
Premium Hold for Collection
If your pin code is not serviceable by courier, you can choose an option for the closest "Premium Hold for Collection" location near your home.
When scheduling an appointment, select the "Pick up" option, and then choose the nearest "Premium Hold for Collection" location.
When your passport is available for pick up, you will receive an email/text message. Visit the selected premium location with an original government ID proof, and pay Rs. 500 in cash to collect your passport.
Incorrect/Incomplete Address
If you entered an incorrect or incomplete address at the time of taking an appointment, and courier is unable to deliver your passport, please send an email from your registered email address to [email protected] to get your address updated.
We are sorry that this post was not useful for you!
Let us improve this post!
Tell us how we can improve this post?