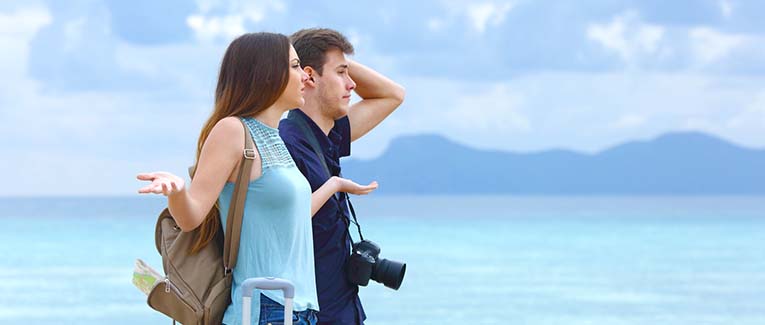 You have booked tickets to visit The Great Wall of China, expecting to calmly take in the beautiful scenery. However, 10,000 other travel enthusiasts also had this same thought. When the much anticipated moment arrives, you find yourself squished between tourists.
In that moment of frustration, when you're sweating and holding your bladder because the end of the journey is another two miles away, you might conclude that staying home would've been better.
Think again. Can sitting in your living room really be better than a trip to China?
You are letting sky-high vacation expectations take over your practical judgment. Sure, it is not as pleasant as you expected, but it is still The Great Wall of China. This is what you signed up for when you chose to tour one of the Seven Wonders of the World.
Before you let travel expectations ruin magical moments, you need to get a grip on reality. To help you achieve that, we'll pinpoint the major sources of these outrageous expectations. Then, we'll suggest seven key methods to avoiding unrealistic vacation expectations.
Notorious Reasons Why You Are Setting the Bar Too High
1. You Trust Books and Movies More than You Should
Eat, Pray, Love is a wildly popular and eccentric romance novel-turned movie. It chronicles the tale of a newly divorced woman who travels to Italy, India, and Bali in search of food, spirituality, and love. If you were to believe the story, you might expect to find lip-smacking dishes on every street corner of Italy, be enlightened to the heavens once you step foot in India, and find your soulmate in Bali.
Anybody who has been to these places will likely tell you otherwise. So, keep the books and movies where they belong. They are not your roadmap to reality.
2. Social Media Has Gotten Into Your Head
Those travel influencers and models posting ethereal pictures of tropical beaches and snow-capped mountains are cropping out most of the truth. You are not seeing what's outside the frame, and much of what's inside is heavily edited.
If you use social media to get a closer look into your dream destination:
Steer away from larger-than-life accounts
Use the location hashtag feature on Instagram
Look up tourist vlogs on YouTube for more authentic accounts
3. The Tourism Industry Is Selling a Dream
Tourism ads and travel agency brochures capture locations at their best, and add a touch of Photoshop to make it look even better. They make money off of your glittery-eyed dreams.
Not everyone will be smiling and welcoming you with leis when you visit Hawaii.
Your Mumbai hotel window might overlook a slum, along with the breathtaking ocean view that you saw in the brochure.
4. Your Acquaintances Are Sugarcoating the Truth
The stupefying view of Mt. Everest that your aunt was gushing about probably came after two days of strenuous trekking in freezing temperatures.
Your colleague is most likely exaggerating the experience of their Paris trip.
When people spend a lot of money and effort on a trip, they're likely to skip the underwhelming parts of their travel story. So, take those verbal reviews with a grain of salt.
5. Your Imagination Is Running Wild
All of the previous factors, when combined with the fantasy-generating engine that is our brain, lead to disappointing outcomes. You might end up imagining highly improbable scenarios.
If you think clear blue skies and clean beaches are perfectly realistic expectations to have, you are in for an epic disappointment. The world is always prettier in your mind. Don't try to match that with reality.
Pragmatic Ways to Avoid Vacation Disappointment
1. If The Destination Is Popular, a Crowd Is Guaranteed
You can't expect to be alone with your significant other under the Eiffel Tower. That's where all the lovers in the city gather.
You might presume your idea is unique, but you'll discover that it is commonplace.
The photos of the famous places you have seen were often taken when those places were closed. On an average day, you can expect at least 100 people surrounding the Mona Lisa. So, crowds should be the last thing to complain about at a tourist attraction.
If you are prefer to avoid crowds:
Visit remote places that are off the radar
Tour your dream destinations during the offseason
Drop by tourist spots at odd times of the day
Never visit during local festivals and holidays
2. Research and Respect the Culture
The gravest mistake a traveler can make is expecting a foreign location to be just like home. This is very rarely the case. Each country has its own culture and customs, so it would be prudent to research the country you're visiting.
If you visit India during Diwali, you can't complain about noise pollution.
You can't blame the people for obscenity if you unknowingly bring your kids to a nude beach like Cap d'Agde in France.
Don't expect the locals to be accommodating if your attire, behavior, or actions translate as rudeness to them. The same goes for unanticipated language barriers.
3. Steer Clear Of Assumptions
Assuming leads to huge letdowns and shocks.
For instance, Japan is often associated with Sakura trees. But you can't expect to find them everywhere and at all times. You need to visit specific areas during certain months.
People also think that everyone in Venice travels by gondolas. In reality, you need to walk to most places by stairs and alleyways. If you are not a fan of walking, Venice can be a nightmare for you.
4. Choose Activities Your Body Can Keep Up With
A person who feels out of breath after five minutes of brisk walking isn't fit for a four-day camping and hiking expedition in Yosemite National Park.
If you plan on a physically taxing holiday, build your endurance up months before you board the flight. If you have young children, leave out physically demanding activities.
5. Expect Discomfort and Difficulty
There is trouble even in paradise. Calamities and emergencies wait for no one. It would be irresponsible of you to set vacation expectations without considering the worst-case scenarios.
Brace yourself for the following incidents whenever you set out for a trip:
How you respond to unfavorable situations is entirely up to you. It will always turn out better if you stay positive and learn to expect the unexpected.
6. Traveling Without Insurance Is a Rookie Mistake
Incidents like trip cancellation and medical emergencies are more common than you'd expect.
A family member suddenly passes away, and now you need to cancel your trip.
You get horrible food poisoning after a street food adventure.
Physiological and psychological aftermath aside, you have your finances to consider. Can you afford to cancel a pre-booked vacation? Is an ER visit in a foreign country included in your travel budget?
If not, buy essential protection with travel insurance.
You can:
Head to a trustworthy insurance marketplace like Insubuy
Compare plans
Receive expert advice
Make your purchase with the click of a button
Save your electronic policy
Rely on Insubuy's extraordinary post-purchase service.
7. Your Goals Will Get in Your Way
Sure, visiting the Taj Mahal in India, or sunbathing on Miami Beach is the norm. But, do you need to stick to these standard activities to feel like you had fun on your trip?
Part of managing vacation expectations is questioning your own standards of "fun."
If you are one of those people who prepare elaborate itineraries, schedule activities, and chalk out every hour of the holiday, you are likely to be unhappy even on your dream vacation.
It's nice to have goals, but don't turn them into expectations. Don't confuse what you hope to achieve with stuff you expect will happen.
Vacation is the time to throw the rules out the window and let loose. Freedom to do as you please is the real fun.
So, be more flexible and accept spontaneity. Your only goal on a vacation should be to wind down and admire the beauty of the world.
We are sorry that this post was not useful for you!
Let us improve this post!
Tell us how we can improve this post?