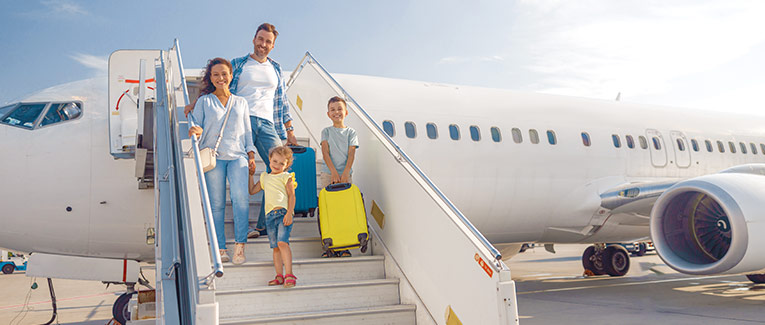 Vacation planning with kids can be a double-edged sword. From extra luggage to carry and fear of medical emergencies to dealing with kids' mood swings, there is much to think about when you plan a family trip.
Nevertheless, having kids around is a different kind of joy. Who wouldn't love to travel with kids and look at the world through their innocent, wonder-filled eyes? The simple act of splashing water on each other in a pool becomes extra fun with kids around. You might get tired around them, but you will never feel bored with them.
So, before you rack your brain trying to figure out how to travel with kids, answer these questions to set your travel priorities straight.
3 Key Questions For Anyone Planning A Vacation With Kids
1. What's the purpose of your vacation planning with kids?
What are you in the mood for? A couple's tour to a beautiful island, a solo trip to the snowy mountains, or a family trip to Disney World?
First, it's important to know your mental state and current needs to decide if you should take your kids along. If you want to take a break from your hectic work and relax, a trip with your friends or your partner may be better than taking the responsibility of a family trip.
But, if you want an opportunity to bond with your kids, then the hustle of planning a family trip can be worth it.
2. Do you have a destination to travel with kids?
If you have your destination fixed, find out if it is better visited with or without kids. Then, you can make your decision based on that.
For example, visiting a trekking destination is extremely risky if you have young kids. But, if you want to visit popular countries with a lot of fun adventures like theme parks, animal safaris, and beaches, you will have a blast taking your kids along.
3. Can you handle the extra expenses of international travel with kids?
Let's face it. The extra hotel rooms, extra food and ticket prices, and extra shopping can double your expenses.
If you are on a tight budget and can't afford to spend so much, you can leave your kids behind for this time.
Apart from the budget, you should also consider a lot of things like ensuring their safety, packing all their essentials, and constantly monitoring and disciplining them. So, ask yourself if you have the headspace for this level of responsibility.
Now that you know how to plan a family vacation, let's look at the following pros and cons of traveling with kids to make the final decision.
Pros of Vacation Planning with Kids
1. Family bonding time
With weekend kids' parties and extracurricular activities, you hardly get time to spend an entire day with your kids. So, a family trip can be the perfect chance to strengthen the bond and build trust among one another.
Also, kids will likely be thrilled to see the adventurous and fun side of you on the trip. Traveling will free you from the role of a strict parent, and help you let loose a little.
2. A great learning experience
"The world is a book and those who do not travel read only one page." – Saint Augustine
Whereas schools only teach the theoretical stuff, travel teaches practical skills like adaptability, problem-solving, tolerance, and decision making. Traveling will also expose your kids to new languages and cultures.
Every lesson they learn on the trip comes along with beautiful memories to hold onto for a lifetime. These deep-rooted lessons help in building a strong foundation for their character.
3. It brings out the kid in you
Kids have the power to enjoy the simplest of things in the world. For you, it's just a beach or an attraction, but for your kids, it's a wonderland to explore. So, when you are with kids, their enthusiasm transfers to you, and offers you a new lens through which to view the world.
You can also explore different destinations and attractions typically meant for children, like Disney World. Truly, though, it is as fun for adults as it is for children.
The best part? If you are with kids, no one will judge you for indulging in kids' activities. So, with kids around, you can rekindle your childlike curiosity and be a kid to your heart's content.
4. Making new friends
Kids instantly lighten up the environment and make it easy to have conversations with strangers.
They are great at making new friends, and they can also introduce you to their friends' parents. Then, what starts as a casual conversation can lead to a lifelong friendship, thanks to your kids' ice-breaking abilities.
5. Unexpected perks
It's a hassle to travel with kids, but you can also benefit from a lot of perks. How about getting fast-lane access at airports, or getting gifts and favors because of your kids?
Wait, there's more. You also get to eat more food because they hardly ever finish their plates. You get to travel in a bigger car, stay in a bigger hotel room, and also get a lot of amazing deals on family travel packages.
Cons of traveling with kids
1. You will be more exhausted
One thing is for sure. If you are traveling with kids, you always have to be on your toes to entertain them and take care of them. You might have to run to catch hold of them, carry them along when they are tired, attend to all their questions, and do your best to fulfill their never-ending wishes.
Even if your schedule is planned, you likely have to tweak it. Their changing moods have the power to ruin your well-organized plans.
Kids also often get hungry, bored, or irritated, and it will take a toll on you to manage them. Moreover, any stressful event can become more worrisome when you travel with kids.
2. You have to carry a lot of luggage
You cannot risk leaving any item behind that your kids might need on the trip. Forget the concept of packing light, because you might even have to pack the teddy bear that your kid won't go to bed without.
From toys to diapers, wipes, clothes, snacks, gadgets, board games, books, and medicines, the list can be endless.
3. You will be restricted to selective destinations
You can't plan your destinations or attractions without checking if they are kid-friendly.
Your kids' attention span is very short, and all they need sometimes is the hotel swimming pool to stay entertained. The historical attraction which you had been looking forward to visiting may bore your kids in no time. You will have no choice but to leave.
You also have to give up on long mountain treks or bike rides, which are too risky with kids.
4. Medical issues
What is more stressful than a medical emergency in an unknown country where the doctor doesn't even speak your language? This is a situation that would freak out any parent.
Other points to consider are the expensive bills that you will have to bear due to medical treatment in a foreign country.
Travel medical insurance is one of the best tips for trip planning with kids. Buying travel insurance secures your peace of mind. Find a plan that meets your needs within minutes at Insubuy, where thousands of travelers like you secure their peace of mind, every week.
5. Put a cap on the nightlife
If you love exploring nightlife by wandering under the night sky or visiting bars and clubs, you will need to consider other plans.
Aside from the fact that minors are not allowed in places like these, younger kids go to bed early, and you will have to follow the same routine unless you have a babysitter to leave them with. But, taking along a babysitter on a trip could get very expensive. Pay attention to these points the next time you are planning a trip. There are pros and cons to traveling with children, but it is ultimately up to you to decide.
We are sorry that this post was not useful for you!
Let us improve this post!
Tell us how we can improve this post?