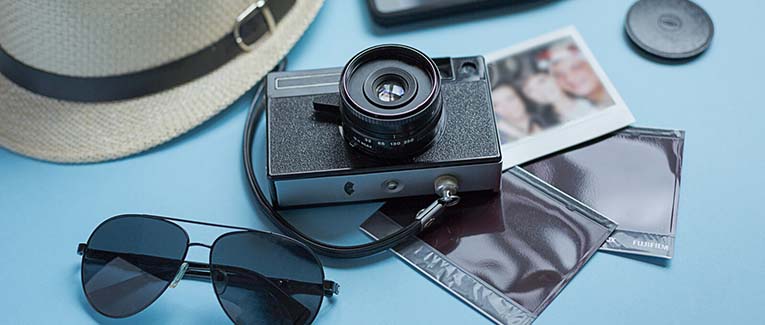 Oh, for the days of vanity cases, hat boxes, and vintage polaroid cameras!
Although the travel industry has spawned hundreds of ultra-modern and high-tech innovations, there is a distinct charm in dialing it back a few decades. Transport yourself back to the times when travel was a luxury; a truth reflected in its accessories.
Here are our favorite vintage travel accessories that will instantly up your style game. Travel in retro-inspired fashion with these:
1. Vanity Case
Leather vanity cases were all the rage in the 1950s and 1960s. These handy hard-case boxes were adorned with pretty pastel colors, and were the mainstay of high-class travelers.
Not only do they personify elegance and class, a smart vanity case is also a durable investment. Its hard case is perfect to sustain the inevitable pressures of baggage handling.
Choose a neutral color like black or brown, or go all out with a classy rose or pastel sky blue!
2. Polaroid Camera
Sure, everyone has excellent cameras in their smartphones these days, but there is something oddly satisfying about touching the sheen of a freshly developed photograph. With an old-timey camera, you do not have the convenience of clicking a thousand pictures, choosing the best one, and photoshopping the life out of it.
Wait for the right moment to hit the button, and then let the camera do its magic.
So, why not take a polaroid camera along with you on your next adventure? Not only does it make for unique and classic-looking pictures, but it is also a great tool for amateur photographers to get the hang of lenses, framing, exposure, etc.
Also check out smartphone-operated manual cameras. Confused?
These cameras can be adjusted manually, but also come with the option to operate them remotely via your smartphone. Now, if that isn't the best of both worlds, we don't know what is.
3. Leather Passport Cover
Secure your passport in a chic leather cover that exudes quiet elegance.
A leather passport cover will not only protect your passport from spills and accidents, but it will also make you stand apart in a sea of travelers. You can personalize it by adding monograms, tags, or embroidery.
And the best part? Your Instagram-worthy passport will be perfect to flaunt about to your friends on social media. Just be sure to cover up any personal passport information in photographs.
4. Vintage Carryon
This one's for the frequent flyers jet setting across the globe each week. Chuck your plain carryon suitcase in favor of a delightfully retro hard-case carryon. Like regular suitcases, they have wheels, extra internal compartments, and sturdy locking mechanisms.
What sets it apart? The style, of course.
With a faux leather shell and two-tone edge protectors, an old-school carryon suitcase is the ideal accessory for both convenience and luxury.
5. Retro Sunglasses
The 50s and 60s were the years of big, bold fashion. From clothes to shoes and accessories, everything was dialed up to a 100. Channel your adventurous side with a pair of uber cool vintage sunglasses on your vacation abroad.
These are our favorite styles:
Round lenses: Made famous by the likes of John Lennon, round lenses give off a casual, yet trendy vibe. Choose metal rims for a polished look.
Cat-eyes: Who can forget the iconic cat-eyed shades worn by Audrey Hepburn in "Breakfast at Tiffany's?" Go for dark black or brown lenses with an eye-catching rim style. You can embellish the rims with sequins or patterns for an extra bit of oomph.
Aviators: You can never go wrong with a pair for classic gold-rimmed aviators. Embrace the "Top Gun" style on your next holiday, and you are sure to draw appreciative glances.
6. Travel Flask
A hip flask is a pretty handy container for water or a refreshing beverage to keep you hydrated on a tiring day of exploration and adventure. In pure wild west style, sling the flask across your waist, and take a swig to wash away the heat and fatigue.
A typical flash can hold up to eight ounces, although there are larger ones available too.
Monogram your flash with your initials for an easily traceable, yet fashionable accessory. A personalized travel flask also makes for an excellent gift. You can emboss their name or a significant date on the flask to make it more special.
Bonus: Travel cocktail kit
Spice up that hip flask with a perfect complement — a compact DIY cocktail kit. The kit comes with all the ingredients for a reinvigorating drink, no matter where you are. With half a dozen cocktail recipes, aromatic bitters, and mini decorations, you can sip on a little liquid luck as you travel.
As with the flask, a cocktail kit is also a unique gift idea for your adventurous friends.
7. Hat Box
Setting off on a beach holiday? Then a stylish collection of hats is an absolute must. However, if you stuff your hats into your regular suitcase while traveling, you should be prepared for a bunch of broken straws and bent ribbons on the other side.
A hat box is an innovative and classic accessory to solve this problem. It has a rigid wire structure to keep your best hats in their natural shape, no matter how roughly the bag is handled. Simply put in your hats, secure the old-fashioned snap lock, and rest assured on your journey.
For the space-conscious traveler, the space within the wire dome structure of the hat box is ideal for carrying another small delicate item. That's a neat hack, isn't it?
8. Vintage Travel Journal
Who doesn't enjoy rifling through memories of past vacations and holidays from time to time? This item on our list is one of our favorites, because it lets you document your travels in a quaint fashion.
Move over, Instagram captions; a travel journal is an authentic way to keep track of all the adventures on your vacations. A vintage-looking leather-bound journal is as functional as it is classy.
Write down your itinerary, and take note of the highlights of each day in your personal journal. You can also paste photographs, maps, and newspaper cuttings to document the details of your journey. Imagine flipping through this treasure trove of memories ten years down the line and finding an old forgotten photograph of the crazy times you had.
9. Classic Wool Scarf
Keep yourself warm while acing the style quotient with an elegant woven scarf. We recommend opting for a neutral color like tan, cream, or maroon. These colors will add a touch of elan to your outfit without overpowering it with bright shades.
Choose a warm material like cashmere or Scottish wool for an ultra-soft feel. You can also go for a light monogram to mix things up. A nice LV or Burberry logo surely doesn't hurt.
As for styling options, a vintage scarf works best with a solid-colored trench-coat or a clean-cut blazer. Ladies, pair it with stylish leather boots; men, stick with smart brogues.
A Travel Must-Have That's Timeless
Bringing your retro sense of fashion to the world can all be for naught if you encounter a travel situation that results in unexpected expenses or health issues. This is why it's essential that you purchase travel insurance before your next excursion abroad.
A travel insurance plan can help protect your finances in case of events such as trip cancellation, travel delays, emergency medical treatment, and more. Visit Insubuy to compare a variety of policies to see which one suits your needs best. When you're ready to purchase, you can do so securely right from the Insubuy website.
With these vintage travel accessories and proper travel insurance in place, you can take your next trip with both style and confidence.
We are sorry that this post was not useful for you!
Let us improve this post!
Tell us how we can improve this post?