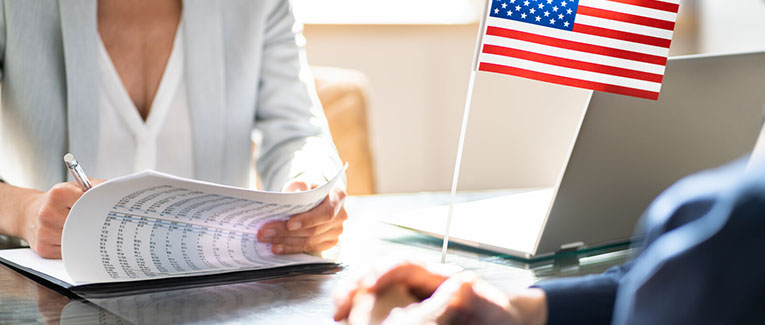 Under US visa interview waiver program, certain repeat travelers do not need to appear for in person interview at the US Consulate/Embassy as long as certain conditions as listed below are met.

Eligibility
The following classes of people qualify for Interview Waiver Program "Drop box" program. You don't need to visit a VAC for fingerprinting, either.
You are applying for visa in any of the A1, A2, C2, C3, G1, G2, G3, or G4 categories


Elderly

You are over the age of 80 years


You have not been previously found ineligible for a US visa



Children

You are under the age of 14 years


You have not been previously found ineligible for a US visa


Either of your parents have a valid visa in the same visa category in which you (the child) are applying



You would like to renew your visa, and all of the below situations are applicable:

The previous US visa you have/had is in the same visa class as the one you wish to renew.


Your previous visa was issued in India.


You have no refusals for a visa in any category after your most recent visa issuance.


Your most recent visa (in the same visa class for which you are applying) was issued on or after your 14th birthday.


Your prior visa in the same classification is still valid or expired within last 12 months

Note: Blanket L visa does not qualify. However, Blanket L2 spouses are eligible.


Your most recent visa (in the same visa class for which you are applying) was not lost or stolen


Your prior visa is not annotated "Clearance Received" or "Department Authorization"


You received your visa after January 1, 2008.


You are applying for F visa, and you are continuing as a student at the same school for which the previous visa was issued.


If you are applying for J visa, the current DS-2019 is issued by the same institution as the institution listed on the previous visa.

For visitors, travel, student and other international travel medical insurance.
Visit insubuy.com or call 1 (866) INSUBUY or +1 (972) 985-4400

Application Procedure
Look at US visa application procedure.
Follow steps 1, 2, 3, and 4, which includes determination, application form, create a profile, and visa fees. See more about visa fee payment options in India here.


Go through step 5 at US visa application procedure to schedule an appointment. Please note that in your case, it will not ask you to schedule any appointment, but you will see a submission letter containing a document checklist. Print two copies of the submission letter. Insert the following documents into a "drop box" package, then seal the package:

Your current passport


Your previous passport, if it contains your current or most recent visa


One copy of the submission letter


One photograph taken within the last six months.

Do not submit the same photograph that appeared on your last visa.


Category Specific Supporting Documents

J2 applicants:
Copy of DS-2019


H4 and L2 applicants:
Copy of I-797 and primary applicant's visa


C1D applicants:
Copy of joining letter and original CDC



Child applicants should submit photocopies of either of their parents' valid visas in the same category in which the child is applying



Take the "drop box" package along with the second print out of the document check list to one of the visa application centers. They will check your document checklist before they accept your application for delivery to the US Embassy/Consulate.
In case any additional information is required for processing your application, you will be contacted by email.
If your visa is issued, please look at step 8 at at US visa application procedure
However, please note that there is no guarantee that a visa will be issued. After reviewing an application, the US Embassy/Consulate may require you to appear in person in some cases.
The average processing time is three weeks.

We are sorry that this post was not useful for you!
Let us improve this post!
Tell us how we can improve this post?