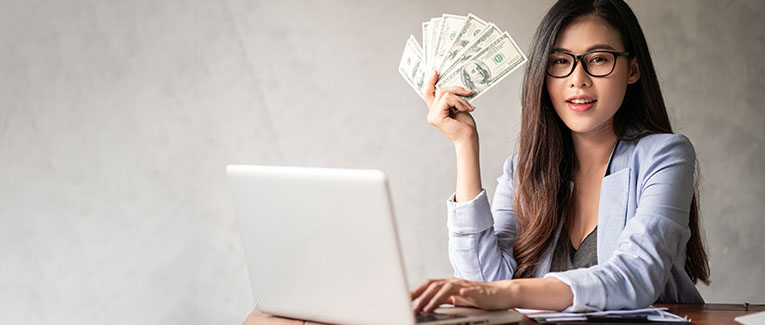 A college degree promises a bright and rewarding future, and it opens up many doors for your professional advancement. However, it's a costly proposition, especially so for students from lower to middle-income families. Of course, one can apply for a loan, but that brings with the burden of interest and repayment. Finances should not be a deterrent to the pursuance of higher education. There are options for you to get paid to attend school.
You can also attend colleges without paying any money. Hard-pressed for time? Attend a free online degree program.
Intrigued? Read on to know more about the options that you have.
Apply for Financial Aid
The Federal Financial Aid program is highly suitable for financially challenged students looking to pursue a college education. Though this facility gets exhausted pretty soon, there's no harm in trying. However, you would need to prove that you are financially in need.
Reimbursement by Employer
If you are a working professional attempting to get a college degree, you need to check with your employer to see if they offer any programs that will pay you extra to attend college. This is a wonderful opportunity for eligible employees to pursue higher education while working.
However, there might be conditions attached to this benefit. Some employers might pay for only those programs that are relevant to your line of work and not the ones that you are interested to pursue. Some other employers might need you to attain a certain grade before financing the next level. But corporate tuition fee reimbursements are excellent ways to get paid to attend school.
Scholarships & Grants
While these don't exactly pay you for going to college, they go a long way in ensuring that your education becomes free. You need to apply for as many as you can. That increases your chances of being awarded a scholarship or grant. Also, keep in mind that the fees at a public university would be far lower than their private counterparts.
There are various scholarships funded by philanthropists and corporations, primarily intended for financially challenged students. Any one of them can take the financial burden away from you.
Go for Free Application for Federal Student Aid (FAFSA)
This is a financial aid program for students under the aegis of the federal government. Depending on your earnings and your overall financial condition, you will receive a certain amount of financial assistance. Based on your financial status, colleges will determine how much to provide as paid work-
study options, scholarships, and grants.
Tuition Fee Benefits for the Military
Enrollment with the U.S. Military makes you eligible for financial benefits while pursuing higher education. You can receive up to $4,500 per year. This covers the cost of tuition fees, books, and other related expenses. Also, under the two GI Bills, full-time students can receive anything between $24,000-25,000 annually for enrolling in both public and private colleges and universities.
The Department of Veteran Affairs provides funding for college education and other related financial benefits to the dependents of war veterans.
Online and Campus-Based Tuition-Free Colleges
For many, pursuing a traditional, campus-based program is not feasible. This may be due to the travel involved, or work-related commitments.The online method comes to their aid. These colleges provide the same accreditation as their offline counterparts, and many of them allow the student to study for free. Arizona State University, Cornell University, and Duke University are some examples.
There are campus-based programs offering the same facility, too. They might have some conditions regarding which state the student is from, and they might also require the student to spend some pre-determined hours on campus. But, if you meet these conditions, then you are entitled to pursue a tuition-free campus-based program. Berea College, Barclay College, and Deep Springs College are just a few of the examples.
Join a Community College
Submit the federal aid form every year, and pursue a two-year associate degree program at a community college with federal aid covering almost your entire tuition fee. The federal Pell Grant is very popular among students with financial challenges. It provides more than $6,000 to full-time students. In certain states, a community college education is free for local residents. So, do check out the options available at your nearest community college.
Apply for Need-Based Grants
The government has several types of grants for students. The grants are not loans, so you don't need to worry about repayments. The U.S. Department of Education takes care of these grants that pay for over 12 million students' tuition every year.
Besides the government, there are private trusts and corporations who provide such grants. They cover the tuition fees on a monthly or yearly basis.
Coca Cola has a facility of a scholar program of up to $3 million annually for financially challenged students. Professional associations, like those in the medical or information technology sectors, also provide grants to students pursuing higher studies in these disciplines.
Receive Tax Breaks
As a student, you can write off a fair share of your tuition fees after filing your taxes. This is a facility that IRS provides for students. By taking advantage of these tax breaks, you can get back your money after filing the tax returns. The American Opportunity Tax Credit (AOTC) provides a $2,500 tax break to students. There is also the Lifetime Learning Credit (LLC) facility that the federal government extends to students. This comes with tax relief of up to $2,000.
Go for No-Loan Colleges
There are colleges that don't charge the same standardized fees from every student. They check the student's financial condition and offer various grants and scholarships to make the fees affordable for the student. These colleges also come up with additional scholarship programs if the existing financial aid for the student doesn't offer enough. Princeton University, Columbia University, and the University of Pennsylvania are some notable examples.
Work as a Resident Assistant (RA)
An RA is a student living on campus who helps other students regarding matters related to a college's resident hall. The RA coordinates the campus stay related matters with the other resident students, and ensures procurement and maintenance of furnishings and other facilities. The RAs get paid well for this (close to $30,000 annually), besides also being eligible for free or discounted housing.
To conclude, there are multiple options for you if you are looking to get financial assistance to attend school. First, decide on the course that you want to pursue and from which college. After that, find out about the grants and scholarship options available, and apply to as many of them as you can. With a focused search, you can surely lay your hands on the assistance program you are looking for. Then, pursue your chosen program without worrying about debt repayment.
We are sorry that this post was not useful for you!
Let us improve this post!
Tell us how we can improve this post?