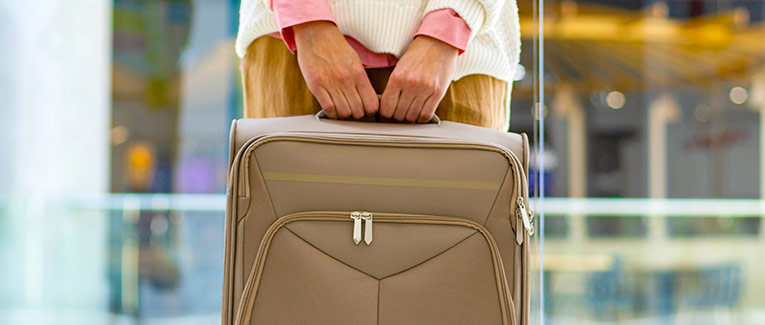 Be it a business trip to Seattle or a vacation in Hawaii, the one constant that is always beside you is your luggage.
Well-made luggage is essential if you want to be worry-free while traveling to your next destination.
Here are the factors you have to consider when picking out the proper luggage.
Pro Tips for Buying Luggage
1. Ensure a Warranty Period
The manufacturer has to offer a warranty period. This might vary between six months and two years.
Lack of a guarantee instantly shows that the maker has no confidence in the quality of their product.
A bag goes through a lot of wear and tear, and unless there is some assurance that it will last a few years, there is little sense in investing a few hundred dollars.
Find out if it is a replacement or repair warranty. The former is always better.
Also, before you travel, always be sure to purchase a travel insurance policy that covers baggage loss or delay. If your luggage is lost or damaged, you may be able to file a claim for financial compensation.
2. Check if There Is Customer Service
Customer service is another crucial factor. Your complaints have to be addressed, and that requires a service center.
If you buy from chain stores, you definitely won't get products that offer you a lot of after-sales services.
Purchasing from brand outlets is a better option.
Ask about their service centers around the world. Are they present in every major tourist destination?
How would you feel if the handle broke while deplaning in Athens?
Instead of visiting the ruins of the Parthenon, you would be running around with the ruins of your suitcase.
Remember that a warranty and customer service both cost a premium. You have to pay a little more upfront to enjoy peace of mind later.
3. Check the Country of Manufacture
Manufacturing in certain places can be of inferior quality.
There is a reason why European manufacturing — from autos to cutlery — is so valued. Not only are the products of the highest quality, but they are made by craftsmen who are absolutely focused on perfection.
The best travel bag brands from Europe, such as Fabbrica Milano and Victorinox, can last you a lifetime.
4. Examine the Stitching
The stitching is a prime indicator of the quality. Even ready-made luggage has some stitching inside.
Is it in a straight line? Are there any loose ends?
The density of the stitches matter, and most good quality suitcases have double stitching to ensure it does not come apart.
5. Pay Attention to the Castors
The castor wheels are a crucial part of large-sized luggage. They must be mounted on ball bearings, and the wheels must not look scruffy, but have an even composition and color.
When you pull, there should be a smooth purr, and not a grinding noise that indicates irregular mechanics.
Make it a point to walk at least 200 feet with the suitcase to understand if the wheels are of good quality and will survive.
6. Are the Zippers Strong
If soft luggage suitcases had an Achilles' heel, this would be it. If your bag's zippers come apart in the middle of your trip, everything can spill out onto a busy road in Mumbai.
The zippers must be interlocking, without space between them, and appear durable. Coil zippers are unsuitable and should be avoided.
7. Wheels: Two, Four, or None
Two-wheeled suitcases have recessed wheels. They are more stylish, and the wheel does not get caught on other luggage. However, they cause strain on the shoulder because of the peculiar angle at which the suitcase has to be pulled along. Don't buy two-wheeled luggage that is larger than 18 inches, as they are impractical.
Four-wheelers have swiveling wheels and are more maneuverable. A heavy suitcase must have four wheels for better load distribution.
No wheels are fine as long as you are able to carry your luggage on a strap over your shoulder.
Figure Out What You Need
Luggage comes in a variety of shapes, sizes, and materials. You have to first find out what you need. The best type of bag for traveling depends on your tastes and preferences.
Types of Luggage
1. Soft
Soft luggage is made from durable, waterproof material such as woven nylon. It is light, and weighs just a few pounds. That makes sense, since excess weight is expensive, often adding up to $100 charges on an international flight.
The sides are not rigid, and you can stuff in an extra pair of shoes even if it is jam-packed.
The outside has plenty of pockets for storing power banks and other accessories.
There are downsides, though. The worst being how rough baggage handlers can be with your soft bag that is filled with delicate things, like your camera. They are also susceptible to being ripped by sharp objects.
2. Hard
Modern, hard-shell luggage is made from ABS plastic and polycarbonate. It is extremely strong, and provides exceptional protection to its contents.
The biggest pro of hard luggage is that it won't get squashed when other pieces of luggage are piled on top. It holds its shape, and is designed to be sturdy.
While soft luggage is reasonably waterproof, hard luggage can be really waterproof. It could survive a fall in a swimming pool without any damage. Just wipe the exterior with a dry cloth and it is good to go. However, make sure the manufacturer actually guarantees the bag is waterproof before you traipse about in the rain.
They are also very easy to clean after a trip. Rub them down vigorously with a mix of vinegar and water, and they sparkle like new. Of course, with age, they can gather scratches, but the paint lasts forever.
3. Size
Do you travel frequently on short trips? Then a 21-inch suitcase might be enough. 21 inches is perfect for business travel.
If you are looking to tour Europe with your spouse, then you might need a 36-inch suitcase. You need a lot of space for dresses and shoes if you visit fine dining establishments in Paris.
A suitcase that is bigger than you need will seem cumbersome. Also, those hefty pieces can be tough to pull through a large airport.
If the suitcase is too small, how will you get the souvenirs home? Where does an extra pair of black Oxfords or the stylish sportscoat go?
These questions are some that you need to carefully consider before you buy.
Since luggage requires large storage space, you can't buy a variety and keep them. For most, a carryon 21-inch piece and a larger suitcase of 28 inches suffices for travel.
Some More Suggestions
Check the insides of the bag as carefully as the outside. The volume has to be sufficient, so bring a tape measure and find if the claims on the label are true or not.
Don't be afraid to make a prolonged inspection. You will be the one stuck with it for several years, not the salesperson.
Brands such as American Tourister and Briggs & Riley are the best Made-in-USA brands when it comes to medium-priced luggage of excellent quality. Check the hinge, as it should be recessed and strong.
Do not purchase without shopping around and doing some research. Buying luggage is not only a matter of spending several hundred dollars, but also quiet contentment when away from home.
We are sorry that this post was not useful for you!
Let us improve this post!
Tell us how we can improve this post?