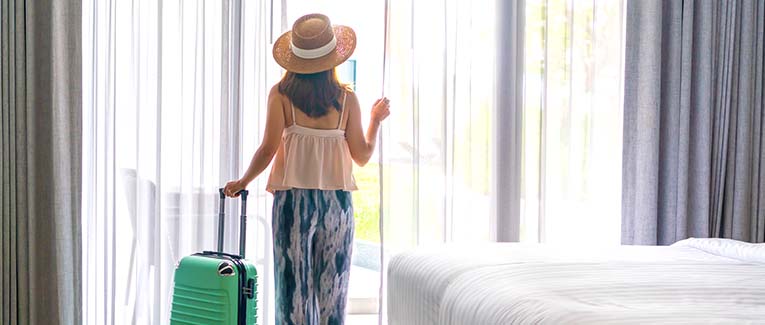 The big question: What is a solo surcharge?
Most of the travel industry lists their prices on a per double occupancy (PDO) basis because that's how their rooms, activities, and cabins are designed to be used.
For example, if only one person books a two-person cabin on a cruise, the second half of the room will remain unused.
Now, the cruise line simply cannot just sell that half and match our original booker with a stranger, right?
The problem is that the cruise line needs to keep their passengers happy by making a cheap solo vacation possible. But it also doesn't want to face any loss of revenue.
The solution: charge the person traveling solo for the "missing" second person. This additional fee (basically a penalty for going it alone) is called a "solo surcharge," and it's annoyingly common.
Hotels, vacation resorts, and holiday lodges all operate based on the same logic.

For visitors, travel, student and other international travel medical insurance.
Visit insubuy.com or call +1 (866) INSUBUY or +1 (972) 985-4400

Five Ways to Avoid the Single Surcharge for a Cheap Solo Vacation
1. Pick up the phone and ask.
As the old adage goes, "Ask, and ye shall receive." This is plain common sense and may save you from having to read the other four points on this list.
Drop whatever you are doing right now, and call the hotel, ship, or travel agent's office where you're planning to go, and simply request a fee waiver.
Bear in mind that you'll probably get laughed at if you try this during peak season: winter in the tropics and summer in the temperate zones.
If you're traveling in the shoulder (between the peak and off-peak) seasons, there is a much higher chance of this solo travel hack working. Getting a solo travel surcharge waiver during the shoulder season is possible because resorts and hotels know that they won't be booked to capacity.
2. Be flexible with your Budget Solo Vacation
Are you:
Flexible on your destination? Keep an eye out for "steal deals" that arise on tour packages when the company hasn't managed to sell all seats three months prior to setting off.
Flexible on your schedule? Set up alerts with companies (and Google) to get notified of the latest price drops as they occur.
Cruise lines will often waive the single surcharge, (and sometimes even offer a discount) about 90 days before departure, as that's when people tend to cancel.
Cruise lines hate dead inventory: cabins they're afraid might not sell. Plus, the captain would rather sail with a passenger paying something rather than an empty cabin that brings in nothing.
Flexible on travel type? This often happens: you save up for a cruise, but a camping trip pops up instead.
Solo travel tip: If you simply want to travel for the sake of traveling, you should consider subscribing to newsletters from sites such as Last Minute Travel and Travel Zoo. They offer last-minute deals on just about everything under the sun; from flights and spas to hotels and catering.
If you travel more than twice a year on these off-the-cuff type vacations, you might even consider opting in for a "last-minute traveler pass" from Last Minute Travel.
For $50 per year, you unlock the benefit of a much wider global community of hotels, resorts, and spas, but your reward points also start carrying over, plus exclusive deals.
More than 500,000 people have already subscribed to this initiative, so it can definitely be trusted.
3. Book extremely early or super late.
You can often snag hefty discounts if you book your vacations about 4-8 months in advance. The only downside here is that to get these discounts, you may have to pay upfront.
Another caveat to snagging early bird offers is that there is usually a substantial cancellation fee attached to them, often 60% or higher.
Only go for early bird offers if you don't foresee anything stopping you from going on the trip. Even if you think there's zero chance you won't go, you should still make sure to purchase trip cancellation insurance as soon as you book. This way, if your trip does have to be canceled for a covered reason, you'll have the opportunity to be covered for those nonrefundable, prepaid booking costs.
On the flipside, booking extremely late has only one major disadvantage: if you don't get a deal, you may wind up stuck at home on the couch.
Late bookers often get dirt-cheap deals, again, because of dead inventory: rooms, cabins, and tourist spots that are unlikely to be sold in time and may lose the company money.
The key to getting early or late deals is the same: keep trawling the internet.
Visit the websites of popular tour companies and cruise lines often to see what their "on offer" page says.
4. Look for a roomie.
With the advent of the internet and instant messaging, there has been an explosion of on-demand roommate apps.
Some tour companies even offer to match you with other same-sex solo travelers, and if you agree, they offer you a 70-80% discount on the solo surcharge.
Now, this only applies to land excursions, i.e. not to cruises or ship voyages. Those seem to be determined to charge solo travelers their firstborn, plus an arm and a leg.
Luckily there is something you can do to save a little money when cruising solo: Most cruises charge you about 50% over the cabin cost for a PDO when you book alone.
You can save that money by booking the cabin in your own and a friend's name (so you get standard PDO pricing), and then on the day of your cruise, your "friend" pulls a no-show.
You certainly won't get a refund for your absconding companion, but you'll have gotten a cabin to yourself at 200% of the price, instead of 250%.
This isn't always necessary, though. Cruise lines are slowly opening up to solo travelers. For example, Norwegian Cruise Lines now offers "studio staterooms," which are just mini cabins.
Norwegian Cruise Lines also has bespoke "solo lounges" for their single cruisers, and this feature is pretty popular these days (especially among the younger crowd).
5. Ditch the hotels.
Hotels do a lot to make cheap solo travel next to impossible. There is a high possibility that your hotel's solo surcharge is about 50% of the room cost. If budget really matters to you, it is wise to consider other types of accommodation.
There are myriad housing options available without the solo supplement to travelers: Airbnb, vacation rentals, and even local hostels.

For visitors, travel, student and other international travel medical insurance.
Visit insubuy.com or call 1 (866) INSUBUY or +1 (972) 985-4400

Aside from saving a ton of money, you will also have more freedom to make decisions about checking in and out, returning from sightseeing tours, and mealtimes.
Traveling solo is truly an addicting experience. You can do whatever you want, whenever you want, and however you want to do it.
You don't have to think about anyone else except yourself. This is why "travel therapy" is gaining popularity at a staggering rate.
The single biggest caveat to traveling solo is the "solo surcharge" fee that almost all hotels, travel agents, tour companies, and cruise lines charge.
Fortunately, cheap solo travel is possible if you follow the points listed in this article, so bon voyage!
We are sorry that this post was not useful for you!
Let us improve this post!
Tell us how we can improve this post?