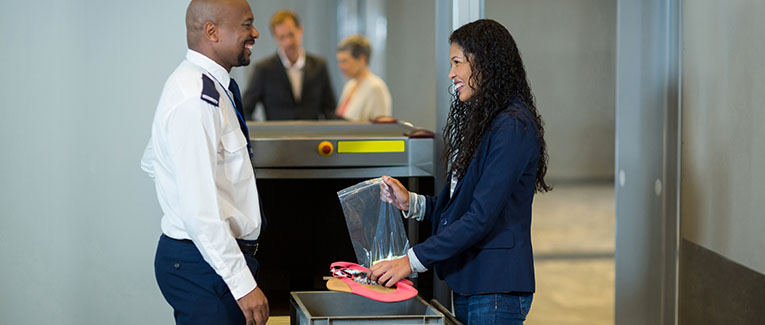 It is never too soon to start preparing for your trip. Plan and pack in advance to ease your travel. If you are travelling to the U.S. on a short trip, there is no need to bring a lot with you. But, if you are a worker or student travelling to the U.S. for a longer duration, then check out the list below.
Documents
Remember to carry all your important documents with you and on your person. These may include:


Passport with a valid visa stamp
Original Form I-20
U.S. currency (dollars) and / or travelers' checks
Vaccination certificate
Letter of employment or letter of college acceptance (if applicable)
Letter of financial aid (if applicable)
Make several photocopied sets of all the documents. Carry the original documents and a set of photocopies along with you, and keep another set of photocopies at home. Also, save electronic copies of your university records, employment records, and bank statements for quick and easy access when required.
Medication
You can carry over-the-counter medicines without any prescription. However, it is important to carry a prescription for any prescribed medications you may be taking, especially those for pre-existing medical conditions. A prescription will also help you buy medicine in the U.S., as most pharmacies do not sell medicines without it.
Personal care and toiletries
Most of these items are available in the U.S., but it is good to carry a few personal care and toiletry items to last you for the first few weeks.
Clothing
It is wise to pack clothes according to the climate. In general, North America experiences continental climate with cold winters and hot summers. The continent is huge, so understand the weather patterns for your destination city and state. If you are planning to stay in the U.S. for a longer duration of time, then consider buying new clothes there instead of carrying everything from home. The U.S. has good outlets where you can shop for trendy clothes at an affordable price.
Kitchen essentials
Who doesn't like a warm, home-cooked meal at the end of the day? To prepare a meal, you may need special utensils and ingredients. You will mostly find stores with cooking items like oils, spices, and grains from all over the world. Hence, carry only the items that are not available at the international stores in the U.S.
Footwear
Carry comfortable footwear with you. Pack a pair of formal shoes, activity/sports shoes, and everyday shoes. You will find great footwear styles at an affordable price in the U.S.
Avoid over-packing when travelling to the U.S., especially things that you could easily (and cheaply) purchase once you arrive. Do some research about your destination in the U.S., and pack essentials accordingly.
U.S. Travel FAQs
Q: Can I pack home-cooked food like curry or pickles in my bag?
A: Yes. You can pack any food item in your carry-on luggage, but liquid food items must not be more than 100 mL. However, you can carry an unopened tin or can in your checked-in bag.
Q: Can I carry beef or meat with me to the U.S.?
A: The U.S. restricts travelers on the import of any kind of raw meat. However, you can check with the airlines before getting to the airport.
Q: Can I carry liquid items in my handbag?
A: You are allowed to carry liquid items like shampoo, hand sanitizer, and moisturizer in a container less than 100 mL. The Transportation Security Administration (TSA) suggests that travelers follow the 3-1-1 rule, which refers to how many liquid items you can pack in your carry-on luggage. According to the rule:
Each bottle must be 3.4 fluid ounces (100 mL) or less
All the containers/bottles must be packed in a 1-quart plastic bag
Each passenger may carry only 1 such bag
Q: Can I carry my electric trimmer in my handbag?
A: Yes, you can carry it in either your checked-in bag or handbag.
Q: Can I pack my portable charger in my checked luggage?
A: No. Portable chargers, rechargeable batteries, and spare batteries (including lithium-ion batteries) are allowed only in carry-on baggage.
Q: Will my phone work in the U.S.?
A: Yes. Most iPhones and Android phones work in the U.S. However, you are advised to carry a universal power adaptor for charging your electrical equipment.
Q: Do I need to buy an international SIM card as soon as I land in the U.S.?
A: It is good to buy an international SIM card if you are planning to stay for a longer duration. However, most mobile operators allow international calling when you activate international roaming on your number.
Q: How much cash can I carry?
A: There is no limit to how much money you can carry along with you. But, according to the rules, any cash or jewelry more than $10,000 needs to be declared on your customs form.
Q: Can I carry a "Kirpan" in my handbag?
A: A "Kirpan" is an item of religious importance for Sikhs. You are allowed to carry it in your checked bag, but not in your carry-on bag for security reasons. Airlines also do not allow their passengers to carry a knife, a blade, or any other sharp object in the cabin.
Q: Can I bring my pet with me?
A: Most airlines allow small dogs, cats, or birds in the cabin with you. Leash your pet at all times to prevent any accident. To understand the pet policy, it is better to get in touch with your airline.
Your Ultimate U.S. Travel Packing Checklist
Use the checklist below to ensure you carry all essential items to the U.S.
Re-check all travel documents like your visa, passport, boarding pass, and valid ID proof.
Credit cards and cash. Keep all the valuables in your handbag for safety.
Travel insurance is very essential when travelling to an international destination. Travel insurance is very essential when travelling to an international destination. Insubuy is a great source for learning more about and purchasing travel insurance.
Activate international roaming on your mobile phone's SIM card to stay in contact with your family and friends.
Keep a medical kit handy. You can carry any amount of prescribed medicine.
Pack your toiletries kit in your checked bag to avoid spills.
Pack a small kit with personal hygiene items (adhere to the 3-1-1 rule) in your carry-on bag.
TSA advises travelers to reach the airport at least three hours prior to departure. It is good to consult your airline in case of any confusion about luggage rules.
We are sorry that this post was not useful for you!
Let us improve this post!
Tell us how we can improve this post?