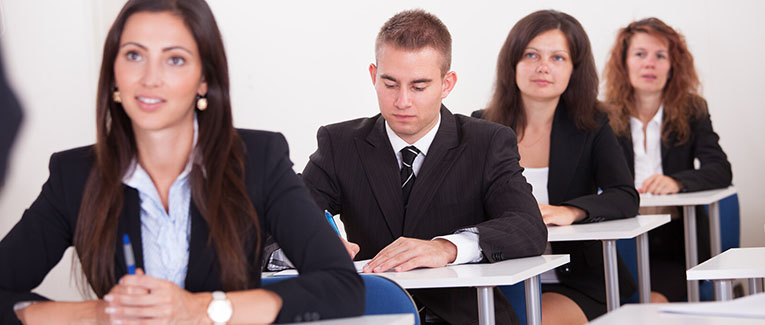 If you've been considering business school (abbreviated as b-school) in the U.S., but are still on the fence about it, then this guide can help you make your decision.
Read on to find out:
What coursework will you have in an American b-school?
What skills do b-schools in America teach you?
The top 9 in-demand MBA specializations in America, which can boost your degree.
The 2 biggest myths about an MBA in the U.S. that you need to know ASAP.
Is joining a b-school in America worth it?
1. What coursework can you expect in an American B-School?
MBA programs in the U.S. offer a wide range of courses for students to sign up for based on their area of specialization. Most programs include core coursework in marketing, management, finance, accounting, and economics.
For most two-year MBA programs, the first year focuses on drilling into all these core courses, along with a few electives. This is often followed by a summer internship, where graduates get to implement their learning and be part of a business project in the real world.
Students then return to college for their final year to dive deep into their specialization with electives, niche coursework, and a lot of networking with their fellow students.
This broad range of common coursework can be a frustration for some people who wish to become experts in certain subject matter.
However, by and large, this kind of program structure provides students a big-picture understanding of business and allows them to perform better in the real world.
2. What skills do b-schools in America give you outside of coursework?
B-schools are almost synonymous with the networking opportunities they provide. From your fellow classmates and professors, to alumni and visiting faculty, there's a whole new world for you to meet. Outside of that, what skills do you gain when earning an MBA?
Most common skills that an MBA gives you;
Communication and people skills
Analytical thinking skills
Decision-making skills
Ethical reasoning skills
Time management
Teamwork
Operation and people management skills
Problem-solving skills
Confidence
3. The top 9 in-demand MBA specializations in the U.S., which can add value to your degree.
Some people choose to do a general MBA without any specialty in order to gain an overall understanding of running an entire business.
But, more commonly, people choose a specialization or concentration, so that they are able to gain expertise in a specific business subject.
Admission experts suggest that applicants who are pivoting careers, or aiming to break into industries where they lack work experience, will benefit greatly from having a decided area of specialization. This is especially for fields like financial tech and marketing tech, which require a solid technical foundation.
This expertise is a huge bonus for impressing hiring managers and landing jobs with higher wages than those who pursue a more general education.
The top 9 most popular and in-demand MBA specializations in the U.S. are:
1. General management (with work experience)
2. International management
3. Business Strategy
4. Business Consulting
5. Finance
6. Entrepreneurship
7. Marketing
8. Operations management
9. Information systems management
4. The two big myths about what you get out of an MBA in the U.S.
Joining b-school may not be the path for everyone, and doing it for the wrong reasons will rapidly send you down a path of total regret. Below, we unpack the two biggest MBA myths out there.
An MBA is a quick-fix golden ticket to solve all your career problems magically.
If you're bored, unsatisfied, and feeling stuck at your current job, an MBA might not be the magic pill you're looking for.
First off, if you're bored and stuck at your current job, then reflecting on why you are feeling this way is the first step to heading down the right path.
You might be surprised to realize that you're feeling this way because you're not being recognized, not getting better projects, or are unhappy with the line of work you are in.
But, if you're unhappy with your current career, and want to pivot into roles with more management or business-related work, then perhaps an MBA could help you.
Remember: An MBA is not relevant for every job role in every industry. So first, identify the job roles and kind of work you aspire for. Then, work your way back to see which degree or skill set you will need for it.
An MBA is your personal 6-lane highway to a guaranteed 6-figure salary.
Many hopefuls join an MBA in America with the aspiration of earning $120,000 – $140,000 per year after graduation. While graduates from the top 3 b-schools in the U.S. earn such salaries, it's not the case for everyone else.
The salary of the average MBA graduate in the U.S. is $90,073 per year. Those from lesser-known b-schools, and with less work experience, earn between $60,000 and $76,000 per year.
In fact, in some industries and job roles, having an MBA can mean you're considered overqualified for the job. You might not even be considered for the role, as the company might prefer to hire lower payroll candidates who will stick around longer and be satisfied with a lower salary.
With tuition fees of at least $60,000, loss of salary for 2 years, and an unimpressive increase in income in return—an MBA can sometimes cost more than it's worth.
With that, we jump right to the question of the hour…
5. Hefty tuition fee and putting work on hold; Are b-schools worth it in America?
As you've probably guessed by now, there's no one-size-fits-all answer for this.
You will find some professionals shouting from the rooftops about how an MBA is an obsolete career path today, and other experts advocating for it as the best, highest ROI, career-boosting degree out there!
So yes, it is a pretty subjective opinion.
To help make it easier for you to decide, here are 8 situations in which an MBA can be the right option for you.
An MBA can be right for you if:
You're sure about why you're doing it (personally and professionally)
You have a clear path charted for what you hope to get out of it (future job prospects, career path trajectory, expected income, etc.)
You have a serious interest and commitment towards the specialty you plan to join
You want to "future-ready" your career by expanding your skillset and capabilities
You're looking to intentionally pivot into industries or roles that require an MBA level expertise and knowledge
You want to accelerate your current career path into roles with more leadership and management capabilities
You are able to enroll in a top b-school, which will give you a great ROI on your investment
You are prepared to give it your all, commit to the effort needed, and are ready to network your socks off to make the most of it.
If you've checked 5 or more of the above boxes, then it's probably time for you to start shortlisting those b-schools. We wish you all the best for your b-school adventure!
We are sorry that this post was not useful for you!
Let us improve this post!
Tell us how we can improve this post?