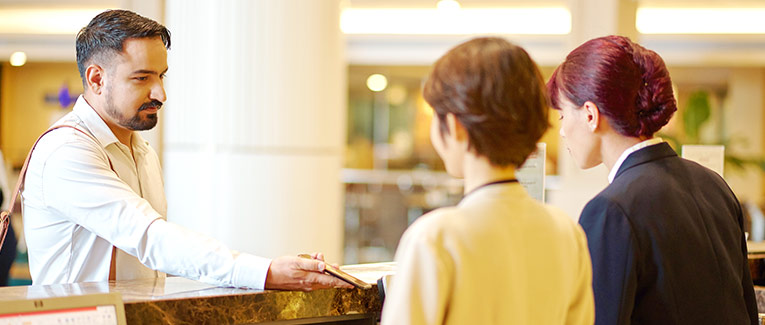 If you have ever arrived at a hotel where you have a confirmed reservation, only to be told they can't accommodate you and they have to put you up in a different hotel, that's what the term "walked by a hotel" means. The hotel usually finds you comparable accommodation at a nearby hotel, and arranges for your transport.
Based on your schedule, personal preferences, and the conditions at the alternative accommodation, the experience of being walked by the hotel can range from being a minor nag to a major inconvenience.
Why does this happen in the first place? Is this even legal? Are you owed any compensation? Can you avoid being walked by a hotel? Let's find out…
Why do hotels walk their guests?
A hotel asking a guest to stay at a different hotel sounds bad for business, doesn't it? So, why would the hotel management resort to it? There are three major reasons.
1. Administrative Errors
The most common reason a hotel has to walk its guests is third-party hotel bookings.
When you book a hotel room via a third-party, there's always a chance their inventory isn't up to date. The third-party inventory listings may be behind on the real-time hotel occupancy and room availability. Communication gaps between the hotel and the third-party booking service can also cause erroneous bookings.
Administrative errors at the hotel's own end aren't uncommon either. The hotel's sales representatives have been known to overcommit, particularly in the event of booking for groups or delegations. When the hotel is short on rooms for a confirmed group of guests, the guests bear the brunt.
2. Overselling
Overselling, or overbooking in hotels is a common occurrence in the hospitality industry. Most hotels oversell at least a small percentage of their rooms. The primary reason behind overselling is to make up for short notice cancellations of hotel room bookings.
Changes in plans, missed flights, and overestimating the need for accommodation are top reasons for short-notice cancellations. Hotels that are in high demand can end up incurring heavy losses due to cancellations, particularly during peak seasons. To make up for these losses, hotels tend to oversell.
Overbooking generally balances out the cancellations. At times when the practice of overselling backfires, hotels are forced to walk the guests.
3. Overstaying Guests
Guests that overstay due to reasons such as minor health issues, bad weather, or changes in business or travel plans are another major reason new guests are walked off. Most hotels take a lenient approach towards guests that overstay in order to maintain a favorable impression.
In addition, many cities around the world forbid hotels from evicting overstaying guests. Such situations, however, affect guests that arrive at the hotel assured they have a room at their disposal.
Is walking a guest legal?
It is. Unfortunately, there are no legal regulations against the practice of walking a guest. Hotels don't face any legal repercussions for canceling confirmed bookings without prior notice.
Does the hotel owe you compensation if you're walked?
There's an unofficial hotel walk policy that most hotels follow when forced to walk their guests. If you have a prepaid hotel booking, you're certainly liable for a refund. Most reputed hotels readily arrange for alternative accommodation for their guests. They'll try to ensure the alternative accommodation is comparable to the one you'd initially chosen in terms of space and facilities.
It's also fairly common for hotels to walk the guests to a hotel not far away from their own location. A lot of hotels will arrange for your transportation at no additional cost. Some might even throw in freebies such as a free meal, massage session, or discounts on future reservations to make up for the inconvenience caused to the guests.
Apart from these measures, there's no specified compensation the hotel owes you when you're walked.
Can you avoid being walked by a hotel?
There's no way to guarantee you won't be walked by the hotel where you've made reservations. There are, however, several ways to minimize the risks.
• Avoid making reservations through third-party channels
Hotel management typically prioritizes reservations made directly with the hotel over those made through third-party channels. Booking your accommodation directly with the hotel, therefore, reduces the chances of being walked.
Direct dealings with the hotel means the person confirming your booking has a better idea of the hotel's occupancy and availability. When you book through a third party, there's always a chance it might not be up-to-date about the hotel's immediate occupancy. This often leads to overbooking of hotel rooms, which then forces hotels to walk the guests.
• Use your elite status
Certain credit cards offer elite status to high spenders. The elite status translates into benefits such as guaranteed room bookings in select hotels. Guests with elite status have the lowest chances of being walked when hotel rooms are sold out.
When making hotel reservations, always check whether your credit card includes such benefits. If not, check with your fellow travelers or even your friends.
• Check-in during the morning
The chances of hotel rooms selling out are always higher late at night. The chances of them finding you a suitable replacement at those hours are subsequently lower as well. Checking into your hotel early in the day is one of the best ways to reduce the risks of getting walked.
If you've made reservations at a hotel that allows guests to check-in using digital keys accessible through a mobile app, you don't even have to physically travel to the hotel to check-in. Just check-in virtually in the morning, and you'll have accommodation awaiting you when you physically arrive at the hotel.
• Call the hotel in advance
There are few surprises more unpleasant than arriving at your hotel only to be told they're sold out. Being caught unaware when you're looking to just crash and get some rest can be highly frustrating. One way to avoid these outcomes is to call the hotel a few hours before you arrive.
Calling ahead of your arrival works in several ways. It informs the hotel staff that their guest is enroute, so they hold the rooms reserved for you. If there is a shortage of rooms, the management has some time to arrange for alternative accommodation in their own hotel.
If the situation can't be remedied, the hotel management can let you know in advance. This will save you the time and effort of journeying to one hotel, only to be transported to another. You can either travel to the alternative accommodation on your own, or ask the hotel to arrange for transportation from a location of your choosing.
On the flipside, if it's you that has to cancel a trip and can't make it to the hotel, it's best to have trip cancellation insurance. A good trip cancellation insurance policy can get you up to 100% reimbursement on prepaid, nonrefundable hotel reservations, so long as your trip was cancelled due to a covered reason. In addition, certain plans allow you to cancel for any reason.
Finding a trip cancellation insurance policy is a matter of few minutes when you use Insubuy to compare plans, select the right one, and purchase it.
These proactive measures can significantly reduce your risks of being walked by the hotel. If you do end up being asked to walk, make sure to have a thorough discussion with the hotel personnel about:
Your options and preferences for the location of the alternative accommodation
The duration of stay
Facilities
Costs
Compensation, including upgrades
This will prevent further complications, and maybe even help you make the best of the unfortunate situation.
We are sorry that this post was not useful for you!
Let us improve this post!
Tell us how we can improve this post?