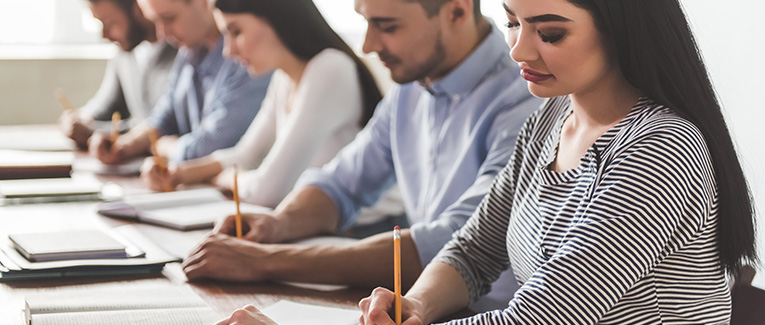 The Bureau of Labor Statistics predicts a significant growth in jobs in the business and financial sectors in future years. Many of these jobs will be related to things like sales and marketing, customer service, and front desk management, and in multiple industries like retail, real estate, financial services, advertising, and more.
So, are you also looking to enter into the corporate sector after completing high school, but the four-year college program seems too much? Don't worry. You can join an associate's degree program in business administration and fast-track your career.
Why Choose an Associate's Degree in Business Administration?
First Step to a Rewarding Career
An associate's degree program is a perfect stepping stone to a more advanced level and a technical degree in business administration. It prepares you for a large number of marketing and customer-facing jobs in the product and service sectors.
Career Growth
With an associate's degree, you can kickstart your career in the corporate domain. Join an organization as a team lead or business unit manager, and apply the skills you learned during the program. With the right focus, you can steadily rise through the ranks. You can study customer trends, apply customized strategies for deeper customer engagement, and contribute to the organization's overall growth.
Assured Career Progression
After working for a few years, you can pursue a bachelor's degree in your chosen area of management. With this bachelor's degree and the several years of experience under your belt, a management-level position can be attainable right out of school.
Earn More from the Start
As per data from the U.S. Bureau of Labor Statistics, people with an associate degree typically earn higher salaries then those with a high school diploma. Those with a college degree earned above $930 per week, as compared to the latter's $780+ per week (figures pertaining to 2020). That amounts to more than $7,000 annually, which is a substantial amount.
Save Time
The time it takes to complete an associate's degree is about two years, as opposed to four years for a bachelor's degree. So, your professional career starts two years earlier. You can add two more years of experience to your resume.
Less Expense
You will spend much less on tuition and other school expenses when you pursue an associate's degree as compared to a bachelor's degree. The costs per credit are generally less, and so are the number of courses. Even if the costs per credit are the same for both programs, the associate's degree takes two fewer years for completion, so the fees are almost halved.
The Coursework is More Compact
An associate's degree program dives straight in to the core subjects of management and principles of accounting, unlike a longer bachelor's program where more general topics are introduced at the beginning. This creates a more immediate impact.
The Course Curriculum
The courseware equips you with the necessary skills and insight to perform entry and mid-level jobs in a business organization. Optimum utilization of limited resources, managing diverse people, and handling various types of customers successfully are some of the core skills that you need to acquire.
Keeping these points in mind, some of the courses that are available in an associate's degree program are:
Business Intelligence and Analysis: Obtain the technical know-how to implement your ideas successfully. Also, get to know the ways to gather relevant information from an array of data available.
Basics of Human Resource Management: Learn the art of managing an organization's most precious resource – its people. Recruiting, training, rewarding, and retaining them is a challenge for every organization. Learn to face this challenge and emerge a winner.
Customer Service Management: Determining the actual needs of the customers, fulfilling them, and properly handling customer grievances makes a successful organization. Learn more about these, as well as customer expectation management.
Basics of Project Management: Get to know about the various parts and sub-parts of a project that a company undertakes, as well as how to handle them successfully.
Introduction to Finance: Learn the technique of interpreting various accounting and financial records, and implementing them to influence the business outcome in a positive manner.
The coursework also ensures that you develop your expertise in critical areas like decision-making, team management, and ethical reasoning. These are the pillars of any successful organization.
Upon successful completion of the program, you can have a range of job roles to choose from. A few of these are:
Customer Services Manager
Check for Accreditation
Prospective employers will check if the college from which you obtained your associate's degree is accredited or not. A degree from an unaccredited college can significantly lower your employment prospects. So, before joining the program, make sure to check whether the college has the necessary accreditation from the relevant regional accreditation agencies, like the Higher Learning Commission (HLC), Middle States Commission on Higher Education (MSCHE), and Southern Association of Colleges and Schools Commission on Colleges (SACSCOC).
Is It Better to Earn an Associate's in Business Online or In-Person?
From the employment point of view, it doesn't matter much. A prospective employer is more eager to check how much of the education you have managed to imbibe in yourself, and not whether it was obtained online or on campus. The mode that you choose will depend on your schedule, convenience, and cost factor.
Online associate's degree programs are growing at a fast rate, as per the data from the National Center for Education Statistics. So, if an online program suits your requirements more than the traditional campus-based option, then sign up for online classes.
Is it Worth Flying Out to the U.S. for an Associate's Degree in Business Administration?
An associate's degree opens up many doors for you in the corporate sector. It gives you a chance to start working early in a management domain, and then work your way up the corporate ladder. The U.S. is a land of opportunities. So, it would be worthwhile, for sure, to move to the U.S. to pursue your degree. After you complete your program, you can take advantage of the opportunities that will be available, which are considerably more than in most other places.
We are sorry that this post was not useful for you!
Let us improve this post!
Tell us how we can improve this post?