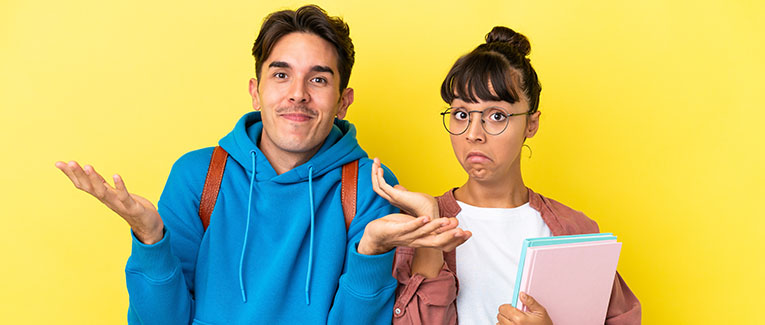 Congratulations! You've been accepted to your dream school in the U.S., and you've been approved for your student visa. What's the next step? Getting international student health insurance, of course!
Healthcare costs in the United States are extremely high. Even a minor issue such as a twisted ankle or food poisoning can result in a bill that may be difficult to pay, especially when you consider the cost of attending a U.S. college or university.
Because it's impossible to ensure that you'll never get sick or injured while studying in the U.S., you need to have a way to protect your finances if you need treatment. Therefore, most schools have mandatory requirements for international students, scholars, and exchange visitors to have student insurance.
However, if you've never purchased international student insurance before, you may have questions like:
"Do I have to buy international student insurance myself, or is it provided by the school?"
"What kind of insurance do I need for my visa?
"Can my dependents be covered by my international student insurance?"
"What insurance do I need after I graduate from college?"
To get the answers to those questions, read on.
Do you have to buy international student insurance yourself, or get it through the school?
There is no standard answer to this question, because different schools have different requirements for international students.
Some schools and school systems will automatically enroll all international students into a university-sponsored health insurance plan, and add the cost of the insurance to your tuition. Of these schools, many will give you the option to waive the school-sponsored plan for an alternative international student insurance plan that meets their requirements.
Which is best? That depends on you, and the plans available. If no option to waive the university plan exists, your choice is made for you. However, if you can waive the school's plan, it pays to look at what that plan offers, and how much that costs. Using that information, compare it to the international student insurance plans you can purchase on your own. If you can find a plan that offers a better combination of benefits and cost than the school's plan while still meeting all of their requirements, that's the plan you should select.
Finally, some schools will offer no plans of their own, leaving you the option to purchase any international student insurance plan available that meets all the requirements of your visa, and the state you're studying in.
To make sure you have all the necessary information, reach out to the school's international student office prior to making a decision. They can provide you will all the necessary information to make an informed choice.
What kind of insurance do you need for your visa?
If you are studying in the U.S. on an F-1 visa, there are no federal minimum requirements for international student insurance. However, there may be state and university requirements that the insurance needs to meet. Again, contact the school's international student office to get all of the details prior to purchasing.
If your educational pursuits in the U.S. are part of a J-1 visa program, there are federal requirements the insurance must meet. J visa insurance needs to provide at least $100,000 per accident or illness in medical benefits, $50,000 in emergency medical evacuation coverage, $25,000 in coverage for the return of mortal remains, a deductible not exceeding $500 per accident or illness, and meet all minimum requirements set by the U.S. Department of State.
In addition, the school may require you to have specific insurance coverage based on your J visa program. For instance, some schools require visiting scholars to enroll in the school's employee insurance program. Reach out to them to find out.
Can your dependents be covered by your international student insurance?
If you have dependents accompanying you to the U.S. while you study, they will need to be insured as well. Some U.S. colleges and universities allow you to add accompanying dependents to your school-sponsored international student insurance for an additional cost, whereas others will require you to purchase insurance for them on your own. Once again, choose the plan that offers the best cost/benefit ratio, while still meeting all school, state, and federal requirements.
As with those on J-1 visas, J-2 dependents will need to have insurance that meets all U.S. Department of State requirements, as well as school and state mandates.
What insurance do you need after you graduate?
If you plan to stay in the U.S. after graduation, you will no longer be eligible for international student insurance coverage, as it is only available to full-time students.
For those taking part in Optional Practical Training OPT after graduating, OPT medical insurance is a good option. Most employers do not offer company-sponsored health insurance to OPT participants. Some schools do offer OPT insurance, but it can be prohibitively expensive.
If you are being sponsored for an H-1 visa or other work visa, you will likely be able to receive employer-sponsored health insurance, but maybe not right away. Many employers have waiting periods before new employees are eligible to enroll in their insurance plan. To help bridge this gap, you can purchase short term health insurance to cover you until you become eligible for a more comprehensive plan.
Why international student insurance matters
We know it wasn't an easy road to get to where you are now; studying in a foreign country, in pursuit of a life-changing degree. The last thing you want is to put that dream in jeopardy with a financial emergency. It only takes one injury or illness in the U.S. to saddle you with debt that can be impossible to recover from. You owe it to yourself, and your future to protect your health and finances as best you can. The right international student insurance plan can help ensure that even if something goes awry, it won't threaten your academic goals.
We are sorry that this post was not useful for you!
Let us improve this post!
Tell us how we can improve this post?