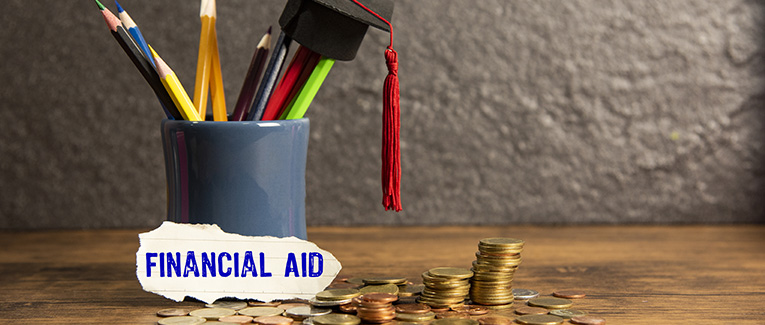 Hundreds of thousands of international students come to study in the USA each year. The country's higher education infrastructure is unparalleled, offering the latest and best study material and instruction in subjects as diverse as journalism and astrophysics.
However, these opportunities come at a price. The average cost of a four-year degree at a public U.S. university in 2021 hovers around $25,000 just for tuition. Private colleges can cost a lot more.
By the time you add on the cost of food, accommodations, transportation, health insurance, school supplies, and other living expenses, the price of earning a bachelor's degree in the U.S. can approach six figures.
However, if you do your research and look in the right places, there are options available to take some of the financial sting out of the price of a U.S. education.
Financing Your Education
There are three possible sources of financial aid to help you pay for college: scholarships, grants, and loans. It's important to distinguish grants from scholarships. The two terms are often used interchangeably, but they are different.
Grants:
Grants are small financial awards given as one-time relief. Most grants are need-based, though other criteria can also affect who receives them. The largest source of grants are federal and state governments. Grants can be considered a secondary form of financial aid, as in no way can a grant finance the cost of a college education on its own. Also, grants are available to students who are already in the U.S. attending classes.
The Pell Grant is the most well-known example of federal grant assistance in the U.S.
Scholarships:
In comparison, scholarships are usually merit-based, and can be applied for by students from all over the world. The aim of a scholarship is to help meritorious students further their education. Scholarships are usually provided by colleges, or by private organizations, trusts, and endowments.
The amount a scholarship pays is totally dependent on the scholarship itself. Some scholarships can pay your full or partial tuition. Others provide additional stipends for accommodations and living expenses. Some extremely prestigious scholarships, such as the Fulbright-BAFTA Scholarship, can pay up to $250,000 to its recipient as of 2021.
One important thing grants and scholarships have in common is that neither one of them needs to be paid back. This makes them the preferred option for any student pursuing a higher education.
Loans:
An international student loan is another way of financing your college education. Like any loan, a student loan must be paid back with interest. The interest rate of the loan, as well as the terms and schedule of its repayment, will depend entirely on the lender you're borrowing from.
Federal student loans are rarely available to international students. Most international students studying in the U.S. will have to look to banks and private lenders to borrow money for their education. Doing so will typically require you to have a cosigner who is a citizen or permanent resident of the U.S., preferably with a good credit score. A cosigner with a credit score of at least 700 is essential to secure a loan with a low interest rate. If you are signing up for a loan, carefully study the fine print; especially the cost of the loan.
Tips to Earn Scholarships
For international students, education in the U.S. often must be financed out-of-pocket and through scholarships. It is not easy for an international student to qualify for loans because they do not have a credit score. Therefore, taking advantage of scholarships is essential to reduce the cost of your education.
What is the Best Way to Get a Scholarship?
Apply in Time
The biggest mistake most students make is missing the application deadlines for scholarships. It is hard to understand the system from abroad. A lot of effort is spent writing perfect essays and scoring high in GRE, but not looking for scholarships. By the time an international student applies, many scholarships have been snapped up.
The trick is to plan the ahead – at least 18 months in advance. By the time you apply for admission, you must know how much the school will cost, and how much money you can provide from your own sources. The difference between these two numbers is what will have to be met through a scholarship. It is important to keep track of the deadlines of different scholarships, and send an application even if the admission process is not yet complete.
High GPA and GRE Score
Most scholarships for international students are at the postgraduate level (known as a grad student in the U.S.) Your score in GRE and average GPA in college are important deciding factors in earning a postgraduate scholarship. High school scores are not really relevant, though a few institutions do ask for them. Ensure that you have an exceptional GPA in college. A high GPA will help you if your GRE score is not satisfactory.
Leadership Skills
Education in the U.S. is meant to create leaders; not only those who end up in managerial roles, but also community leaders, and even politicians.
If you can show skills at managing people, that counts as a big plus when applying for a scholarship. How can you show off your leadership skills? Volunteering is one great way; so is taking on an organizational role in a student club, or working for a nonprofit.
Moreover, working for a nonprofit allows you to build contacts while still in your home country. You need strong references to apply to a college or university in the USA. Those same references can help when you apply for scholarships.
A Strong Scholarship Essay
Why should you receive this scholarship instead of someone else? After all, scholarships are a scarce resource, with countless applicants vying for each one.
The difference often comes down to the Scholarship Essay, also called a Statement of Purpose. This is basically a 500-word document where you state your goals and aspirations; and, most importantly, why you deserve the scholarship.
Your Scholarship Essay allows you to showcase your personality and make your case to those will grant the scholarship. It has to be about what excites you, and not an idea lifted from another person's work. You cannot fake this essay.
Working – the Last Resort
Many students need to work. It simply isn't possible for every student to maintain their budget without some source of income.
As an international student on an F-1 or M-1 visa, you are legally allowed to work. When the school is in session, students are allowed to work up to 20 hours every week. During the summer and other school breaks, international students can work up to 40 hours per week.
There are a variety of on-campus jobs available, depending on your school. Some of the most popular include: administrative assistant, library assistant, and teacher's assistant. Most schools will post campus job openings on their website or on job boards throughout campus.
In most cases, international students are not allowed to work off-campus unless they can provide evidence of severe and unforeseen economic hardship. They must also provide evidence that on-campus jobs are either unavailable or insufficient to support their finances. In addition, you will be required to apply for an Employment Authorization Document (EAD) to work off-campus.
Freelancing – e.g., creating a website – is a grey area, and you are required to stay within the law. Otherwise, you can be deported. In every university, you can find an Office of International Students that can provide you updated guidelines about what you can and cannot do.
Wrapping Up
If you do your research and explore every option, the cost of a college education in the U.S. does not have to be an insurmountable obstacle. Apply for as many scholarships as you can. Even if the scholarship you receive only covers part of your tuition, it can still make a big difference. If you have a friend or relative in the U.S. that can cosign on a loan for you, take advantage of the opportunity. In addition, a part-time job on campus and during the summer can go a long way to help finance your tuition. By taking advantage of all of these opportunities, you can afford your dream of an American education.
We are sorry that this post was not useful for you!
Let us improve this post!
Tell us how we can improve this post?