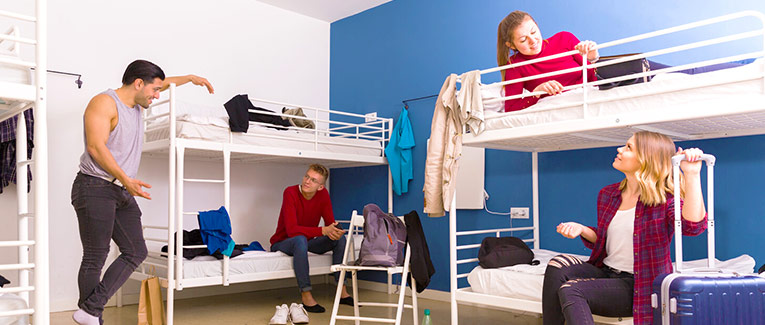 When you think of hostels, the first word that comes to mind is likely "affordable." However, there's more to hostels than just the price.
You've probably heard your fair share of awe-inspiring anecdotes and horror stories of this universal short-stay option. The thrill of adventure is calling to you, but the risk seems equally great.
To give you a better idea of what to expect, here are some reasons why to choose hostel over hotel for your next trip.
Why Choose Hostel Over Hotel: The Positives
It Expands Your Social Horizons
Meeting foreigners and making friends is an unsaid guarantee of the many benefits of staying in a hostel. You'll be privy to a host of colorful characters who'll make your stay unforgettable.
Open yourself up to people and they will reciprocate. Too much too soon could get overwhelming, so start mingling with fellow singletons and see where that takes you. Exchange stories over coffee or a drink to get the conversation going. Don't shy away from tagging along with an existing group, or switching up your itinerary to try something new.
Extrovert, introvert, or ambivert; your vibe will attract your tribe regardless.
There's Never a Dull Moment
Imagine rising at dawn to catch a picturesque sunrise, having breakfast with travelers from eight different countries, enjoying a walking tour of the city, bar-hopping with your new friends, and returning in the evening to a house full of merriment. All this can be possible when you're staying at a hostel.
Hostels often organize icebreaking events for guests, can point you towards the can't-miss attractions of the area, and can pair you up with someone who has a plan.
Of course, you can do your own thing too. Try to strike a balance between remaining indoors and venturing out though. You'll be surprised at how many unique memories are waiting to be made in hostel common areas.
There's a Lot of Bang for Your Buck
No one chooses hostels for luxuries, but you get the necessities, and then some. Beyond the rooms, hostels are equipped with decently-stocked kitchens, laundry facilities, and communal spaces. Don't miss recreational areas like a game room or the library if they have it; that's where the real fun happens.
Chat with the friendly folks at the front desk to get exclusive tips on where to go, what to do, what to eat, and how to get there. In case you'll be at the hostel for more than a couple of days, you can volunteer with the staff and shoot your shot for free meals or additional nights.
The Negatives, When You Choose Hostel Over Hotel
They Aren't Much for Privacy
If you're the sort of person who values your personal space, staying at a hostel might not be for you. The flipside of having an abundance of fellow travelers around is having to share a space with them. You will be sleeping, eating, and possibly using the bathroom in close proximity to other people.
Explicit restrictions are limited, but hostel etiquette dictates that you can't act like you own the place. No strewing possessions across the floor, talking loudly on speakerphone, turning lights on as you please, or having romantic escapades. That's not what others in the room signed up for, and you would hate it if you were at the receiving end of this.
If there's one takeaway, it's this: Don't do anything that you wouldn't want to be caught doing.
You Have to Fend for Yourself
Are hostels safe?
As much as everyone seems affable, never let your guard down about your safety or belongings. Look after and rely on yourself first; others come after.
Don't delete your packing checklist before your trip is over. Use it during checkout to confirm that you're leaving the hostel with all that you brought. Better yet, do a rundown of the list whenever you return to the room from your daily escapades.
One of the most practical hostel safety tips is if you're with a group, gather your stuff in one place and take turns keeping an eye out. If you're alone, lock up valuables like your ID and cash, or bring them with you everywhere. Fanny packs or money belts are perfect for the latter.
Patience Is a Virtue
Using washrooms, showers, and sinks is a waiting game unless you can get away with toilet trips only when everyone else is asleep. With a smaller crowd and fortune on your side, you might be able to work out a reasonable schedule.
The same goes for the bedroom, despite beds being allocated beforehand. If you get the lower bunk, be prepared for it to become the makeshift dumping ground for passersby, and a huddle spot for friends. That's just the worst-case scenario, though. Lower bunks are conveniently accessible, and you can request settlers kindly buzz off when it gets uncomfortable.
Maximizing the Positives, Avoiding the Negatives
Pick With Purpose
Not all hostels are teeming with ravers. Then again, not all hostels are quietly tucked away in a quaint neighborhood. Much like hotels, major vacation destinations have a spectrum of hostels. Choosing the right hostel can be the difference between a miserable experience, or the time of your life.
Be honest with yourself about what kind of trip you really want this to be. What are your priorities? What do you want to see and do? How much social interaction can you really stand? Do you want to let loose and party, or spend your downtime reading and relaxing?
Your answers to these questions will guide you to your ideal hostel.
Also, consider these factors:
Location – Is it close to the major spots you want to see? If not, is the hostel worth spending extra time and money on transport?
Cost – Does the rate fit your budget? What's included? Are there any hidden charges? Are their payment terms acceptable?
Amenities – Are what you consider basics available? Will you be compromising on them, but getting more out of the stay overall?
Preferences – Do you need a gender-specific room? Do you have sleeping requirements they can accommodate?
Reviews are invaluable to verify these details and get info on things you may not have thought of. Only book via legit platforms or the hostel's website. Solid research and a little luck can get you the hostel stay of your dreams.
Tips for a Great Hostel Stay
Be A Considerate Guest
Five fingers on a hand aren't alike, so it's unlikely that five (or more) strangers within a confined space will be. But you have far better things to do than waste your energy on conflicts.
Steering clear of them is easy.
Do:
Clean up after yourself
Extend a helping hand where needed
Respect house rules
Don't:
Be demanding
Encroach on others' stuff
Treat someone how you wouldn't want to be treated
Remember your manners, and give others the benefit of the doubt for theirs. Your hostel accommodation is temporary, and everyone's just there to have a good time.
Take Your Own… Everything
Carry what you'll need, even if it might be available at the hostel. Sharing essentials isn't caring if it's with anyone who isn't family or comparable. Moreover, you'll be glad for spares over not having any basics.
Here's your list of hostel must-haves (it's not exhaustive, but it'll do the trick):
Hygiene: toiletries, towels, shower slippers, wipes/tissues
Safety: small padlock for locker, pepper spray/taser (only if legal in your country of visit)
Self-care: medicines, sleeping mask, snacks, blanket/pillowcases
Electronics: charging cable, universal adaptor, power strip, earphones
Miscellaneous: cash for emergencies, local SIM card, travel insurance plan
The bottom line is this: The hostel experience can be extremely rewarding, but it's not for the faint of heart, or the fiercely private. Now that you have the whole picture of why to choose hostel over hotel for your next trip, you can book your hostel with confidence.
We are sorry that this post was not useful for you!
Let us improve this post!
Tell us how we can improve this post?