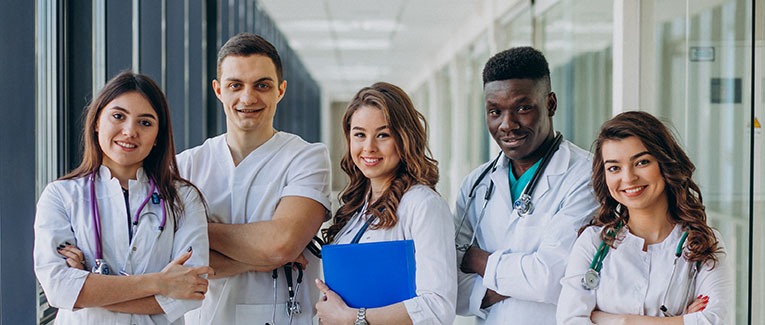 While skill, passion, and personal ambition are common factors that help you choose a course of study in college, the paycheck that you can expect after graduating can also be a big influencing factor. We've ranked the top industries and highest paying jobs in the U.S. on the basis of the median annual salary they bring in. The list was curated based on the 'Highest Paying Occupations' list, officially published by the U.S. Bureau of Labor Statistics (BLS) in September 2021.
Before we dive into the highest paying jobs, let's look at America's highest-paying industries.
Here are the top 3 highest paying industries for college graduates in the U.S.
1. Healthcare:
Of the top 20 "BLS Highest Paying Jobs" list, healthcare jobs occupy the first 10 spots. Each of them having a median annual pay equal to, or more than $208,000 per annum.
While this industry pays big bucks in the U.S., it can take anywhere between 11-13 years of education and practice to get qualified. Most roles require you to work long shifts, sometimes much more than 40 hours per week.
2. Computer Science/Tech:
The tech and IT industries have boomed over the past two decades, and show no signs of slowing down any time soon.
With almost every other industry (including healthcare) relying on tech, data, and software to keep its wheels turning, it makes sense that jobs in this industry are in-demand and well-compensated.
3. Finance:
The finance industry has low unemployment rates, and is expected to grow by over 5% in the next decade.
This industry covers everything from banking and investment roles to jobs in the growing FinTech space. It's the most lucrative trade to be in for those with strong math and analytical skills.
Now with that in mind, let's dive deeper into the highest paying jobs for college students in each of these industries.
Top 5 Highest Paying Jobs in Healthcare in the U.S.:
All of these jobs have an entry-level requirement of a doctoral or professional degree. This means you will need a bachelor's degree and a medical degree to start. Then, you will need to follow up with three to nine years of internship or residency, and if you choose a sub-specialization, another one to three years of training or fellowship.
1. Anesthesiologist:
Average salary: $271,440/annum
This is a high-demand, specialized career in the medical field, and has topped the BLS 'Highest Paying Jobs' list for the past 3 years. An anesthesiologist monitors and manages a patient's pain before, during, and after surgery.
Work hours, however, can be long and unpredictable, as they need to be present for all scheduled and emergency surgeries in hospitals.
2. Surgeon:
Average salary: $251,650/annum
The work hours, schedule, and practice of a surgeon vary greatly depending on their specialization.
Those with a specialty in preventive surgeries (like knee replacement or plastic surgery) tend to have more regular working hours. But surgeons working in fields like trauma often have irregular, and 48+ hour-long working shifts.
3. Obstetrician & Gynecologist:
Average salary: $239,120/annum
As they're more popularly known, OB-GYN's have to pass an extra licensure exam before they can start practicing in the US. (Apart from the 12-14 years of education and residency.)
An OB-GYN specializes in treating everything related to reproductive health, including high-stress situations like childbirth.
4. Physician:
Average salary:$218,850/annum
A physician or an M.D. (medical doctor) essentially diagnoses and treats physical injuries and illnesses. But, the range of specializations in this area is vast, ranging from a cardiologist to an oncologist.
Working hours for a physician are more predictable than those of surgeons, and range from 41 – 60 hours per week. However, this can still vary greatly depending upon the practice.
5. Psychiatrist:
Average salary: $217,100/annum
Psychiatrists essentially treat mental illness. But, there are a wide range of specialties within the field, ranging from child psychiatry to forensic psychiatry, and even addiction psychiatry.
Psychiatrists have a place in hospitals, schools, community aid centers, and even rehab centers and prisons.
Top 5 Highest Paying Jobs in Computer Science/Tech:
Most of these top-paying jobs require you to have a minimum of a bachelor's degree in Computer Science, IT, or Information Systems. But some require further master's or Ph.D. degrees, even for entry-level roles.
1. Computer and Information Research Scientist
Median salary: $126,830/annum
These scientists design innovative uses for new and existing computer technology. The entry-level qualification for the job is generally a master's degree in computer science or information systems. But some organizations prefer to hire only those with a Ph.D., while the federal government hires even bachelor-level candidates.
While where you work makes a difference, software publishing companies tend to pay the highest, with median wages of $145,920/year.
2. Computer Network Architect
Median salary:$116,780/annum
Network architects design and build data communication networks like LANs, WANs, and Intranets. They also manage the network after launch, and troubleshoot issues.
The scale of work they do varies depending on the organization. Sometimes it can be as small as connecting two offices, all the way to cloud infrastructure for many customers.
3. Software Developer (+ Quality Assurance Analysts and Testers)
Median salary: $110,140/annum
Developers design computer applications. Quality assurance analysts and testers identify issues or glitches in applications and report them.
Together they are responsible for the creation of the applications and programs, along with programmers.
Usually, a bachelor's degree in computer science is enough for this role, but some employers only hire candidates with a master's degree.
Also, the demand for these job roles is projected to grow at a massive 22% over the next decade.
4. Information Security Analyst
Median salary: $103,590/annum
These analysts plan and implement security measures to protect a company's computer networks and systems. With ever-increasing cyber-attacks, the demand for this job is set to grow at a whopping 33% over the next 10 years.
A bachelor's degree is usually enough to land you this role, but some organizations prefer candidates with an MBA in information systems.
5. Database Administrator and Architects
Median salary: $98,860/annum
Database administrators (aka DBA's) monitor database operations and provide support for systems. Database architects create and organize systems to store and secure an organization's data. They write code to create the databases, and then test for efficiency before launch.
Together, they ensure the creation and smooth operation of all databases in an organization. Since databases are essential to most industries, they are employed nearly everywhere, from retail to healthcare.
Top 5 Highest Paying Jobs in Finance:
Most jobs in this industry require only a bachelor's level education in finance, business, or allied fields.
1. Personal Financial Advisor
Median salary: $89,330/annum
Financial advisors help people manage their finances by giving them advice on investments, insurance, mortgages, taxes, and retirement. How much money they make on the job depends on the industry they're working in.
Advisors in private investment firms make around $97,020 per year, whereas those working for insurance carriers make a median of $76,760.
Most advisors often also earn a performance-based bonus on top of their salary.
2. Management Analyst
Median salary: $87,660/annum
Management analysts help companies improve their working efficiency and increase profitability. While a bachelor's degree is enough to land an entry-level job, most large organizations prefer candidates with an MBA. Analysts often work long hours and need to manage tight deadlines.
Job opportunities for this role are set to grow at 13% in the next decade.
3. Financial Analyst
Median salary:$83,660/annum
Financial analysts offer businesses advice on their financial decisions in order to help them generate more profits.
Different job titles include financial risk specialists, fund managers, portfolio managers, investment analysts, rating analysts, and securities analysts. Financial analysts are often paid fees per client, based on a percentage of the total assets they are managing.
4. Financial Examiner:
Median salary: $81,430/annum
Financial examiners ensure businesses are sticking to the official finance rules. They review balance sheets, evaluate risk levels, and ensure proper bank management.
The salary ranges depending on the business. An examiner at the federal government can earn a median salary of $124,070 per year, but someone in credit intermediation has a median income of $72,560.
A specific college major is usually not needed, but examiners need to have taken courses in business, finance, or accounting to meet job criteria.
5. Budget Analyst:
Median salary: $78,970/annum
Budget analysts help private and public companies plan their finances by monitoring their spending and preparing budget reports. They have job opportunities in government agencies and private companies, as well as universities. Since the job demands skills in numbers and analytics, it's advisable to have coursework in accounting, economics, and statistics for this job role.
We are sorry that this post was not useful for you!
Let us improve this post!
Tell us how we can improve this post?