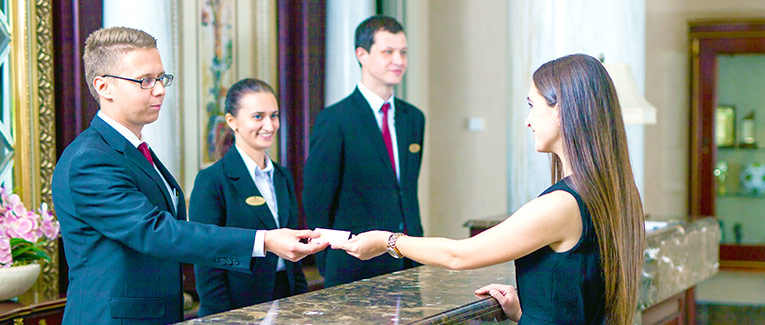 Travel broadens the mind and soothes the soul. It can also get considerably expensive. So expensive that you're left searching "how to book a hotel for cheap" a week before your trip.
If you are not willing to spend the night in someone else's spare bedroom as part of the much-vaunted sharing economy, a significant chunk of your travel dollars will go towards a decent hotel.
Don't lose hope yet. It's not impossible to get a fabulous bargain for a cheap hotel booking. You just have to be prepared and learn a few hotel booking tips.
How to Book a Hotel for Cheap: 8 Ways Explained
1. Call Directly
The internet is groaning under the burden of travel booking sites. All of these claim to offer huge discounts and the cheapest possible stay.
But, have you checked these wild claims by booking directly? Picking up the phone can actually help you save on hotel booking.
Hotels like to have a personal relationship with their customers. Direct booking also allows them to save on commissions they would otherwise have to pay to third-party booking sites.
If you like a hotel you have seen on a travel site, why not call directly and find out?
Many hotels have a website, and those who don't are still reachable through Google My Business.
Ask about the price of the rooms, and have them email you a brochure.
2. Offseason Travel
Nearly all travel destinations have a peak season, shoulder season, and off-season. Very few places, such as Miami, are perpetually crowded.
If you want to visit New York, pick February. You may find exceptional deals. Many hotels will welcome you with open arms since the number of conventions, seminars, and business meetings are down to nothing due to the cold weather.
Try again around Labor Day, and you might be surprised to find that the same room costs you three times as much. After all, hotel room charges are based on supply and demand.
Most destinations can be a little bleak during the offseason. It might be too cold, warm, rainy and any number of inconveniences. But, you can still visit the Museum of Modern Art and Statue of Liberty, and shop at Macy's. If an offseason stay is half the price, why not take advantage of it?
3. Check Price For Sunday Check-Ins
Sunday is the most favorable day of the week to begin your stay. Those on a weekend getaway are busy returning home, and hotels empty out. The result? Cheap hotels. A Sunday to Wednesday stay could save you quite a bit.
Conversely, if you want to check in on Friday and stay until Sunday, be prepared to pay more.
However, this rule applies only during the busy season, not when hotels have rooms to spare.
Not only does it matter when you check-in, but also when you book. According to Kayak's Global Hotel Survey, weekdays are the most expensive time to book. It is cheaper to book on the weekend.
4. Book Early (or Wait Until the Last Minute)
The logic behind booking early is easy to understand. Hotels like to lock in a future sale as soon as possible.
How soon"early" is can differ between destinations and the type of hotel. For a luxury hotel in a busy destination, booking in advance might mean a year ahead of your stay.
In the case of more humble accommodations, about three months is enough time.
This type of opportunity can only be used by those who have very predictable schedules. For most, it's hard to say if they will have time to visit a beach in three months.
In that case, do the opposite and wait for cheap last-minute hotel deals. The logic is precisely the same as with airlines. Since the fixed cost of running a hotel remains the same at 90% or 100% occupancy, they like to sell those last few rooms at a considerable discount.
5. Choose A Strategic Location
When you stay a little out of the way, you save a lot. The nearer you are to tourist attractions, the pricier the hotel room. That means sea-facing suites and city center hotels are out of the question when you are traveling on a budget.
This is especially true in Europe, where there is a big tourist rush from around the world every summer. The suburbs might not be as exciting, but they are far more affordable.
Repeat visitors can really benefit from this advice, since they have a better idea about local transportation, such as subway routes and timings.
In fact, you will learn more about local culture when you are away from city centers, which are more cosmopolitan and curated towards tourists. There is an advantage, after all.
6. Negotiate To Book Your Hotel For Cheap
Bargaining is old-fashioned and loads of fun. Find a few hotels that you like, call them, and ask them to match their rivals. Remember that hotels are mighty busy at midday. Late afternoon, when most occupants are away sightseeing, is the best time to haggle.
It's one thing to ask for a discount, and another to play one hotel manager against the other and ask for a deep discount.
Of course, this trick may not work for Accor, or Holiday Inn, and other big brands. They have their own yield management software that dictates the price at any given moment.
But, most everyone else, and there are plenty apart from branded ones, can be negotiated with.
If you are celebrating a special event, why not tell them that it's your anniversary, and you would like a little cooperation to gift your significant other a delightful experience at their hotel.
7. Try a New Hotel
A newly opened hotel may be more likely to give you a large discount. This is because they are not established players, and fewer people know about them or their service. Hotels depend on three factors to get more clients: service, location, and word of mouth. The last is enormously important to a new establishment.
But, how do you know if a hotel is brand new? Look for the least number of reviews online. That usually indicates a new establishment.
Moreover, they will likely try to impress you to get a nice review. This is all the more reason to give them a chance.
8. Use Rewards For A Cheap Hotel Room Booking
If you're wondering how to get cheap hotel deals, using rewards is a fool-proof way. All major hotel chains offer rewards points. This is to entice regular customers to visit again and again.
If you sign up for their newsletter, you can be notified of deals for their trusted clients. In addition to hotels offering loyalty points, aggregator sites and online travel companies have begun to offer them as well.
Add in a credit card such as the Chase Sapphire Preferred Card, and you can get discounts at IHG (owner of Holiday Inn), Marriott, and Hyatt.
When you bundle your hotel booking with travel, an online travel site (such as Expedia) can give you a good deal.
Never Forget Travel Insurance
In the excitement of going on the trip of a lifetime, it's easy to forget about the problems that might arise.
Sudden fever or bad sprain might require hospitalization. The trip could get canceled, and all that you paid to the hotel could go down the drain.
That is why you should never embark on an international trip without buying travel insurance first. A travel insurance plan can provide valuable financial compensation if your trip must be canceled due to a covered reason. It can also provide coverage for necessary medical treatment abroad due to unplanned medical issues, and much more. The exact coverage depends on the plan you choose.
At Insubuy, you can find the most affordable policies, compare them side-by-side. and buy with a click.
That's not all; when you purchase from Insubuy, you know you're doing business with the right sort of people, because Insubuy is rated A+ by the Better Business Bureau.
Last Words…
Hospitality is an uncertain business. At times you can find hotel rates to be exceptionally affordable, and at other times through the roof.
All novice travelers need to know how to book a hotel for cheap to get the most out of the vacation.
All that you need is to be patient, pragmatic, and know what you are looking for.
We are sorry that this post was not useful for you!
Let us improve this post!
Tell us how we can improve this post?