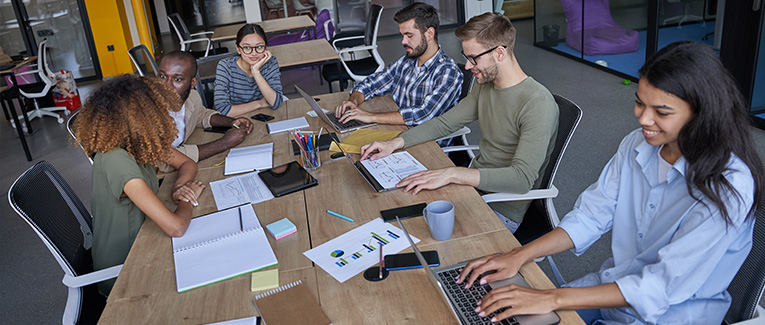 People in the U.S. have a wide variety of jobs, and the work culture and office environment may vary across different industries and different parts of the country. Even different companies in the same industry and in the same area may have different cultures. This guide is primarily targeted towards professional jobs in high tech industries.
Some people work as employees in the employer's office, while others work as contractors/consultants at the client's office.
Informal
Address your boss, supervisor, manager, director, or even the president of the company with his/her first name. Do not call them "boss" or "sir." (You address strangers as "sir", as customer service representatives do with their customers, or to people like police officers.)
Regardless of how you address a person, you must respect the working relationship you have with your superiors.
Meetings
Meetings are common in most businesses. These meetings may not necessarily be for making big decisions. Meetings are held for talking about small decisions and planning. Input from every relevant person is taken into account and valued before an appropriate decision is made. You may find yourself in a multitude of long meetings, which may bore you. You might even think that most of your time is spent in meetings rather than doing your actual work. These meetings, however, are an important part of your job.
You should be a good listener in meetings and should not interrupt the speaker. You will be given your chance to speak. If you don't understand something, ask for clarification. If your answer is "yes", clearly say "yes". If your answer is "no", clearly say "no". Nodding your head from one side to the other and/or up and down is very confusing.
Work Hours
Most people come to work early and leave on time. If you are in the IT field, in many places, it may not matter when you come and when you leave. However, you are expected to be present when you are needed for meetings or other teamwork.
As a full-time employee, you are required to work at least 40 hours per week. If you are a salaried employee working on an in-house project, you will most likely not be paid for working more than 40 hours. If you are working at a client site, your employer will definitely bill the client for all the hours you work, but may or may not pay you for the extra hours you put in. For those working at a client's site, you will have to fill out a weekly time sheet, signed by your supervisor, that specifies the number of hours you worked every day to send to your employer. Your employer will use that time sheet to bill the client.
Some companies may allow you to make up time on the weekend if you take time off during the week.
You are generally not expected to work during the weekends. Depending upon the company and the project schedule, you may have to work long hours and weekends, and sometimes you may not even be paid for the extra hours.
Most high tech jobs are task oriented. Therefore, you are measured by variables that include whether you got your job done in time, how well you did, etc., not based on how many hours you worked.
Communications
Remember that your time during work hours is owned by the company. Therefore, make complete use of that time to do the work you are getting paid for. Never use the company phone, fax, or internet for personal work. Keep your cell phone off or in vibration mode. If you need to speak about personal matters while at work, keep the discussion short and speak quietly.
Don't spend too much time surfing the internet for matters not relevant to work. Many companies have software that tracks your activity page by page and even tracks each keystroke you type.
Make sure to read your company's employee manual (handbook) carefully to understand company policies.
Personal friendships may develop between colleagues. However, personal relationships between people of different levels are not common. Unless it is mutually agreed upon, people generally don't reveal their home address or home phone number. You should not call your boss on the weekend unless it is urgent.
Observe how people greet one another at various levels: yours, higher, and lower levels, and greet people accordingly.
Amenities
Different companies may have different levels of amenities in the office. All companies provide basic necessities, such as water. Most companies have a coffee machine, vending machine for soda (Coke, Pepsi, etc.), a refrigerator to store your lunch, and a microwave to heat your lunch. You can bring your own food, go out, or even go home for lunch if your office is near your home.
Dress Codes
Dress codes may vary widely. Make sure to ask in advance about the dress code. You may wear clothes that lean more towards a formal dress, but not too formal or any level below that which is required by the company. Some places institute a casual dress code on Fridays as compared to other days.
Corporate Social Life
Many companies have social events like Christmas parties, New Year's parties, company picnics, 3-4 days of meetings in a vacation spot like Florida or Las Vegas, ice cream socials, boss's birthdays, or someone's departure. For some events, like birthdays or farewell parties, everyone contributes to buy gifts for a particular person. It is recommended that you participate in such events. It will help you get to know more people socially.
Miscellaneous
If you are not sure about something at your work, don't bluff. Admit it honestly and refer to the right person. Focus on key areas of expertise and develop your skills accordingly. Don't pretend to know everything. Sooner or later, people will figure it out, and that may negatively impact your performance/their trust in you.
If your colleague needs help, please help him/her to the best of your knowledge and ability. On the other hand, if you need help from your colleague, don't be shy or afraid to ask for help.
We are sorry that this post was not useful for you!
Let us improve this post!
Tell us how we can improve this post?