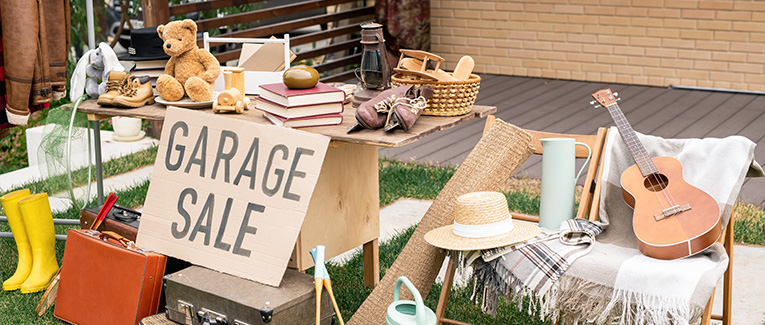 A yard sale (also called a garage sale or moving sale) is an informal and irregularly held sale event by private persons. They are typically held on Saturday mornings from around 8:00 AM to 1:00 PM or 9:00 AM to 12:00 PM, etc. Some yard sales may be held on Sundays, as well. Yard sales are typically organized in the front yard, back yard, or outside the garage. Sales are rarely held inside the house, unless large items are included, like sofas or dining tables. Yard sales are conducted to get rid of items that people don't need. Items may be very old and used, moderately used, or even brand new. Yard sales are typically held during good weather weekends and often during the spring. As long as you shop carefully, there is really nothing wrong with buying items from a yard sale.
The items available at yard sales vary. There may be a lot of items such as furniture (sofa, table lamps, tables), appliances, vacuum cleaners, radios, books, CD players, clothes, kitchen items, music/movie CDs/DVDs, and much more. You may sometimes be able to find rare or antique collectible items, as well.
If someone is moving to another location, he/she may need to sell a lot of his/her items. In these cases, you may find many more items in relatively good condition.
Locating Yard Sales
You may be able to find yard sales by looking in the classifieds in the newspaper, flyers in the grocery store, on the internet, or just by seeing a sign on the road. However, do not abruptly stop your car as soon as you see a road sign for a yard sale. Otherwise, a vehicle behind may hit you.
An excellent source of finding yard sales and other used items, in general, is Craigslist.org
Sometimes several households or the entire community gets together and holds a community yard sale. There, you have more chances of getting the items you need. There also may be some organizations that may be holding periodic yard sales to raise funds.
If you are planning to go to several yard sales in a single day, plan in advance which area(s) you want to go to and get maps from the internet or keep a local printed map handy. If you are an AAA member, you can get many maps for free.
The time you choose to go to a yard sale really depends on your needs and what items are for sale. If you go too early ("early bird"), people conducting the yard sale might not have organized the items yet. If you go too late, the items you want may have already been sold.
If you go to an affluent neighborhood, you may sometimes find good deals at low prices. Sometimes, the prices may be higher, as well, because of high-quality items.
If you have kids, you may want to bring them along, so they can have a fun shopping experience.
If you have an expensive or luxury car (which most newcomers will not have anyway), make sure to use a cheaper car for going to yard sales. If that is not possible, at least park your car a block away and walk from there to the yard sale location.
It may also be a good idea to check whether anyone in the seller's house is a smoker. Sometimes people have allergies or aversions to cigarette smoke, and they wouldn't want to go to a smoker's house or buy anything from that seller.
Preparation
If possible, make a list of the items you would like to buy and how much you want to spend on each item. Also, depending on the items you are going to buy, carry essential items with you such as bags, cardboard boxes, knives, small and big screwdrivers, a rope, some change, small dollar bills, a tape for measurement, and spare batteries of different sizes. Also, it may be a good idea to keep some old newspapers in your car to wrap any breakable items you may end up buying. Make sure to wear shoes rather than flip flops or sandals. What if the lawn is wet where the yard sale is held?
Before buying any item, consider whether you really need that item and would be able to make use of it. Otherwise, you could end up with too many unwanted items cluttering your home.
Payment
Many times, sellers at yard sales may not know how much an item is worth. They may have purchased it originally at a very high price, but because it has been used and the market price for a new item has dropped (an example would be electronics), they may demand too high of a price. Other times, sellers may just want to get rid of the item and may not care much about the price. Therefore, the prices are generally negotiable. However, be respectful to the seller while negotiating and you will have a better chance of getting a favorable deal. The seller might or might not have put price tags on the items.
If you are bringing children to a yard sale, make them pay for the items, if possible. A seller may give a discount to children. Children also get the experience of shopping and learn the value of money. Children will also become more confident in talking to adults.
Additionally, carry several coins and small dollar bills with you. You don't want to hand out a $20 bill when buying a $1 item.
It is very important to have the full attention of the seller when you pay. Otherwise, if you stay at the yard sale after making a purchase, when you finally leave the seller may think you are walking out without paying. This may cause some confusion or tension.
Children's Items
If you have children, they may grow out of their current clothes and you may have a constant need to buy clothes and shoes. As children's clothes are typically expensive, you may be tempted to buy clothes from yard sales. However, if the seller's child had an allergy or other health problem, your child may be in trouble.
However, there is generally no harm in purchasing toys. If a toy has a storage space, be sure to check it out before buying it. You may sometimes find dangerous items stored in them, such as nails, blades or knives, or other hazardous things, even if they were placed unintentionally.
If there are any battery operated toys, make sure you open the battery compartment and check whether the batteries are eroded. If the seller doesn't have good batteries, you should put your own batteries in the item and check whether it is working properly. If you buy an open game, make sure that it has all the pieces in the box.
Also, make sure that the toy or other items you are purchasing has not been recalled by the manufacturer. You can find out by either calling the Consumer Product Safety Commission at (800) 638-2772 or visiting Recalls.gov.
Tips
If you are looking for a particular item but don't see it, inquire about it. The seller might have it inside and may decide to sell it to you anyway.
Don't buy any item just by looking at the box. Some people may have just put an old item into a new box when they upgraded. Sometimes, people might have just stored a completely irrelevant item in the box. Make sure to open the box and completely check the item before buying it. Be extra careful when buying entertainment items like CDs, DVDs, tapes or electronic items that are often released in new formats.
If you buy an electrical item, make sure to run it by plugging it in and check to see if it is working correctly or not.
Before you buy a glass item, check the edges with your fingers or a cotton ball to make sure it is not chipped or broken. Just make sure not to cut yourself on the glass.
Remember, there is no concept of returning items later if you don't like them or they don't work. Items are sold "as is".
If you are not sure whether you want to buy an item, keep it in your hand to "reserve" it so that no one else can buy it while you are looking at other items. Otherwise, if you decide to buy it later, another buyer might have already taken it.
If you don't like any items at the yard sale, you are not obligated to buy anything.
If you like a particular item, but the price is too high and the seller is not willing to negotiate, you may want to give him/her your name and phone number, just in case he/she decides to sell it later at a lower price.
We are sorry that this post was not useful for you!
Let us improve this post!
Tell us how we can improve this post?