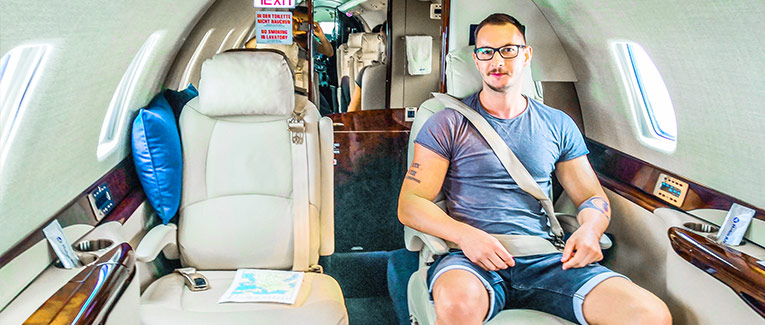 Whether you're traveling for business or for pleasure, it is now possible to do so in a jet aircraft.
Every now and then, situations arise where it actually makes more financial sense to fly to your destination in a stylish Gulfstream V, as opposed to those cramped, depressing Airbus A320s with half a dozen howling kids onboard.
There was a time when, even if you had the money, one required connections, friends in high places, and some technical know-how to book a private plane. Those days, however, are a thing of the past.
If you have access to the internet, you can book yourself a jet from London Heathrow to New York LaGuardia in minutes.
How to Book a Private Plane
Here, you have two options: book the entire plane, or book a few seats on a plane with others going the same route. The second option is like Uber share for airplanes.
The first option only makes sense if you are traveling in a group where everybody is pitching in to cover the cost of the journey.
There are three ways to book jets, and they are:
One-off Charter Rentals. These are recommended for people who fly less than 45-50 hours per year. Just book each flight individually through a charter company, similarly to booking a flight on a commercial airplane.
Jet Cards. These are aimed at people who fly 50-250 hours per year (around 20 hours per month). They work on a subscription or membership basis.
Fractional Ownership. This is likely not relevant to most people, but it is an option. Popular with corporations, this option can cost upwards of a million dollars a year, wherein a company owns 1/16th or more of a jet.
They also pay a monthly and an hourly fee, and receive their pending balance back at the end of the year. The hourly fee is applicable only when in-flight.
Booking a Private Jet
You can do this through several different companies, but the popular choices are PrivateFly, Blade, JSX, and XO. To do this, head over to any of their websites, choose a point of departure, dates of travel, and the destination, and hit enter.
After this, the website will display the flight times if the route is available. If so, you will be presented with a variety of aircraft to choose from, ranging from turboprops to airliners.
Once you select your plane, an agent from the company will contact you regarding price and availability. There are two types of whole-plane charters available: shared charters, and one-way charters.
The latter option is more expensive, sometimes costing five times that of a shared charter. In a shared charter, someone charters a one-off flight, assigns his group their seats, and then proceeds to sell any remaining empty seats to strangers to reduce total costs.
The only downside to shared charters is that you may have to rub elbows with strangers, but the people on these flights are usually well-mannered, quiet, and sophisticated.
Booking a Seat on a Private Jet
If the customer with a charter flight has empty seats and doesn't sell them himself, then the airline will offer to sell them. They will probably offer the booker a 5 or 10% discount in exchange for allowing them to sell the remaining empty seats on the flight.
This is because an airline would prefer to make some money, rather than no money on every seat on a flight. This means that you can snag a comfy leather seat from Los Angeles to Las Vegas for as little as $130 USD (one-way).
Popular services like JetSuiteX offer semi-private plane experiences at prices that almost match commercial rates. This means that for a few extra dollars, you can arrive at the airport at flexible times, go through special, expedited TSA, and spend less time in lines.
Most of the one-off charter booking companies have a special section on their website dedicated to finding shared charters.
The Advantages of Flying Private
Many people who could benefit from flying privately dismiss the notion as an extravagant expense – something that is an unnecessary debit from their bottom line. This is usually not the case, because aside from the glitz and the glamor, flying private has numerous other benefits, such as:
1. Time And Convenience
With a charter flight, you won't have to show up at the gate 4 hours prior to your flight. Often, this time is reduced to just 15 minutes. You can even choose to delay the flight a bit if you're waiting for someone, or want to arrive at your destination a bit later than planned.
There are often exclusive check-in and security lines for people who fly private, which will save you loads of time and energy.
Private jets are also oftentimes smaller than a commercial aircraft flying the same route. Because of this, they are able to maneuver around bad weather quicker, reducing the risk of having to return to your point of origin or make unplanned stops.
Lastly, private aircraft can fly at a much higher altitude than commercial jets, so they aren't all vying for the same airspace. This means that you can arrive at your destination quicker.
2. First Impressions
Here's a secret: charter flights aren't all about saving time – they're just plain fun too.
If you want to impress a new client the first time you meet them, a charter flight is the way to go. Aside from building brand reliability, you can hire a flight attendant for an extra fee.
Most airplane charter companies even allow you to customize your in-flight menu, from the hors d'oeuvres to the drinks in the minibars.
You also won't have to worry about crying infants, snoring grandpas, or your co-passenger drooling on your shoulder when he takes a nap.
3. Value For Money
If you are a frequent flier, (125+ flight hours a year), then you can probably save a great deal of both time and money by going 100% private.
All you have to do is pay the one time initiation fee and the recurring subscription fee, and you can fly as much as you want. However, you do still need to book in advance.
An extremely welcome piece of news for the general public is that charter prices have dropped by about 20-50% in the last 10 years. This means that the luxury of private flights is within your grasp.
The reduction in charter flight prices has brought ticket prices to be almost at par with first-class or business-class tickets. So, before you book your next first-class ticket, consider whether you would be better suited to fly private. However, regardless of your mode of travel, be sure to purchase travel insurance prior to your trip, just in case something doesn't go as planned.
We are sorry that this post was not useful for you!
Let us improve this post!
Tell us how we can improve this post?