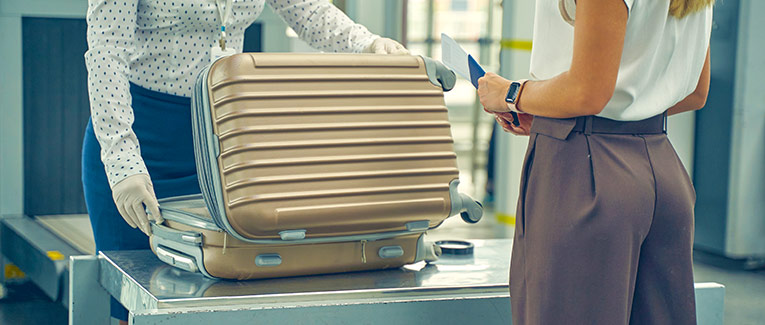 Something that most travelers look forward to when embarking on a trip is collecting souvenirs.
It is nice to have items that remind you of the fun times that you had on your vacation. However, some of these items, like alcohol or food, might not be allowed through security and customs; in these cases, the items are often confiscated by security agents.
Don't lose hope, though, as there are ways that you can recover confiscated items at airport security.
In this article, you'll learn:
Techniques to prevent items from being confiscated
What airport officials do with the items
How to recover them
Three Techniques Pro Travelers Use to Prevent Items from being Confiscated
The best way to save your precious possessions is to never bring them to the airport.
What if you forgot that you put the item in your carryon bag? What if you have no choice but to take it with you?
Airport security confiscates items that are deemed dangerous on a flight. However, they're not against you having them.
You could still prevent your items from being confiscated, and airport security officials present you with three ways to do it:
1. Check the Item
Airport security officials offer you the opportunity to check the item. You need to go back to the check-in desk, get a box to put the item in, and then the officials will scan it and give you an extra luggage tag.
However, the process takes time, and you aren't allowed to jump the security line when you come back. You need to decide whether standing in the security line for another hour is worth it or not. Your other option is to preemptively check your items. This way, you do not have to step out of line.
2. Give It to a Friend or Relative
If someone came to see you off, they could save your items from being confiscated. Hand over to them any item that you suspect is prohibited.
They can hold onto it for you, or they can mail it to your home or destination.
3. Use On-Site Postal Services
Airports such as Heathrow in London offer on-site postal services. These services allow you to mail the items in question to any address you provide.
The mailing fees, however, are quite high. In addition, postal services prohibit certain items, and therefore, won't deliver the item if it's on their blacklist.
Not every airport has these on-site postal services. Using this option depends entirely on the airport.
Airport Guidelines for Confiscated Items
Most airport security officials won't return any confiscated items to their owners. Transportation Security Administration (TSA) spokesperson Sari Koshetz remarked that TSA lacks the manpower needed for direct returns.
However, officials aren't authorized to keep the items for themselves. The security agencies work on a zero-tolerance policy for such behavior, and they terminate any employee committing such an act.
What then is the fate of those confiscated items? Airport security officials dispose of the items in three ways:
1. Sell Them
Airport securities sell the confiscated items both online and offline. However, the airport never makes a profit by selling these items. The collected money goes to the government. Afterwards, the government uses the money for state programs, or for any reason they deem appropriate.
In addition, airports such as Perth donate the money to charities.
Airport officials send the confiscated items to state surplus agencies via a contractor. Afterwards, the surplus agencies are responsible to sell the items.
The agencies list the items on auction sites such as Govdeals.com. The agencies also display the confiscated items in their physical stores.
2. Donate Them
Airports managed by the TSA donate confiscated items to schools, nonprofit organizations, and even to the police.
The TSA runs a blog where they share these stories. In the past, the agency has donated scissors to schools and self-defense sprays to police departments.
3. Dispose of Them
Confiscated liquid and food items suffer this fate the most. Airport security officials have no way to determine whether the liquid has been tampered with or not. Therefore, they treat any liquid as trash and throw it away.
How Seasoned Travelers Recover Confiscated Items
If you do have an irreplaceable item confiscated, not all hope is lost. You can buy back confiscated items where the states sell them. You will need to spend money; however, you will spend less than if you bought a new item.
State agencies list confiscated items on auction sites such as Govdeals.com. The sites sell the items through a bidding system. Head over to the category of your confiscated item, search for your item, and if you're lucky, your item will show up.
States also sell the confiscated items through physical surplus centers. Head over to the 'Surplus Sales by State' Page on USA.gov, then select your state. The website will redirect you to the Office of General Services Page. You will find the necessary information about surplus sales on this page.
Airports such as those in New York sell confiscated items through their online eBay stores.
Every airport maintains its set of rules. Therefore, check with the airport officials to get the most accurate information.
Avoiding Headaches
Though recovering a confiscated item is possible, it is much easier to simply avoid having it confiscated in the first place. When packing for a trip or packing to come home, consult the TSA's online list for items that you cannot bring onboard a plane. If any of the items you're packing are legal to have in a checked bag but illegal in a carryon, simply pack them in your checked luggage. If they're illegal to pack at all, consider shipping them to your destination if possible.
Many travelers choose to pack items into their carryon over a checked bag to avoid the inconvenience of lost luggage. While it is impossible to prevent the possibility of a checked bag becoming lost or delayed, there is a way to protect yourself in case it happens: Travel insurance. If your luggage becomes lost or delayed during your trip, a travel insurance policy you've purchased before your trip can provide compensation for it. This way, a lost or delayed bag doesn't have to become a big financial headache.
We are sorry that this post was not useful for you!
Let us improve this post!
Tell us how we can improve this post?