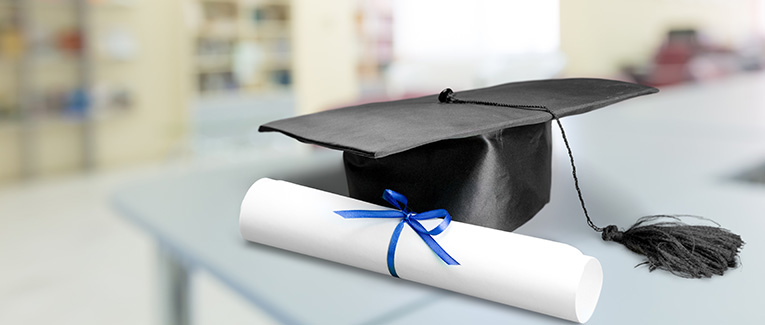 Being able to get your master's degree for free seems like something that's too good to be true. But, we're here to tell you that not only is it possible, it is achieved by many thousands of students every year.
If you plan for it ahead of time and make the right choices, you could be just a few steps away from getting a free master's degree.
Here are all the options available to help you get a master's degree for free:
1. Get your employer to fund your education (or at least part of it).
You might not know this, but most big companies have a yearly budget to fund employee education.
Companies often have grants that employees can apply for, to upskill in a field that relates to their job. Some companies outright offer full or partial tuition reimbursement for their employees.
So, if you're currently working a job in a field that is similar to your master's degree, talk to your human resources department about education grants or funds.
If you're not employed yet and are willing to wait a year or so before applying for your master's degree, then start looking for a job. It will add to your work experience, and also gives you the chance to have your further studies paid for (at least in part) by your employer.
While you're job hunting, check the company's benefits package to see if, and how much, tuition reimbursement is offered.
Pro Tip: If your qualifications and expertise allow you to apply for jobs in a university or college, they can be a great employment alternative. Many universities offer their employees tuition remission or free education in their schools.
But, be sure to read university policies about tuition benefits before applying for a job.
2. Apply for relevant fellowships and scholarships.
A funded fellowship is a great way to get a free master's education. Apart from covering tuition expenses in part or in full, you can also get paid an additional monthly stipend for the duration of the course to cover your living expenses.
Many fellowships require you to work for a specific organization, or in a certain location for a few years after you graduate. Be sure you are okay with these terms and conditions before you apply for one.
An alternate option to consider is scholarships.
They rarely cover full tuition expenses like fellowships do, but are still lucrative options. Don't restrict yourself to scholarships offered by your school, as there are a ton of graduate scholarship options out there.
Use an online scholarship finder to quickly shortlist the ones that you are eligible for, and start applying. Be sure to look for niche organizations, and grants based on your industry and skills.
Remember:Don't skip applying for a scholarship just because it's a small amount.
When you have a goal like earning a $60,000 master's degree for free, it's easy to get caught up in the bigger picture and ignore the small wins that lead up to it. But, small amounts can quickly add up to sizable chunks of your tuition fee.
Even if a scholarship offers you only $5,000, apply for it with as much zeal as you would a $20,000 one. Winning three of these scholarships will give you $15,000, and will cover 25% of your $60k tuition fee.
3. Look for research or teaching assistantships.
These are the easiest and most underrated ways to earn your master's degree for free.
At the graduate level, most universities offer students the chance to apply for assistantship positions. These roles also come with a lucrative tag of reduced or even free tuition, and a decent monthly stipend for living expenses.
Talk to your admissions advisor about the availability of these roles while you're applying to a university.
When we say easiest, we refer to the amount of money you will earn, not the amount of effort put in. Most assistantship positions are highly competitive to land, and will require you to work up to 20-30 hours per week once you get it.
A bonus benefit of these assistantships is how good they look on your resume later on.
4. Make use of your undergrad degree and get a part-time job.
As an undergrad student, you're often advised to land summer internships, but these positions are known for being notoriously underpaid.
As a master's student, however, you can do better. You no longer need to apply to barely-paid-and-highly-overworked internships just to get experience. (Unless you have transitioned into a new industry with your master's program, and need to get your foot in the door.)
You can instead make use of your undergraduate degree, and any previous work experience you may have, to apply for a part-time job. This job will not only pay you better and cover your living expenses, but will boost your resume too.
Note: If your university is in an isolated college town, don't lose hope of getting a job. There are a ton of remote, part-time opportunities out there for most industries.
5. Alternate Option: Study abroad in countries that offer free or low-cost education.
The United States may have some of the world's best educational institutions, but it also has some of the most expensive tuition fees (#3 in the world).
So, unless you have some very strong reasons to study only in the U.S. (like the presence of family, availability of your master's program of choice, or job opportunities post-masters), consider expanding your choices.
Many European countries offer free (or minimum fee) graduate-level education, without citizenship requirements. Some great alternate countries are Norway, Germany, Iceland, Belgium, France, and the Czech Republic.
6. Be smart about your university choices.
If the U.S. is your only option, and graduating debt-free is your biggest priority, then you need to be smart about the university you choose.
This means perhaps not choosing the pricey Ivy League school that is offering you no assistantship opportunities, or skipping on a university that is known for being stingy about their scholarships.
But, this in no way means you must choose the cheapest university and risk low-quality education.
Find a balance between the price and quality of education that you can live with, so you also don't end up with half-a-dozen jobs to pay for your degree and no time for the education you're paying for.
Summing It Up
Be smart about your choices before applying to college, and be sure to explore all the options laid out here. Sometimes just following one of them may be enough to cover all your fees, but often it's a mix of multiple avenues coming together.
Don't give up hope if everything isn't funded and paid for before you start college.
Be proactive, and keep applying for those scholarships and assistantships even after you join college. Many people get extra funding and grants even in their final semester of college. Getting into grad school and graduating debt-free can be a stressful journey. It's nice to have supportive friendships to help you get through it. So, share this list with friends who are also applying for grad school to help them out, and build that community.
We are sorry that this post was not useful for you!
Let us improve this post!
Tell us how we can improve this post?