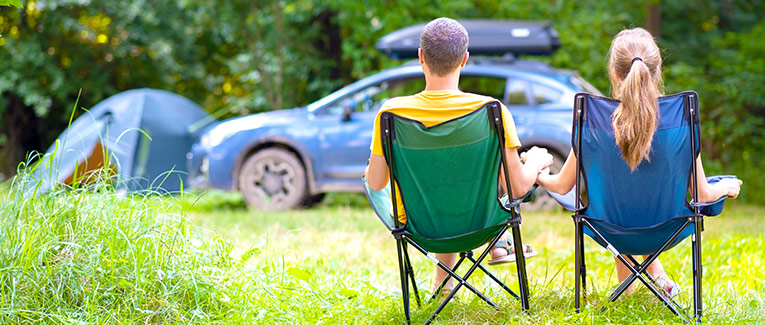 It's that time of the year again – the weather is just right, you have a break from work, and you want to escape into the welcoming arms of nature. A road trip across the continent and camping along the way? Sounds like the perfect vacation already.
Car camping is one of the most convenient forms of camping. However, you ought to be careful while picking out the right gear and provisions for your car camping trip. It could get unpleasant if you bring along too few or too many things.
In this article, we break down the basics of international car camping for you. These are eight things that you absolutely need to pack before rolling out.
Sleeping Gear
Creating a comfortable but portable sleeping arrangement is an essential part of camping prep. Since you're driving to your campsite, you can afford to pack a few extra things to ensure that you get a good night's sleep each time.
Ground insulation
An additional layer under your sleeping pad can do wonders if the temperature outside gets chilly. Simply lay out something thick like a yoga mat or a light carpet and place your sleeping pad over it.
Neck pillows
This is an ingenious camping hack. Don't compromise on your sleep just because you are in the middle of the woods. Neck pillows are surprisingly great substitutes for actual pillows, and take up a third of the space.
Sleeping pad
Car campers need not worry too much about the size of the gear. That's why we recommend investing in a thick, insulated sleeping pad that will keep you warm and cozy through the night. While packing, you can lay it out on the back seat instead of rolling it up.
Food and Equipment
You can't have a camping trip without delicious campfire-roasted s'mores. But a long camping trip needs more thoughtful planning about the food situation.
Pack these supplies to enjoy a hassle-free and comfortable trip in a foreign country:
Portable grill or a camp cooker
You cannot rely on buying your food from the nearest deli or supermarket while camping. Pack a battery or gas-powered camping stove that can make everything from a steaming hot cup of coffee to a delicious dinner.
Camp cooler
Who doesn't like to kick back and enjoy a cold one after a long hike through the hills? A portable cooler is one of the best parts of car camping. You can store all your beverages and frozen food in it for days.
Food to pack
The golden rule here is to limit your perishables. Camping is all about flexible schedules, spontaneous trips, and relaxing. You shouldn't have to worry about your food going bad. Choose foods that stay fresh, like eggs, potatoes, toast, pasta, instant noodles, etc. For meats – pick out pre-seasoned frozen meats that you can stow away in the cooler.
Camp table
Not all campsites have enough picnic tables for campers. Besides, having your own camp table is convenient if you decide to camp in a remote location spontaneously. A foldable table and camp chairs are perfect for enjoying a great camp dinner with friends or family.
Clothes
Here are three tips for picking the most sturdy, comfortable, and safe clothes to camp in:
Dry-fit clothing – This type of moisture-wicking material quickly dries up any sweat to keep you cool on warm days. The synthetic fabric is also insulating in cold weather. Go for dry-fit long-sleeve shirts and pants during your trip to keep the sun and mosquitoes away.
Sturdy hiking boots – Get a sense of the type of terrain you expect on your camping trip. If you are going anywhere into the hills or a dense forest, a pair of heavy-duty hiking boots are a must.
Woolen socks – Another tip to beat the chilly weather is to bring along a few pairs of thick woolen socks that you can slip on during cold nights. Also, wool dries faster than heavy cotton, and makes for quick and easy cleaning.
Tarps and Covers
Tarps can be a lifesaver when it rains. Not only do they keep your campsite dry, but you can also use them to construct makeshift shelters to protect your gear.
Safety Gear
Camping in the open sounds like a dream, but rough weather and wild animals could quickly upend your trip. Here are some pieces of equipment that diehard campers swear by to stay safe and secure:
Bear-proof food containers – If there is even a remote chance of a bear sighting near your camping area, you should pack your food in sturdy bear-proof containers. These are reinforced boxes that prevent bears from smelling the food items inside. In any case, double-seal your food packages to avoid a curious squirrel or mouse looking around.
Headlamps – Walking about in the woods at night without a light is like asking for a fall or an injury. We recommend buying a strong headlamp so that you needn't burden yourself with a handheld torch. There are solar headlamps that charge if you simply leave them out during the day. And here's an added benefit – they make for handy nightlights to leave on in the tent.
Secure container for valuables – You need to carry a fair amount of cash and personal documents like your passport when you travel abroad. Bring a lockable container to store your valuables while you are at your campsite.
Navigation Gear
When driving around the countryside of a foreign country, the last thing you want is to lose your way. Invest in these super-useful navigation devices to keep you on track at all times:
Portable GPS
You can't rely on your phone's map application to guide you through off-road tracks. Most wooded areas have poor cell reception, and your phone's data may not keep up. Use for a dedicated GPS device that does not rely on cell reception.
Compass and physical map
Always have backups. Buy a detailed map of the region that you plan to visit, and study it before you leave.
Battery packs
Many primitive campsites do not have electricity available. Though you can charge many items from your car, it's good to have an option to keep devices topped up in the evenings when your car isn't running. Get a multi-output portable power bank that can simultaneously charge your phone, navigation device, speakers, etc. Charge the power bank from your car when driving, then use it to charge your devices at night.
Extra Comforts
Traveling by car allows you some extra space, so why not take along some items to maximize your comfort?
Hammock – A classic camping utility, a hammock makes for a great relaxation spot to lie back and enjoy your surroundings.
Shower bag – A five-gallon shower bag can give you 7-10 minutes of a decent shower. So, don't fret about cleaning off at streams or common shower stations, simply pack a shower bag.
Travel Insurance
Camping in the wilderness comes with a heightened risk of injuries, weather-related sickness, and accidents. You can never be too careful about your personal safety. We recommend purchasing a travel medical insurance or travel insurance plan. Proper insurance designed specifically for international travel is essential to shield your finances from unexpected charges.
We are sorry that this post was not useful for you!
Let us improve this post!
Tell us how we can improve this post?