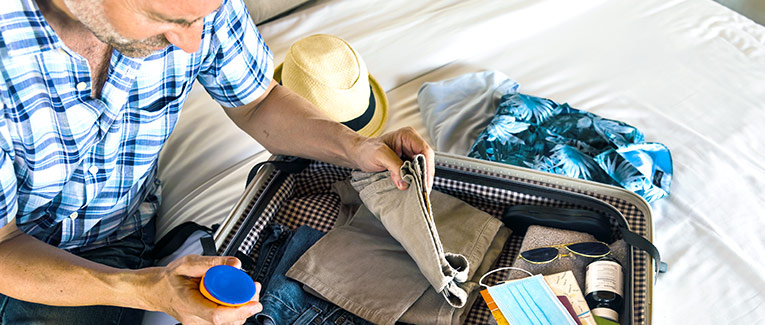 This probably isn't the first international travel packing guide you've read on the internet. Most of them are pretty much the same. They offer a few generic declarations about travel being fun, but packing being a pain, followed by a list of 30 to 50 basic items you already know you need to pack.
The fact is, you probably aren't going to forget to bring a swimsuit, or your prescription medication. You don't need a guide to tell you that.
This packing guide aims to be different. It won't cover the items – like your passport and toiletries – that you already know you need. Rather, we will tell you about 20 items you may not have thought about bringing, but really should.
Little Things That Matter
These things are small in size, but can be a big help. Plus, they can fit in your pocket, purse, and the side zips of your backpacks too.
1. Metal Straw
Even if you aren't particularly inclined towards going green (you should be, though), metal straws should find their way to your baggage. They are washable and reusable, and will save you from having to use disposable straws that may not be clean.
Also, don't worry about flying with metal straws, as they are TSA-friendly.
2. Hair Ties
Hair ties can be used to tie your device cables and keep them in place. You can roll and tie your money bills with them to stay safe from thieves. And also, keep your socks together (no more mismatched socks anymore.) Have a half-eaten bag of chips? Use a hair tie to close the bag.
And of course, you can use hair ties to, well, tie your hair.
3. Rubber Bands
Everything that you can do with a hair tie, you can do with a rubber band too. So why both these things, then? Rubber bands stretch much more than hair ties, and usually have a tighter grip. Want to keep your journal closed while it is in your purse? A rubber band will help. Hair tie? It might not stretch that much.
After a particularly heavy meal of foreign delicacies, if you feel like your jean's buttons are a little too tight, fasten a rubber band on the side that has a hole and then extend the rubber band to the button on the opposite end. You'd get more room, and your jeans will stay well in place.
4. Safety Pins
Most fashion faux pas can be fixed with a safety pin. Fix loose straps, hard-to-reach zippers at the back of your top or dress, drawstrings that need rethreading, and even small tears with just a safety pin.
After zipping your purse, use a safety pin to attach the zip to the purse. This makes stealthily unzipping your purse impossible.
Put a couple in your first-aid box too, as they can keep bandages in place. Sterilized safety pins can also be used to remove a splinter.


5. Cotton Carry Bag
Cotton carry bags can help you bring home the souvenirs and other things that you purchased. It isn't logical to shop for a bag from your destination to take home other stuff you bought. Just take out your folded cotton carry bag, fit everything in, and get going. Also, you'll be reducing plastic waste.
6. Travel Insurance
One of the most important things you can bring along on your trip takes up no space at all: Proper travel insurance coverage. Even if you're visiting a country that doesn't require it, travel insurance can be your saving grace if something goes wrong on your trip. From lost baggage, to cancelled flights or medical issues, a travel insurance plan can save you a lot of money.
7. Zip-Lock Bags
Used clothes, clothes filled with sand, and soiled clothes cannot be kept with your clean clothes. So, where do you fit them in your bag? Put them in zip-lock bags, and keep your fresh laundry safe.
8. Baby Wipes
Even if you don't have a baby, you should have baby wipes. They can be used to clean the light switches in your hotel room before use. (Those switches have more germs than you can imagine.) Baby wipes also help clean dirt and grime from your shoes after a day of exploration.
9. Dental Floss
Dental floss might seem a little obvious for this list. After all, of course you want to keep your teeth clean. However, dental floss has several other uses.
Dental floss can be used as a quick-fix replacement for broken or lost shoelaces. You can also use it to tie packages, or even slice through meat or cheese.
10. Allergy Medications
While most travelers remember to bring an over-the-counter pain reliever and their prescriptions, allergy medication can get left at home. Bring it along as well. Don't let your vacation get ruined by stinging eyes and a runny nose.

For visitors, travel, student and other international travel medical insurance.
Visit insubuy.com or call 1 (866) INSUBUY or +1 (972) 985-4400

Things That People Will Tell You Not to Take Along, but You Should
Self-proclaimed travel guides and even some backpackers will suggest you not carry the following items along. But we see enough reasons to suggest otherwise.
1. Refillable Water Bottle
While bottled water is available most places, it's a pain to carry, and all that plastic is wasteful. Using your refillable water bottle to store and carry clean water is always better. After all, you don't want to dehydrate while soaking in the experiences that a new place has to offer.
2. Universal Power Adaptor and Power Strip
Most people suggest you get universal power adapters in hotels. But what if there isn't one available? A small adaptor sitting in your suitcase won't give you much trouble. A dead phone that you cannot charge because the power socket isn't suitable is much worse. Also, not all hotel rooms will have charging spots for all of your devices. A power strip will make sure you can use just one for every electronic item you want to charge.
3. Hair Dryer
We don't want to lecture you about the lack of hygiene standards in hotels right now. But know that hair dryers are among the dirtiest things you can touch in your hotel room. A travel-sized hairdryer will minimize health concerns, and can also be used outside the hotel (if a power supply is available) to dry wet clothes or shoes. You can also quickly style your hair on the go.
4. Quick-Dry Towels
When traveling, time is valuable. Quick-dry towels make sure you don't have to wait for your towel to dry. While trekking or doing activities that make you sweat or get wet, these are especially useful. Don't fall into the "you'll get towels at the hotel; you don't need your own" trap.
5. Dryer Sheets
Dryer sheets repel bugs and insects. If you don't want a swarm of mosquitos over your head or a horde of insects around you, keep dryer sheets close. Also, you can keep them between your clothes to keep them fresh for longer.
6. Travel Router
Those who say you don't need travel routers are okay with slow Internet. Are you okay with websites that take forever to load, and maps that take an hour to tell where you need to go? If not, get a travel router to get access to high-speed data, even on the go.

For visitors, travel, student and other international travel medical insurance.
Visit insubuy.com or call 1 (866) INSUBUY or +1 (972) 985-4400

7. Pillowcase
Do you know how clean your hotel pillowcase is? While we'd like to assume it's been thoroughly washed, there's no way to be sure.
Use your case over the hotel pillow to make sure you aren't sleeping on unwashed pillow covers. Also, when not in use, pillowcases can double as bags. Stuff small things in and tie it with a rubber band or a hair tie to keep your belongings safe.
8. Duct Tape
A broken tent, a torn bag, a splinter in your toe; duct tape can fix a lot of stuff. If your suitcase or bag tears at the airport, duct tape will be your best friend.
Pro tip: You don't need to pack an entire roll. Instead, roll a decent amount of tape tightly around a pen or pencil. You'll have enough to get the job done, but it will still be easy to pack. Plus, you'll always have a writing implement.
9. Laundry Detergent Samples
Detergent samples take up less space than regular detergent packets, and are easier to carry when you plan to do your laundry. Even if you are not planning on doing laundry, you never know about what could ruin your clothes, right? And you cannot let some stains remain until you get back home. Small sachets will come in handy in case of spill accidents.
10. Clothespins
Window curtains in hotel rooms that don't stay put can be an annoyance. Other than compromising your privacy, they also bring in light from the outside. Use clothespins to clip the curtains together. You can also clip a chips packet with it. And make a bundle of tiny payment receipts, or even clip your important papers together so that they don't get lost in your travel purse.
We are sorry that this post was not useful for you!
Let us improve this post!
Tell us how we can improve this post?