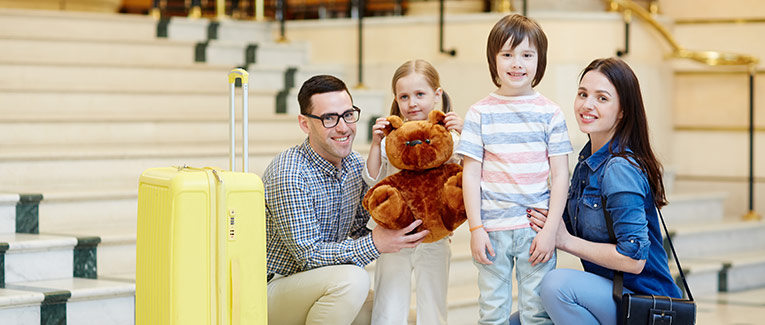 There is nothing more important than the safety of your children. When you are at home, you have the ability to take every precaution and create a safe area, as this is the space where your children are growing up. Maybe you have a kid-friendly home with no sharp corners or balconies.
When you travel, you do not have control over circumstances and situations like you do at home. There are safety hazards around every corner, and it will be very difficult for you to kid-proof the entire hotel.
Always make sure to keep a close eye on your children, especially around balconies and swimming pools.
Here are our top hotel safety tips:
1. Choose the Right Hotel
Traveling with a toddler? Look for family-friendly hotels wherever possible. These hotels are better equipped to offer various baby gear and childproofing services.
Before you book a room, call the hotel and ask questions like:
Does the room have balcony access?
What kind of furniture does the room have? Do they have sharp edges? Are they childproofed?
What kind of locks do the doors have?
Do they provide baby gear like cribs, baby bathtubs, swimming gear, etc.?
2. Bring Your Own Babyproofing Gear
Now that you know what your hotel can and cannot provide, pack only the essentials.
Here's a list of childproofing gear you can choose from:
Duct tape or painter's tape – Don't leave home without it. It's useful for sealing anything from drawers and latches, to covering electric outlets and toilet seats
Electric outlet covers
Plastic corner guards – for wall and table corners
Doorknob covers
Adhesive latch guards – to secure drawers, cabinets, toilet seats, etc.
Bathmat and adhesive bath treads – to prevent kids from slipping while bathing
3. Scan Your Room Like a Hawk
Safety pins. Bottle caps. A nut.
Choking hazards can be lurking anywhere, just waiting for your toddler to grab them.
So, get on your knees. Take a look under the bed and all of the furniture, and clear all rooms of anything that could end up in your kid's mouth.
4. Keep Items Out of Reach
Kids have a knack for knocking things down, don't they?
Stash away all hazardous and valuable objects including:
Your bags containing pills and sharp objects
Cords for lamps, phones, TV, curtains, window blinds, etc.
Table cloths
Décor like lamps, vases, etc.
Books
Cutlery
Trash cans
Toiletries
5. Scan for Bedbugs
Beware of these unsolicited guests. They are very small, but can cause a horrible amount of itching.
Before you unpack your stuff,
Remove the bedsheets and blankets
Examine the mattress corners and seams
Check the headboard and baseboard of the bed, chair and cushion seams, wooden furniture, etc.
If you see dark blood spots, tiny eggs, or live bedbugs, vacate the room immediately, and request a room change from hotel management.
6. Practice Crib Safety
Unsafe cribs can cause severe injuries, or even death.
Between 2015 and 2017, 113 children under the age of five died in a crib/mattress-related incident, according to a U.S. Consumer Product Safety Commission Nursery Product Report from 2020.
So, if you're using a hotel-provided crib, here's what you need to know:
Ensure the crib isn't a recalled one. How do you that? Go to SaferProducts.gov, enter the crib make and model number, and do a quick check
2 and 3/8 inches, or 6 centimeters; that's the maximum space allowed between the slats on a crib. If a soda can fits through the gaps, they are too large.
The mattress should be firm and fit perfectly in the crib. (Less than two finger's-width of space between the crib's side and the mattress)
Check for missing slats, peeling paint, loose screws, etc.
Nothing but a fitted sheet on the mattress. No blankets, pillows, toys, or bumpers
Position the crib away from heaters, window blinds, lamps, or curtain cords
Hotel cribs sound unsafe to you? Just bring your own 'Pack n Play.'
Kids who are older than two can sleep on the bed with:
Pillows on either side
Inflatable kids bed rails.
7. Be Wary of Furniture and Appliances
Colossal dressers, huge flat-screen TVs, and unsteady bedside tables are all disasters waiting to happen.
Between 2000 and 2019, 469 children under the age of 18 were killed due to incidents where furniture tipped over and fell on them. (U.S. Consumer Product Safety Commission Tip-over Report 2020.)
So, how do you avoid this?
Call up your hotel beforehand
Enquire if all the heavy furniture is anchored to the wall
If not, request them to either do so or remove whatever possible
If this isn't feasible, consider booking another hotel
8. Be Vigilant at the Pool
In the U.S., drowning is the leading cause of death for children aged one to four, among preventable injuries.
Before you hit the swimming pool:
Scrutinize the pool area to understand the safety mechanisms. Is it surrounded by a tall, non-climbable fence? Are there lifeguards at all times?
Check the depth of the entire pool
Inspect the pool for drain covers
Show your children the child-safe area of the pool
If your hotel room has pool access, or is located on the ground floor, make sure to ALWAYS lock your room and balcony doors
Pool "No's" for kids:
No wandering off to the pool without an adult
No diving or jumping into the pool
No running around the edges of the pool
No standing on poolside furniture
When your child is inside the pool, follow these practices:
Touch supervision for young children
Get into the water along with your child
Stay within arm's length of them
If you get out of the pool, your child comes out with you, even if there are a dozen lifeguards around.
Assign a water watcher
In case you can't supervise your kid yourself, delegate the responsibility to a 'water watcher' who will:
Keep their eyes on your child at all times
Not use a cellphone or engage in any other activity during this time
Take turns with another adult every 15 minutes
9. Lock Your Doors at All Times
Use ALL the locks on your room door – deadbolts, safety latches, etc.
Invest in a few security products like a travel door alarm, doorstop alarm, or door wedge alarm.
Is your balcony door childproofed? No? Then duct tape it!
Lock doors to adjoining rooms, if any.
Never leave your child alone in the room.
Train your older kids to never open the door without your permission.
10. Emphasize Elevator Safety
Train your children to:
Watch the gap between elevator doors while entering and exiting, and be mindful of shoelaces and loose clothing.
Wait for everyone to get off the elevator before they enter.
Ask you before pressing any button.
Never open or close elevator doors with their hands.
Never stand between doors to prevent them from closing, as the motion sensors may not always work.
In case your child gets stranded on an elevator without you, ask them to stay put until the doors open again. No exiting the elevator until they see you on the floor. Meanwhile, alert the front desk about your stranded child.
In the reverse situation, ask them to remain on the same floor. Tell them that you will come back and find them.
11. Tag Your Kids with Travel ID Bands
Finding your child in a huge hotel can be like looking for a needle in a haystack. The solution is travel IDs.
Pick up a few waterproof travel ID wristbands or safety tattoos. Fill in your contact information and make your kids wear them whenever you step out of the room.
12. Plan for Emergencies
Show your kids where the emergency exits are. Devise an evacuation plan in case of fire or any other emergency, and go over this plan with your children.
Work out a separation plan, like meeting up in the lobby in case you get separated.
Familiarize your children with the hotel staff (the front desk staff, pool staff, etc.) In case they get lost, they can contact the staff themselves.
Show your older kids how to dial the front desk number.
Ensure that your children know your hotel room number.
13. Protect Your Family with Insurance
Sometimes, no matter how cautious we are, accidents still happen. Your child could hit their head on the dresser, or slip and hurt their knee by the poolside. This is where travel medical insurance or travel insurance comes into the picture.
Here's how you go about getting coverage:
Head over to Insubuy, an insurance marketplace trusted by millions of sensible travelers like you. Check out the 700+ 5-star reviews on TrustPilot. Scan through the various insurance plans and get your family insured for your next trip. You can then purchase your plan directly from the Insubuy website.
So, the next time you stay at a hotel, remember these safety tips. Have a happy and safe holiday.
We are sorry that this post was not useful for you!
Let us improve this post!
Tell us how we can improve this post?