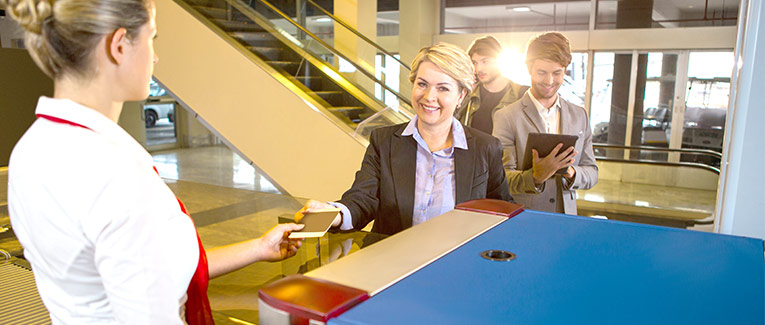 Nobody likes the idea of a layover or flight delay. Spending extra time hanging around an airport terminal is usually something we only do out of necessity. And while some airports offer incredible amenities such as hotels, luxury lounges, spas, and even golf courses, most of these are highly overpriced. If we have to wait around for a flight, we don't want to spend extra money doing it.
However, there are some freebies available at many airports that you should be aware of. While airlines around the world have cut down on free services over the years, there are still plenty to compensate you for your time spent waiting to take off. Let's discover them.
Free Sightseeing Tours
You don't need to spend every minute of a layover waiting at your gate. Many airports offer free tours of popular local sites to travelers who are simply passing through the city. Changi Airport (Singapore), Incheon International Airport (Seoul), and Istanbul Ataturk Airport are just some of the airports that offer complimentary sightseeing tours.
Some of these tours are airline-specific, and aren't open to every passenger present at the airport. Turkish Airlines' complimentary Istanbul tour, for instance, is only reserved for passengers who have bought the airline's ticket.
These airport tours allow vacationers and explorers to visit local places of interest without any additional costs. They're also a good way of passing the time and avoiding the expenses that a stay at the airport waiting area or lounge could incur.
Free Hydration Stations
Airport water fountains are notoriously unhygienic, and bottled water available at airport stores can be ridiculously overpriced. Fortunately, many airports around the world have introduced hydration stations where you can fill up your reusable water bottle free of charge.
These complimentary hydration stations operate using hands-free motion sensors to avoid germs. Hartsfield-Jackson Atlanta International Airport, San Francisco International Airport, and Chicago O'Hare International Airport are some of the airports that currently offer this facility.
These free hydration stations are a real treat for cash-strapped travelers who don't want to spend money on bottled water or other beverages.
Free Books
Plenty of airports around the world have bookstores or library areas for passengers to pick up books and magazines to read while at the airport. Some airlines even allow passengers to carry the reading material along on their flight. Helsinki-Vantaa Airport (Finland) and Amsterdam Airport Schiphol (Netherlands) are among the most popular airports with free book facilities.
The library at Lennart Meri Tallinn Airport (Estonia) allows passengers to return borrowed books at their leisure. So, you can pick up a book, read it while on your vacation, and drop it back at the airport on your return flight.
The free books facility at airports helps you make good use of the time at hand, saving both effort and money that would otherwise go into either purchasing some reading material at expensive airport stores, or finding some other way to keep yourself engaged.
Free Religious/Spiritual Services
A number of airports around the globe offer free religious or spiritual services such as airport churches, interfaith chapels, and meditation rooms. Logan International Airport (Boston) is home to the oldest airport chapel in the U.S. San Francisco International Airport and Denver International Airport also have airport churches for passengers to spend some quiet time and pray.
Some airports, such as Hartsfield–Jackson Atlanta International Airport, have interfaith chapels that allow passengers from different religions to pray in the same space. Albuquerque International Sunport (New Mexico) is among the growing number of airports with free meditation rooms. All of these services are offered free of charge, but passengers can make donations if they're so inclined.
Just a few minutes spent in prayer or meditation can relieve you of travel fatigue and stress. To the religiously or spiritually inclined, an airport church or spiritual center is a free and preferable alternative to other high-priced entertainment options that modern-day airports offer.
Free Airport Wi-Fi
While the majority of airports charge passengers a small fee for accessing Wi-Fi services, there are some that offer it free of charge. Wi-Fi in airports such as Hartsfield–Jackson Atlanta International Airport, Denver International Airport, Los Angeles International Airport, and Sydney Kingsford Smith Airport is a complimentary amenity.
Free Wi-Fi access allows you to make your waiting time productive without eating away at your cellular data plan. It also helps you create your own entertainment, and engage kids in online games and other kid-friendly content, so you don't have to spend money at the airport's movie theaters or kids' play areas and gaming zones.
Free Luggage Stickers and Tags
Most major airports offer free "fragile" stickers and luggage tags. You can ask a customer service agent at the airport to affix "fragile" stickers to mark bags that contain breakables. You can also find free luggage tags at the ticket counters of virtually every airport. If you're unable to locate luggage tags at the ticket counter, ask any airport customer service agent to get you the required number of luggage tags.
While not the most highly valued of airport freebies, "fragile" stickers and luggage tags are certainly useful and will save you at least a few bucks, especially if you're a frequent flier.
Free Food and Drinks
Numerous airport restaurants and bars around the world offer free or discounted food items and beverages to passengers. You can claim a free kids' meal with every adult meal you purchase at Heathrow Airport's Gordon Ramsay Plane Food restaurant.
Candy stores and bakeries at airports around the world offer free samples to passengers. Several bars at Singapore's Changi Airport offer complimentary drinks and free tastings of some of the world's most premium liquor products.
Given the regular cost of food and liquor at airport restaurants and bars, a complimentary bite and drink definitely translates into some savings.
Free Parking and Roadside Services
Complimentary short-time parking is a growing trend at airports across the world. Austin-Bergstrom International and San Antonio International airports in Texas, and Charlotte-Douglas International Airport (North Carolina) all offer free parking for up to 30 minutes. Free parking at airports is a big bonus to people who have come to pick up or drop somebody off.
Some airports, such as General Mitchell International Airport (Milwaukee), offer free motorcycle parking with no time limits. If you encounter car or motorcycle trouble at the airport, you should check for free road services. Numerous airport parking facilities offer complimentary road services for issues such as locked-in car keys, a dead battery, and inflating or changing flat car and motorcycle tires.
Miscellaneous Freebies
Depending on which airport you go to, free shoeshines, free phones for making local calls, and free concerts and exhibits may be available. To be a smart traveler, do some research about the freebies available at the airport you're headed to. They could add up to save you a lot.
Other Ways to Save
One of the smartest ways to avoid unexpected expenses during a trip is by having travel medical insurance or travel insurance. If you encounter a travel situation such as lost luggage, a flight delay, flight cancellation, or medical issue, your insurance plan may be able to compensate you. This can translate to big savings when things do not go as you had planned.
We are sorry that this post was not useful for you!
Let us improve this post!
Tell us how we can improve this post?